John Lepore | March 16th, 2019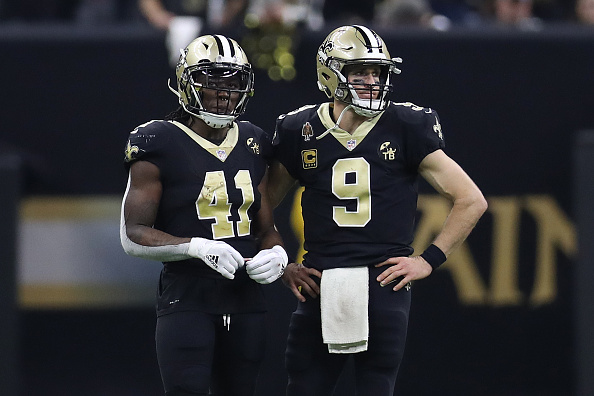 We all know how the New Orleans Saints had their season come to an end. Personally, as a Saints fan, I could write a thousand-word article on how they got screwed, but that's water under the bridge at this point. Let's take a look at their season and what they need to do to take the next step to the big game in 2019.
The Offense
The Offense is a well-oiled machine. Drew Brees and company scored 59 TDs and while his efficiency is off the charts completing a record 74.4% of his passes, he threw for fewer than 4,000 yards for the first time in a Saints uniform. Brees also attempted fewer than 500 passes for the first time in NOLA also. It's evident their offense is more than just Drew at this point. The trio of Kamara, Ingram, and Thomas accounted for 61.5% of their yards and 57.6% of their offensive TDs. Ingram is gone as he signed on with the Baltimore Ravens. The Saints signed Latavius Murray for 4 years and $14.4 million to fill Ingram's role. Murray is a solid replacement as he is the same age as Ingram (29), he is bigger at 6'3 230lbs, and also has over 500 fewer touches (1,027-1,549). All that being said, Ingram has roots in New Orleans as he was drafted in the first round in 2011 and was an integral part of their offense. He will be missed by the fans.
Ben Watson is retired. Josh Hill and Dan Arnold chipped in but the TE position is something the Saints should be looking to solve. The offensive line was again stellar only allowing Brees to get sacked 17 times all year. Andrus Peat could be a cap casualty as he is scheduled to make $9.625 million this year. The rest of the line is great with Terron Armstead, Max Unger, Larry Warford, and Ryan Ramczyk. Losing Peat would hurt but the rest of the crew should be fine. The WR crew is Michael Thomas, Ted Ginn (for one more year) and a bunch of nothing. The Saints are hoping that one of Tre'Quan Smith, Cam Meredith, or Keith Kirkwood will step up. They are going to need to have another option for Brees this upcoming year or else their offense becomes, as it did at the end of the year and in the playoffs, predictable.
The Defense
Cam Jordan does what he does. He has become a top-notch pass rusher in the NFL. In his 8 years in the league, he has played in every game and in his last seven years has averaged 10 sacks a year. Not to mention the 34 tackles per year and 14 TFL also. Sheldon Rankins is a beast with 8 sacks, 12 TFL, and 18 QB hits but he is recovering from a torn Achilles. The Saints signed Malcom Brown to a three-year deal as insurance and depth and also brought in Mario Edwards. The line's run defense was great as they gave up only 3.6 YPC and 1,283 yards rushing which both finished second in the NFL and with personnel changes they hope to repeat their success. Demario Davis was a huge pickup for the Saints. He tallied 110 tackles along with five sacks and was a leader on a young LB squad. Alex Anzalone and A.J. Klein are solid alongside Davis, chipping in a pick and two sacks each along with 129 combined tackles. Vonn Bell has finally turned into the player they thought he would be finishing second on the team in tackles (88). Marshon Lattimore is a shutdown corner. Eli Apple was a great pickup also after week six last year. The secondary could use some help, however, as they gave up over 4,300 yards and a 30/12 TD/INT rate.
The Special Teams
Enough can't be said of how important this part of the game is. Will Lutz was very good this year. He hit 52-53 of his extra points and 28-30 of his FGs, he didn't miss a field goal from less than 40 yards and earned a five-year deal which reportedly makes him the highest-paid kicker in the NFL. Tommy Barnhardt has been arguably the best punter over the past few years. Last season he punted 43 times for nearly 2,000 yards but the Saints only allowed 12 returns for 60 yards. Taysom Hill was a swiss army knife for the Saints. He had 37 carries, 3 catches, 3 completions, 6 tackles, a punt return, and 14 kick returns. The Saints also brought back 31-year-old linebacker Craig Robertson, who is a special teams star, along with backup safety Chris Banjo and backup cornerback Justin Hardee.
Looking Forward
The Saints first pick will be #62 at the end of the second round. They don't have a first, third, or a fourth-round pick after trades last year for #14 Marcus Davenport, Teddy Bridgewater, and Eli Apple respectively. The Saints have a very good balanced team when all starters are healthy. Although they have only six total picks in this draft, they have the luxury of taking depth players, athletic projects, and overall the best available player when they pick. They certainly filled some of the depth with free agent signings so far and replaced players they lost. Let's take a look at what areas they may be looking at in the draft.
Tight End
They met with Jared Cook the other day. The 10-year vet would be a great addition replacing the retired Benjamin Watson. Lack of a true number two receiver, unless Ginn is healthy or someone else steps up, makes the signing of Cook an immediate upgrade to the offense. If not, the TE class is deep and the Saints may get a steal at #62 with Irv Smith Jr. or someone in that tier.
Defensive Line
Alex Okafor is gone. Sheldon Rankins is recovering from a torn Achilles. David Onyemata may be facing a suspension. The Saints signed Malcom Brown and Mario Edwards and are hoping Marcus Davenport can take the next step in his sophomore season. There are a lot of ifs there. Taking an athletic edge rusher or run-stopping defensive tackle could be something the Saints look at with their third-round pick.
Running Back
Even with the signing of Latavius Murray, the Saints could use another back as depth. An athletic player with upside who they can groom in their system would be a nice late-round pick, especially with Alvin Kamara possibly hitting free agency in two years. Dwayne Washington is also there but is only signed for this season.
Linebacker
The starting three of Davis, Anzalone, and Klein were healthy last season. The Saints signed back Craig Robertson. That's about all they have. Manti Te'o is gone so the depth is very weak. A linebacker, or even a couple of them, in the fifth and sixth rounds, may be a wise choice.
Overview
The New Orleans Saints were crushed by the Minnesota Miracle in the 2017 Divisional Game. They were blindsided last year by the blind zebras in the NFC Conference Game. This year it's Super Bowl or bust. Brees is 40 and over the course of the next two years, they will have to decide what to do with the likes of Kamara, Thomas, Lattimore, etc. The window is now and the Saints will win the Super Bowl next February. Ironically it will be in Miami where they won in 2010.
Check out our other Team Reviews: Atlanta Falcons | Minnesota Vikings | Washington Redskins | Miami Dolphins | Cincinnati Bengals | San Francisco 49ers | New York Jets | Denver Broncos | Indianapolis Colts | Oakland Raiders | Baltimore Ravens | Green Bay Packers | Tampa Bay Buccaneers | Detroit Lions | New York Giants | Cleveland Browns | Buffalo Bills | Pittsburgh Steelers| Arizona Cardinals | Los Angeles Rams | New England Patriots | Chicago Bears | Dallas Cowboys | Kansas City Chiefs | Carolina Panthers | Los Angeles Chargers | Houston Texans | Tennessee Titans
Questions and comments?
thescorecrowsports@gmail.com
Follow Us on Twitter @thescorecrow
Follow Us on Reddit at u/TheScorecrow
Follow Us on Facebook at The Scorecrow
Follow Us on Instagram at The Scorecrow
Follow John Lepore on Twitter @jball0202
Main Credit Image: [getty src="1097138334″ width="594″ height="396″ tld="com"]