Pranav Ramasubramanian | April 25th, 2019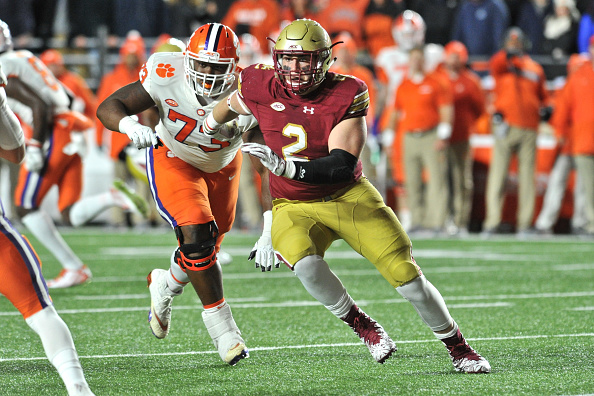 Tom Brady and Bill Belichick just lead the New England Patriots to their sixth SuperBowl win, but for the Patriots they never take a day off on a quest for SuperBowls. The loss of Rob Gronkowski is devastating and the Patriots don't do much in free agency so the draft is where they restock their roster. The Patriots have 12 picks and have some needs they need to hit on to win the AFC yet again. 
1st Round
Pick 32: Zach Allen, defensive end, Boston College
This is primarily a defensive linemen orientated draft and even though Allen comes from a smaller school he has shown the ability to uses his hands very well to get to the inside easily so that skill makes him one of the top defensive linemen. Allen fights off offensive linemen with his hands, but to be a good pass rusher he needs to work on his outside movement and positioning. Allen's size will help him see certain things faster so if he can just read plays and stop them with high efficiency as well rush the quarterback then he will be on the field a lot this season.
2nd Round
Pick 56: Terry McLaurin, wide receiver, Ohio State
Julian Edelman was the only viable receiver come playoff time for the Patriots as Josh Gordon was dealing with his issues so they need to get a big play receiver to make the offense more explosive so Belichick could take a swing at McLaurin. He can provide that, but he needs to improve his ball skills to complement his excellent route running because it won't do him very well to just have speed. The Patriots expect more out of players earlier so McLaurin must have the willingness to learn more to improve.
Pick 64: Kaden Smith, tight end, Stanford
Smith is a player that has all the tools to be a solid tight end in this league, but replacing Gronkowski could prove as a monumental task for him. He isn't consistent enough yet, but he has shown flashes of potential with his ability to catch contested balls, mirror block and finds space to attack zone defenses well. If Smith finds some consistency during the season he could easily become a tight end one.
3rd Round
Pick 73: Christian Miller, outside linebacker, Alabama
Nick Saban's coaching is the closest thing to NFL coaching and that means that Miller will be ready for anything in the NFL. Miller's lateral movement is the next level and it helps set the edge well. Miller will get great playing time if he uses his array of pass rush moves like his cross-chop or long arm/stab move to make plays and stays healthy.
Pick 97: Jaquan Johnson, safety, Miami
This draft is a loaded one in terms of safety class with a ton of talent across the board, but Johnson has managed to distinguish himself as an aggressive tackler. He has moderate coverage skills, but his ability to give 100% in terms of energy and effort has him all over the field so it helps him compete to be in the right place to make impact plays. He can be a solid run-stopper for the time being and should get a backup role if he goes to the Patriots.
Pick 101: Jimmy Moreland, cornerback, James Madison
The mix of young and old corners is a good one for the Patriots and Moreland could be the newest addition because of his ball-hawking skills. Moreland can track the ball down very easily while showcasing his football IQ to finish off whatever play he makes with a score. His toughness makes up for his size and he could really mold himself into a starter if he impresses in training camp.
Round 4
Pick 134: Tyree Jackson, quarterback, Buffalo
Belichick wasn't too happy about trading Jimmy Garoppolo because he believed that he was a good successor to Brady and Belichick will want to look for another. Jackson could be just that as he has the arm strength, but just needs to be more accurate and adjust better to zone rotations while having more patience to stand in the pocket. Jackson being alongside Brady will help him big time and if Jackson gets calmer in the pocket he could be the next great Patriot quarterback.
Round 6
Pick 204: Devine Ozigbo, running back, Nebraska
Rex Burkhead is a solid running back, but he functions more as a blocker and a pass catcher so Ozigbo could help the Patriots more in the trenches when needed. Ozigbo would bring some power and will help a lot in Year one if Josh McDaniels runs some zone concepts for him. The best part is that Ozigbo rarely runs for a loss of yardage as he finds a way to get back to the line of scrimmage and would be a bargain this late in the draft.
Round 7
Pick 239: Emmanuel Butler, wide receiver, North Arizona
FCS players are hard to judge due to playing a lower level of competition, but Butler became one of the top players in the FCS fast so it's safe to say he's good enough to be here. Butler's previous injury history is a minor concern and he just has to use his skill set of having soft hands along with his length to catch the balls thrown to him. The strength to win one on one battles with his cover man is crucial and he needs to continue to do that to really grow into a good receiver for the Patriots.
Pick 243: Tim Harris, cornerback, Virginia
Depth is key for any team and keeping guys prepared at all times to go into the game is what Belichick tries to instill on everyone. Harris was banged up for two years and with already enough depth he will see very limited playing time. If Harris can find a way to stay healthy and use his physicality to disrupt passes perhaps he can find some playing time in the near future.
Pick 246: Kevin Givens, defensive tackle, Penn State
Lawrence Guy is a good defensive tackle, but he needs help filling the gaps in the running game and Givens can help Guy out despite being classified as too small. Givens has a quick burst and a ton of strength that helps him obliterate the linemen that try to block him to blow up big plays, get big tackles, rush the quarterback and cause turnovers. The Patriots should let Givens start from Day one because Givens has shown that he has what it takes to be in the league.
Pick 252: Jerome Washington, tight end, Rutgers
Blocking is a big responsibility for the Patriots because they like to run the ball a lot or eliminate your top pass rusher by putting the tight end on him so Washington needs to improve his hand movement to get more than just limited time on the field. The Patriots will likely be selecting a tight end before this final pick and already have Austin Seferian-Jenkins for blocking purposes. Washington just needs to get on the practice field and get some valuable reps in because playing time just won't be a reality.
If the Patriots select the players above they will surely repeat which will make 2019-20 a great year to find cheap Patriots tickets somewhere now at a discounted price.
The draft is today and the Patriots only hold one pick at the end of the day, but days two and three will be very crucial. Belichick always goes outside of the box and picks smaller school players so expect to see something you didn't expect from Belichick at some point, due to his keen attention to detail along with expertise in scouting. If the Patriots select the players above they will for sure repeat.
Check out our other Team Mock Drafts: San Francisco 49ers| Washington Redskins | Indianapolis Colts | New York Giants  |Arizona Cardinals| Jacksonville Jaguars | Detroit Lions | Tampa Bay Buccaneers | New York Jets | Green Bay Packers | Cleveland Browns | Los Angles Rams | Pittsburgh Steelers | Chicago Bears | Tennessee Titans | Baltimore Ravens | Seattle Seahawks | Buffalo Bills | New Orleans Saints | Atlanta Falcons| Cincinnati Bengals  | Kansas City Chiefs | Denver Broncos | Houston Texans | Oakland Raiders | Minnesota Vikings | Philadelphia Eagles | Carolina Panthers | Miami Dolphins | Los Angeles Chargers | Dallas Cowboys
Questions and comments?
thescorecrowsports@gmail.com
Follow Us on Twitter @thescorecrow
Follow Us on Reddit at u/TheScorecrow
Follow Us on Facebook at The Scorecrow
Follow Us on Instagram at The Scorecrow
Follow Pranav on Twitter @PranavRama1
Main Image Credit:
[getty src="1060122466″ width="594″ height="396″ tld="com"]