Blake Johnson | November 30th, 2018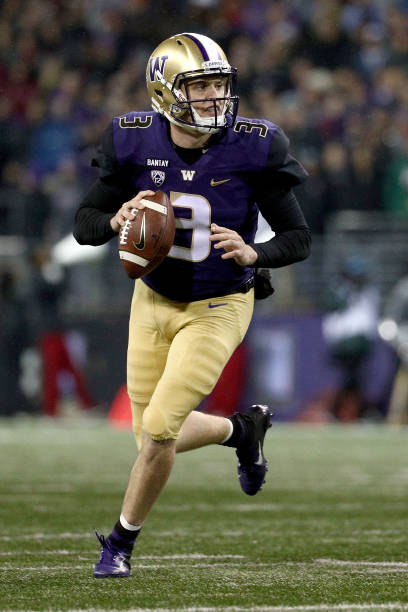 Welcome to another edition of Blake's Best Bets presented by The Scorecrow.
Saturday, December 1st, a date many teams were hoping to play on, but few get to. We finally have our conference championship games which will certainly have a major impact on the College Football Playoff. This edition will take us through all Power 5 championship games. Let's get started!
PAC 12
#17 UTAH vs. #11 WASHINGTON Friday, November 30th.
In a slight upset, Washington knocked off rival Washington State in order to advance to the Pac 12 championship. Utah had a seemingly under the radar path to the conference title game with the best win being a 32-25 home victory over Oregon. We were lucky enough to see these two teams play in week 3 resulting in a 21-7 win in favor of Washington.
The line is currently set at Washington -5.5 and the over/under at 45.
Normally I would look at a previous result and let that influence most of my decision making. Here, the game was played in week 3 and a home game for Washington. Now both teams are playing their best ball and this game is on a neutral site. What will influence my decision is the experience of Washington QB Jake Browning and more importantly his experience in big games. Not to mention Utah QB Tyler Huntley will be out for this game.
Best Bet: Washington -5.5.
BIG 12
#14 TEXAS vs. #5 OKLAHOMA
Stop me if you have heard this before, TEXAS IS BACK FOLKS. Getting to play in the Big 12 championship game is an accomplishment not a lot of Texas fans thought they would see after a week 1 loss to Maryland. The fifth-ranked Sooners need a win to have a shot at the College Football Playoff. You would think, with a Georgia loss and Oklahoma win, it would have to take a miracle for an Alabama vs. Oklahoma first-round matchup not to take place.
The line is currently at Oklahoma -7.5 and the over/under is at 77.5.
The first bet on this game has to be the over. The last time these two met, the game total was at 93. Not saying the total will get that high again, but all it takes is for Oklahoma to score 50 again and there's no way Oklahoma's defense will hold Texas to under 30 points.
The second bet is on Texas +7.5. I believe Oklahoma will win this game, but they simply don't have the defense to stop a competent offense enough times to win by more than a touchdown. Not to mention Texas already took a trip down to Oklahoma and beat them at their place.
Best Bet: Texas +7.5, Over 77.5.
SEC
#1 ALABAMA vs. #4 GEORGIA
In what looks to be a play-in game for Georgia, Alabama looks to cruise into the playoffs undefeated yet again. Georgia must win in order for them to make the playoff. Alabama could potentially lose this game and the commit could still give them a spot. Alabama has yet to be truly tested with their hardest game coming against an LSU team that simply was not ready. For Georgia, a team that lost to LSU, they come in looking to win the SEC again and get revenge on rival Alabama.
The line for this matchup is currently at Alabama -13.5 and the over/under is set at 63.5.
This line is incredibly hard to judge. Got to give props to Vegas sometimes right? It's incredibly hard because every time I think I made up my mind on where I want to go, I convince myself the opposite is more rational. I could easily see Alabama running away with this game and covering the two touchdown spread. On the other hand, Georgia is by far the best team they have played all season and knows how to beat this Bama team. In the end, Georgia simply does not have the run game they did last season. With no Michel and no Chubb, I don't see how this team hangs with Alabama for four quarters. I think this one is close early, but look for Too and Alabama to pull away late.
Best Bet: Alabama -13.5.
ACC
#2 CLEMSON vs. Pittsburgh
Clemson has the luxury of an extremely down ACC this year. There is no Miami, Virginia Tech, or Florida State to challenge them this season. Instead, they draw the 7-5 Pitt Panthers who lost to Penn Stay by 45 and their best win is over Syracuse. FPI gives Pitt a 4.3% chance to win and I think that's a little high. I know Pitt got Clemson recently, but that wasn't an ACC title game in which Clemson is playing for a playoff berth.
The line is currently at Clemson -27.5 and the over/under at 53.5.
I'm not sure of the exact stat, but this has to be one of the highest lines ever for a Power 5 conference championship right? I love this Clemson team. I don't think they have received the hype they deserve due to a weak ACC, but they're a legit contender. The only hope that Pitt has is Clemson lacking focus and thinking they have an easy win. I don't think Clemson does that in a title game. They're simply to well coached and a freshman QB doesn't have the experience to let that happen.
Best Bet: Clemson -27.5 and Over 53.5.
Big 10
#6 OHIO STATE vs. #21 NORTHWESTERN
The line is currently at Ohio State -14.5 and the over/under at 61.
Ohio State needs a win and some help in order to grab a spot in the playoffs. They more than likely need both Georgia and Oklahoma to lose after the past rankings. Generally, I tend to trust teams that have a must-win attitude. I wouldn't count Northwestern out of this though. They have a quality defense that ranks 29th in the country in points per game allowed. They also have a guy who wears short sleeve polos in sub-freezing weather, what else do you need? All jokes aside, this Ohio State team is playing their best ball down the stretch after a drumming of Michigan. I think this is another close game that Ohio State pulls away from early.
Best Bet: Ohio State -14.5 and the Under 61.
Questions and comments?
thescorecrowsports@gmail.com
Follow Us on Twitter @thescorecrow
Follow Us on Reddit at u/TheScorecrow
Follow Blake Johnson on Twitter @BlakeJohnson18_
Main Credit Image: "[getty src="1057039398″ width="396″ height="594″ tld="com"]