Bruce Cagle Jr. | August 22nd, 2018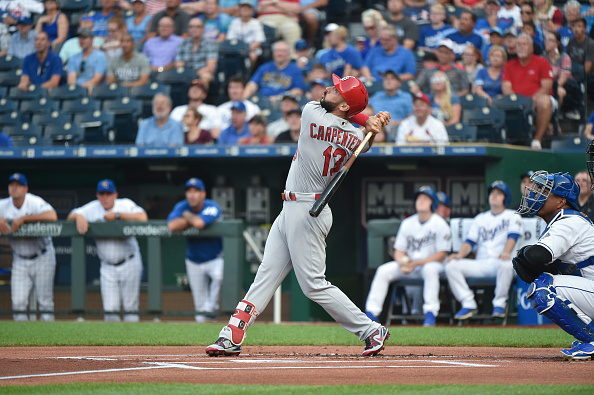 With only six weeks remaining of the MLB season, we are set to have a crazy finish for the National League. As I looked at the beginning of Sunday, there are only four teams out of the playoff race. Young talent looking to make statements and veterans looking to finally grab October hardware or even their first playoff win. It will be a very bumpy ride, but I will be here giving you a breakdown. This list will change from week to week, as each series is critical at this point in the season (just ask the Braves) so make sure to check back.
1. Chicago Cubs (71-53) – Losing MVP caliber talent is never easy but the Cubs have managed to still stay atop the NL standings without Kris Bryant. Out due to shoulder inflammation, Bryant eyes a major league comeback before Sept 1st. The past two seasons we came to fear the power the Cubs showed. In 2017 they were 3rd in the NL in home runs. During the championship season, they were 5th in the NL. This year they are 10th so you can see a much-needed boost to the offense would be a warm welcome. Having a truly sensational season, Javier Baez is making sure the Cubs are still rolling.  I expect the experience of this talented young group to make a push and hold off the red-hot Cardinals. Brandon Morrow still doesn't feel 100% since he has been sidelined with bicep tendinitis. Another pitching piece hopeful to be back in September. Might help them avoid walk-off bombs like on Sunday. My biggest fear right now is that Kris Bryant suffers a setback. Also, we will not see Yu Darvish return this year from injury. If those two things happen, we might see the Cubs lose the division lead during the last days of the season.
2. Arizona Diamondbacks (70-56) – For the second straight year, the Diamondbacks are quietly pushing towards the playoffs. They rank 2nd in ERA once again behind the Dodgers. We normally talk about the Diamondbacks because of their offense, but we haven't been focusing on that pitching as a whole. 4th in the NL in K-BB%, 3rd in home ERA (they have 20 games left there this year), 4th in average against and 3rd in WHIP. They have two pitchers I wouldn't mind seeing at the top of my rotation. Zack Greinke and Patrick Corbin have been nothing but sensational for the D'backs. Greinke sits with an impressive 3.06 ERA through 26 starts. We should be able to expect similar numbers to his 2017 campaign, his xFIP for '18 and '17 sit at a very solid 3.63 and 3.34. Corbin has made one giant stride this year. He is rocking a career-high 10.99 K/9 supported by a 30.7% strikeout percentage and disgusting 15% SwStr%. Don't forget this team still has Robbie Ray for a solid number 3 who can dominate in any given outing. Paul Goldschmidt has been tearing the cover off the ball since we started to doubt him. Since June 1st, (min 200 pa) Goldschmidt leads the league in AVG(.353), OPS(1.100) and wRC+(191). They also added Eduardo Escobar, Jake Diekman, Brad Ziegler, and Matt Andriese to help fight to keep that NL division lead.
3. LA Dodgers (67-60) – In recent years we have been just handing the title to the Dodgers. This year, it isn't so clear or warranted. Injuries have been plaguing the Dodgers since spring training. Justin Turner went down with a broken wrist to start the year. Clayton Kershaw went on the DL yet again with a back problem. Clearly taking himself out of the number 1 fantasy pitching option going into 2019. Cody Bellinger seems to be hitting the dreaded sophomore slump and Kenley Jansen had another health scare but should be back sooner than expected. Yet, during the crazy trade deadline we had, they added both Brian Dozier and Manny Machado. They lead the NL in home runs and ERA. That will be a deadly combination going through the final 6 weeks. Turner is finding his groove at the right time, in August he his hitting .404 with 3 home runs. One of my biggest worries is a very tough 10 game road stretch in the middle of September. Starting off in Colorado and finishing in St. Louis. The schedule continues as they then will fly back to LA to face the Rockies again for a three-game set. That is a total of 13 straight games. Being two games back of the current cluster of teams atop the wildcard standings should pose a legitimate sense of urgency for this veteran club.
4. Colorado Rockies (68-57) – Oh, how I'm so close to putting this team above the Dodgers right now. They are arguably the hottest team in the MLB right now, going 8-2 over the last 10 games. The most impressive part of those 8 wins is the quality of their opponents. They took three out of four in the series vs the Dodgers, then went to Houston and split. Remember when I said ask the Braves how critical this point of the season is? Well, the Rockies just pulled the brooms out and handled business on the road. This may be one of the few years the Rockies have a legitimate pitching staff. All year long we have been waiting for Jon Gray to start crushing as his underlying numbers appear he should. Gray got sent down to AAA to the disapproval of us all but since his return, he has been getting the desired results. 42.1 IP with 18% K-BB, not dominant but not something to overlook either. Generating over 50% groundballs during that stretch as well has helped produce a 2.55 ERA during his resurgence. Add Kyle Freeland (2.22 ERA in Coors) and German Marquez (last 52.1 IP 2.91 ERA 24.1% K-BB, and that isn't including his start today of 7 innings, 5 Ks, and 2 earned vs ATL) into the mix. Now you have a staff that might actually handle a five-game series or hopeful seven games.
5. Atlanta Braves (70-55) – Before this 4 game skid vs the Rockies I would have placed the Braves a few spots higher on this list. At this point in the season, you can not afford to lose like that. One reason I can't find a way to place them higher is that I don't see a true ace on their staff. Yes, Mike Foltynewicz has been dominating most of the year to the tune of 2.72 ERA, 28.2% K%, but he has only gone past 6 innings in 10 of his 24 starts. Who else is gonna step up and give a quality 6 innings night in night out? I love the talent they have at the top of their order. With phenom Ronald Acuna Jr leading off and (the best fantasy first baseman out there) Freddie Freeman driving in most of the runs from the three-hole, they have some serious fireworks at the top of that lineup. Adding Brad Brach should help that bullpen that will be taxed down the stretch. Scheduling gods weren't very kind to the Braves during the month of September as they will play all but two days. By the end of the year, I wouldn't be surprised if the Braves had the highest team ERA of these 10 teams. Their offense will be what keeps them around, but we have seen last year if you want that trophy at the end you need pitching.
6. Philadelphia Phillies (68-57) – After a very public rough start for Gabe Kapler, he has settled in nicely. Leading a group that most didn't think would truly contend in the division. In the second half, the Phillies have the fourth-best ERA. Also posting a very impressive third-best home run total. They are still struggling as a team to hit for average and may not hit for average at all this year. This might be one of the healthiest teams in the NL right now. Also, they were able to add Justin Bour as a depth piece at the deadline. Veteran Jake Arrieta (3.25 ERA) leads a talented but young pitching staff. Aaron Nola is the ace of this squad if you're judging by stats, leading the way with a very respectable 2.24 ERA. He has made improvements that will help keep that ERA low. Cutting your HR/9 down by a little over half from the previous year will always help you break out. Throw in Nick Pivetta as another bright, young arm, and I'll bet these guys will fight till the end of September. Rhys Hoskins was under the microscope coming into the year after setting the world on fire with his crazy 18 home runs in 50 games sample in '17. No one expected that torrid pace to continue into 2018, but we can't be upset with what he has provided in his first full year. 116 games with 25 home runs and over 150 runs + runs batted in is nothing to frown upon.
7. St Louis Cardinals (70-57) – This is one of the teams you could use to push back against the statement of who the hottest team in baseball is, going 8-2 over their last 10 as well. Although I'm not as impressed with their run, 8-2 is still a great run. Power hitting Matt Carpenter is the talk of the town. Since June 1st, (min 200 pa) Carpenter leads the MLB in home runs (27), runs (63), Hard hit % (53.6%), and is third in wRC+ at 184. Marcell Ozuna has been dealing with an injured shoulder all year long and Tommy Pham got sent packing for peanuts. They fired their manager in the middle of July and have been on a tear since. This team shouldn't be in the race, they don't have a big name anywhere on that pitching staff and yet they still have the third best ERA in the NL (3.71). Unfortunately, they will need help from other teams to comfortably make the playoffs. After this upcoming week, they will play only 10 of their remaining 31 games against teams they can gain ground on in the standings. They finish the season with a three-game set at Wrigley. If things go correctly for the Cardinals, they could be playing for the division title on the final three games of the season.
8. Milwaukee Brewers (70-58) – One of the most active teams in 2018 in terms of trades, they acquired Christian Yelich in the beginning stages of the Marlins sell off. They also grabbed Jonathon Schoop and Mike Moustakas at the deadline as well. They've had to make some funky adjustments in the infield to handle these additions. Offensively as a team, they look solid. A very nice mixture of left and right-handed hitters, they have power hitters in the middle of the lineup (Jesus Aguilar and Travis Shaw), and they lead the NL in steals. Defensively, hey who cares. They also have a very talented back end of the bullpen. With Corey Knebel struggling of late, they can turn to either Josh Hader or Jeremey Jeffress. With a starting staff led by Jhoulys Chacin, I just can't get excited or think they will make a true push to make the playoffs. They do however have three more series against the Reds. Add in the final three games versus the Tigers and the easy schedule could make it interesting. Today's win over the Cardinals did snap a 3-game losing streak. Unless the offense goes on a massive surge to finish out the season expect them to fall back in the wild-card standings.
9. Pittsburgh Pirates (63-64) – If I had to pick a dark horse to snatch away the wild card away from one of the teams out west, this is the team. They made one of those classic trades, three minor league/majors ready players for one controllable "ace". I'm sorry, I just don't see Chris Archer bringing the numbers everyone believes are coming. Now, of course, the park factor is going to help greatly, but he has taken a serious step back in the one thing you banked on going into drafts this offseason and that is strikeouts. 16.8% K-BB% and mix that in with a career worse .273 avg against and no wonder Archer is sitting at almost a 1.45 WHIP. A huge advantage going forward for this team is that back end of the bullpen. Adding two big arms in Keone Kela and Kyle Crick to monster closer Felipe Vazquez should give this team one of the strongest and healthiest 7,8,9 out of these teams. Looking ahead at their schedule, they can steal games from every team in front of them in the standings. As they play the Brewers three times, the Cardinals twice, the Braves twice and have four more against the Cubs the last week of the season. A team they just split 2-2 with, while holding them to four total runs in four games.
10. Washington Nationals (63-63) – Wow, just wow. With the talent this team had rolled into the season with, you would've expected to see them at the top of this list. This team was actually reported to have put Bryce Harper on the block just hours before the deadline. The once powerful pitching staff now looks like a recovery unit in the hospital. Stephen Strasburg should return from another DL stint on Wednesday to face the Phillies in a very important series for the Nationals. Kelvin Herrera could return as well during the series vs. the Phillies. That will be very much needed as both Sean Doolittle and Ryan Madson don't look to be back soon. The offense still has everything to be a juggernaut for the last 6 weeks. Led by 19-year-old wunderkind Juan Soto, they are stacked as ever. With Trea Truner, Daniel Murphy, and Harper still in this lineup, I believe they can make fireworks happen, but my gut is just telling me this Nationals run is nearing its end. Max Scherzer has been as nasty as ever, posting career bests in K-BB% (28.4%), ERA (2.11) and WHIP (0.89). He should come close if not touch another 20 wins and bust another 200 innings. He will most likely add another Cy Young to his case but it still won't be enough to get this team to overcome the 6.5 game deficit. Especially after they just got embarrassed by the Miami Marlins dropping 2 of 3 and giving up 21 runs in the process.
Playoff Prediction:
NL Central- Cubs.
NL West- Dodgers
NL East- Phillies
NL Wildcard- Diamondbacks and Rockies.
A very similar ending to 2018 as we had in 2017. This time with the Phillies taking the east title. I think the Cubs have the experience to handle being in 1st and the adversity they have currently. The Dodgers are loaded, their ace is healthy and they should be getting their top end closer back soon. That is enough for me to think they'll make a push and take back the west. The D'backs are very solid and will find October baseball again. I didn't think I'd be saying the Rockies would be making it at this point, as I've been vocal against them but this last stretch of baseball has been historic.
Questions and comments?
thescorecrowsports@gmail.com
Follow Us on Twitter @thescorecrow
Follow Us on Reddit at u/TheScorecrow
Follow Bruce Cagle Jr. on Twitter @BruceCagleJr2
Main Credit Image: [getty src="1020687698″ width="594″ height="395″ tld="com"]