Jeremy Guerin | February 11th, 2019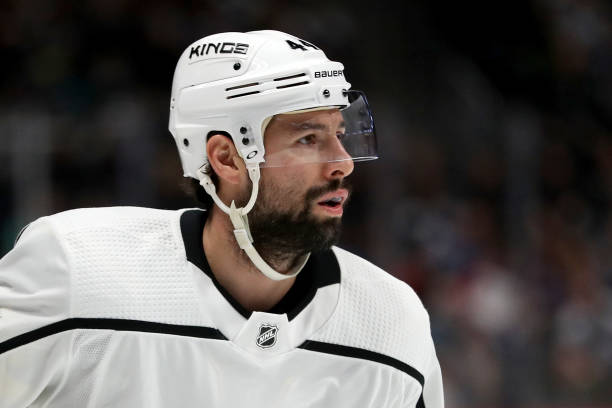 The Los Angeles Kings have continued on their quest to rebuild.
This time, it comes via a trade that sends Nate Thompson and a fifth-round pick to the Montreal Canadiens in exchange for a fourth-rounder.
Thompson, 34, has spent the last season plus with the Kings. He signed a two-year deal with an AAV of just north of $1.6 million two summers ago with the Ottawa Senators before being dealt to the Kings at the trade deadline.
The 11-year veteran is a former sixth-round pick of the Boston Bruins. He played only four games in his lone season in Boston, before being claimed off waivers by the New York Islanders. After stops in Tampa Bay and Anaheim, Thompson signed the aforementioned contract with Ottawa.
Thompson has appeared in 53 of the Kings' 55 games this season. He has scored four goals and tallied six points, as well as winning 53.3 percent of his faceoffs this year.
The Canadiens are acquiring a depth forward who will likely slide into a bottom-six role, while the Kings continue to look to get younger as their core gradually ages.
The Canadiens are one point back of the Bruins for third place in the Atlantic heading into tonight's action.
The Kings are sitting at 51 points, second worst in the Pacific and are tied with Anaheim for the fourth-worst record in hockey.
In the grand scheme of things, this trade won't really mean much for both teams. While it is surprising that the Canadiens would make a move like this, this type of trade is usually by teams that are trying to make a few tweaks as they prepare to make a playoff push. Thompson is on an expiring contract so he won't be on the Canadiens' roster next season. What's odd is that the Canadiens are trying to load up, while supposedly being in a rebuilding mode. Evidently, they are trying to capitalize on the last couple of elite years of Carey Price.
Questions and comments?
Follow us on Twitter @thescorecrow
Follow us on Reddit u/TheScorecrow
Follow Jeremy Guerin on Twitter @jeremyguerin_7
Main Image Credit:
[getty src="1088594196″ width="594″ height="396″ tld="com"]