Givanni Damico | May 6th, 2019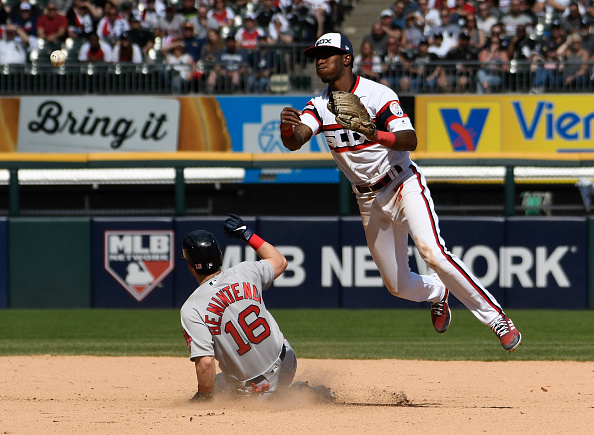 I am back with the second article of this series. I hope everybody enjoyed the first article and this one as well. Feel free to DM me on Twitter @giodamico15 with your thoughts or on Reddit at giodamico15. Let's get into it.
Tim Anderson might be one of the most important players in the game right now (I will do a separate article on this point). When it comes to the White Sox, Anderson has been a spark plug this season. He's hitting .336 with six home runs and ten stolen bases so far in 2019. Last season, he only managed to hit .240 with 20 home runs and 64 RBIs to go along with 26 stolen bases. All of the numbers beside the batting average are solid for a shortstop, but he's really stepped it up this year. Considering how he's hitting, the White Sox would probably really miss him if he weren't in the lineup right now. Rick Renteria and his teammates all respect Anderson as a leader in the clubhouse as well. For such a young player, he has a high level of maturity (despite what some say) that should lead him to a good career.
It's no secret that Jose Abreu had struggled at the beginning of 2019, but he is coming on now. Prior to this season, he had five very successful seasons. He got started a little late into his career at age 27, but he absolutely dominated in his rookie year. Mike Trout won MVP in that season (2012), but I honestly believe that Abreu deserved it more than Trout. That is my hot take for this article. I will show Trout's stats and Abreu's stats below:
Mike Trout: .287 BA, 36 HR, 111 RBI, 16 SB, .377 OBP, .561 SLG, .939 OPS
Jose Abreu: .317 BA, 36 HR, 107 RBI, 3 SB, .383 OBP, .581 SLG, .964 OPS
You decide what you think. Victor Martinez also deserved it more than Trout and possibly more than Abreu. Anyways, back to Jose Abreu. Abreu has been the leader of the White Sox for a few years now. One thing that I noticed is that amidst the massive rebuild that the White Sox have been undergoing for a few years now is that Jose Abreu has stayed on the team throughout the entire rebuild. Abreu is a great mentor for the young guys on the team and he is a major presence in that clubhouse. According to Rick Renteria, Renteria is impressed with him because of the humility and passion that Abreu plays with. I admire Abreu for who he is as a player and as a person, as does his whole team.
Francisco Lindor has had four exceptional seasons in the MLB thus far. His power numbers have grown exponentially since his rookie season, as he hit 38 long balls last season. He also managed to bat a very respectable .277 with 42 doubles while stealing 25 bases. Terry Francona has spoken about the many leadership qualities than Lindor contains and how mature he is. Lindor is very humble and will always pick up his teammates. He is very charismatic and loved by all the fans. Lindor missed the beginning of the 2019 season. This created a huge void on the team. When he finally came back, Progressive Field gave him a standing ovation. Unfortunately, for Indians' fans, Mike Chernoff has made it sound like this could be Lindor's last season on the Tribe. If this is true, appreciate him while you can, Tribe fans.
Miguel Cabrera hasn't always been a great clubhouse leader for the Tigers. He has been called out multiple times for his lack of leadership ability and for lack of being vocal with his teammates. 2017 and 2018 weren't great years for Cabrera. In 2017, he appeared in 130 games and only hit .249 with 16 home runs. Last year, he missed most of the season due to injury. This year, Cabrera's average is .293 (at the time this is being written), but he only has one home run. His power numbers have definitely been fading away, but he is still productive. When he is in the lineup, the Tigers play much better than when he is out of the lineup. With most of the other veterans gone, Cabrera really has to step it up with his leadership ability this year. He's been the heart and soul of this team for the last decade and he needs to ride out the struggles with the new-look Detroit Tigers until he chooses retirement.
I don't know if you've ever heard him talk or seen his social media, but Hunter Dozier is a good guy! He just seems like one of those guys that you want to go for a beer with. The former first-round pick had struggled up until this point in his career. At age 27, Dozier is breaking out. He's hitting .346 (at the time this is being written) with seven home runs and already holds a 1.8 WAR. Dozier has been crucial to the little success that the Royals have had so far. All of his teammates love him too. People regarded him as a bust before this season, but now everybody is behind Dozier. The Royals are a young team with little veteran leadership that is rebuilding. They need someone like Dozier to be the cornerstone of the team. Salvador Perez could also be mentioned here, but with him being out for the year, it didn't seem fitting.
I told myself that I would avoid putting players that are new to their respective team on the list, but Cruz was an easy choice for me here. Nelson Cruz hasn't faltered throughout his career. He's always been a great player who can tear the cover off the ball. He also brings much-needed veteran leadership to the Twins. The Twins are another one of those teams with younger guys like Eddie Rosario, Jorge Polanco, and Byron Buxton who may be future leaders, but they are focusing on their craft right now. (Once again, at the time this is being written) Nelson Cruz is hitting .298 with seven home runs right now. He can hit the ball hard and he leads the team. He remains to be one of the best hitters in baseball while mentoring all of the young and upcoming players in the Twins' organization. The future (and present) is bright in Minnesota.
Read about the other divisions by checking out my other articles in the series:
American League: East |
Questions and comments?
thescorecrowsports@gmail.com
Follow Us on Twitter @thescorecrow
Follow Us on Reddit at u/TheScorecrow
Follow Us on Facebook at The Scorecrow
Follow Us on Instagram at The Scorecrow
Follow Givanni Damico on Twitter @giodamico15
Main Image Credit:  [getty src="1147177457″ width="594″ height="435″ tld="com"]