Givanni Damico| May 4th, 2019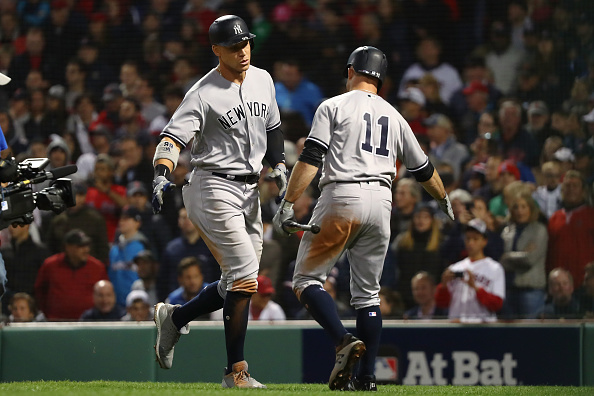 Every Major League Baseball club has that player that they just cannot thrive without. This series of articles will not always talk about the best player from each team, or even the player with the highest WAR from each team, but will discuss the one player who is a presence both on the field and in the clubhouse, and the player that the team can't thrive without.
Most Important Player To Each MLB Team: Part One
Baltimore Orioles: Trey Mancini, RF
After losing Adam Jones, the Orioles came into the season without a leader. Trey Mancini has taken over that role. First of all, he has been raking on the field. At the time this is being written, Mancini is batting .351 with six home runs and 13 RBIs. He and Renato Nunez have been the only two players that have been hitting the ball consistently. Mancini took over the Sarasota locker in the locker room which previously belonged to Adam Jones. Mancini is young still at age 27 and will have plenty of time to mature even more. As of right now, he is far and away the best player on the Orioles as well as the biggest clubhouse presence.
Boston Red Sox: J.D. Martinez, LF/DH
Many people view Mookie Betts as the franchise player for the Boston Red Sox because he is still young and very productive. Oh, he also just won an AL MVP award by the way, along with a plethora of other awards. Despite all of this, the Red Sox most important player is definitely J.D. Martinez. He is just as productive as Betts and he is even more of a presence in the clubhouse than Betts. When David Ortiz retired, there was a one year span between that year and the year that Martinez joined the team. The team was still successful in 2017 but they lacked a leader. Alex Cora has stated time and time again that Martinez is the leader of the team. Rafael Devers takes a lot of hitting advice from him as do many other players. Martinez enjoys analyzing these players' swings and telling them how to improve. He is good with the media. He is straight up with them and makes statements that stick with people. He is not a boring interview, whatsoever. J.D. Martinez is the most productive player on the field for the Sox at this point and he is the biggest mentor in the clubhouse as well.
New York Yankees: Aaron Judge, RF and Brett Gardner, LF
As a Yankees fan, I could not pick between these two. Brett Gardner is the past and the present and Aaron Judge is the present and the future. Brett Gardner is such a leader in the clubhouse. He has the respect of every single soul in that locker room. He has been a spark plug on the field and in the lineup for the Yankees as well. His power has come on more so than ever in the last five years, especially in 2017 when he hit 21 long balls. He's on pace for around 28 this season. Gardner is so valuable to have as a veteran presence in the locker room. He is clutch and is loved by all Yankees' fans.
Everybody knows how good Aaron Judge is. He hits for a good average and has great power. Most people also know how nice of a person Judge is and how important he is to that team. When Judge got hurt against Kansas City just a couple weeks ago, the whole stadium was absolutely silent. The clubhouse looked like they had lost all their cheer. They were winning the game, but they had just lost their best player. Judge is very passionate, as we saw when he let out an expletive in the dugout (which he almost never does) after getting hurt. The Yankees will surely miss the presence of Aaron Judge until he is ready to come back.
Tampa Bay Rays: Kevin Kiermaier, CF
Besides being the apple of every female baseball fan's eye, Kevin Kiermaier has been vocal about becoming more of a leader in the clubhouse. Kiermaier is easily a top-three fielder in baseball and he isn't incompetent at the plate either. He's a career .255 hitter with 74 stolen bases in six seasons. He is also a two-time Gold Glove winner (he got robbed twice as well). This Rays' team is very young, and Kiermaier is no exception at age 29, but he is one of the older, more experienced guys on the team who has been advising young guys like Austin Meadows. The Rays are a different team when Kiermaier isn't in the lineup. Kiermaier was brutally honest in saying that he was "terrible" last season. I love Kiermaier, so it's hard for me to admit this, but he was right. He only hit .217 which was a career low. You have to love the accountability of Kiermaier and the willingness to take responsibility. Kiermaier has been a better hitter this season and is fulfilling that leadership role.
Toronto Blue Jays: Vladimir Guerrero Jr., 3B
Hear me out here. The Blue Jays lack veteran presence in the clubhouse. Marcus Stroman has spoken out about this issue. The only veteran leader remaining after the Blue Jays dealt Kendrys Morales and Kevin Pillar is Justin Smoak. Smoak is a leader, but he isn't as exciting and tantalizing as Vladdy Jr. Vladdy hadn't even been in Toronto for three days and he was already the most important person at the Toronto Raptors' playoff game. Drake who? The whole country of Canada is already behind Vladdy Jr. There is no question in my mind that Vlad will be a superstar and he is already receiving superstar treatment in Canada. I'm excited to watch his career unfold.
Questions and comments?
thescorecrowsports@gmail.com
Follow Us on Twitter @thescorecrow
Follow Us on Reddit at u/TheScorecrow
Follow Us on Facebook at The Scorecrow
Follow Us on Instagram at The Scorecrow
Follow Givanni Damico on Twitter @giodamico15
Main Credit Image: [getty src="1046285800″ width="594″ height="396″ tld="com"]