Filip Canda | February 7th, 2019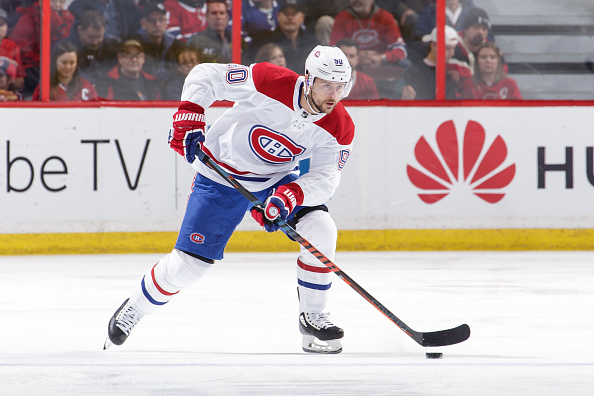 Tomas Tatar is experiencing a rejuvenation season with the Montreal Canadiens to say at least. Tatar was traded last summer from the Vegas Golden Knights in a deal, which included former Canadiens captain Max Pacioretty going to Las Vegas. Tatar was struggling a lot last year. Started the season with the Detroit Red Wings, which picked him as the 60th overall player from the second round of the 2009 NHL Draft.
In his 62 games with the Red Wings last campaign, the Slovakian winger collected 16 goals and 12 assists. Vegas was trying to find an offensive boost headed to the playoffs, but Tatar became rather a disappointment. In 20 games with the Golden Knights, Tatar recorded just six points. That led to the fact of limiting Tatar to play just in eight games in the post-season. Tatar scored just one goal and added one assist.
A change of scenery was much needed and it proved to be that way. Tatar has 16 goals and 23 assists for 39 points in 53 games so far this season in Montreal. That can be viewed as a major improvement for a 28-year-old left-shooting winger from Slovakia. The fact that he is from Slovakia can potentially cause Tatar a big conundrum ahead. For sure the Montreal Canadiens have been much better this year and they aim for a return to the playoffs. But Slovakia hosts the World Championships tournament in May and Tatar would be proud to represent his home country in front of his own fans, who really love him back there.
Home Love or the Canadiens in the Playoffs?
"I looked over the tournament schedule and I must admit that I would get there just in time even after the second round of the playoffs. But playing in the playoffs and having success there with Montreal, that is my main priority. Last year I wanted to play at World Championships as well, but I got all the way to the Cup final with Vegas," said Tatar in his interview with Slovakian media. "However, I would love to come and represent my country at home, it should be wonderful," added Tatar.
Last time Slovakia hosted the World Championship tournament, Tatar was just 20-years-old and did not participate. That time around not many people knew much about him, which has drastically changed over the years. Tatar's career bests came in the 2014-2015 season with posting 29 goals and 56 points. "Not really concerned about surpassing those numbers. I'm just very happy playing hockey compared to the last season when it wasn't quite ideal."
What about the Montreal Canadiens and their surge? This team is now well into the playoff contention and it seemed like they wouldn't make the playoffs at all. "People possibly underestimated us, but we have been showing our potential ever since the Training Camp. I think that the return of Shea Weber, who is our tremendous leader, helped us a lot. Compared to the last season, I and my team improved mightly and we are happy about that fact. It has been a pleasure so far," stated Tatar in an interview.
French and The Super Bowl
Montreal is a huge hockey market. "I agree with that, everyone here understands hockey and likes to comment on everything hockey related, but it's just fine," added Tatar, who even had to consider learning French! "I know I'm pretty bad at it, but I will try and improve. English here is just good enough I suggest, but people appreciate when you speak French. I will take some lessons over the summer, I haven't had much time lately I must admit."
Of course, it's not so much a Canadian thing, but Super Bowl was watched all over the world, in Canada as well. Montreal Canadiens have their biggest rival down in Boston, the Bruins. "Tom Brady is a huge phenomenon, it's very hard not to be his fan. I was supporting him and was satisfied with the New England Patriots winning their sixth title. Brady deserves it for being a role model in the world of sports," said Tatar, who isn't really hating Boston teams in general just for the fact he is now playing in Montreal.
Questions and comments?
thescorecrowsports@gmail.com
Follow Us on Twitter @thescorecrow
Follow Us on Reddit at u/TheScorecrow
Follow Filip Canda on Twitter @Phiil7
Main Credit Image: [getty src="1078550584″ width="594″ height="396″ tld="com"]