Alex Kielar | May 23rd, 2019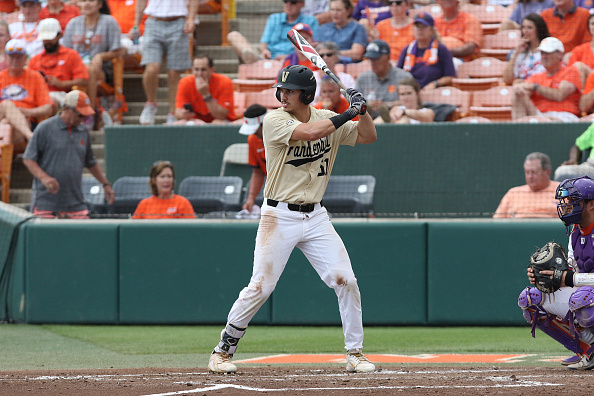 Height: 6'3"
Weight: 205 LBs
Age: 21
Bats: Left
Throws: Left
2018 Stats: .368/.494/.511, 4 HR, 15 RBI, 23 SO, 31 BB
2019 Stats (as of May 22, 2019): .358/.461/.748, 25 HR, 68 RBI, 45 SO, 45 BB
Hit: 55 Power: 55 Run: 40 Arm: 60 Field: 50 Overall: 55
Jeffrey Joseph "JJ" Bleday is a junior outfielder at Vanderbilt University. He was born November 10, 1997, to Raymond and Kathy Bleday in Danville, PA. Bleday earned letters in baseball all four years in high school, while also lettering twice in golf and swimming. He holds six swimming records at his first high school, Titusville High School in Titusville, PA. After his freshman and sophomore years at Titusville, Bleday transferred to A. Crawford Mosley High School in Lynn Haven, Florida for his junior and senior years.
Bleday was a two-way player in high school, and in his junior season, he batted .373 while posting a 4-1 record and a 2.43 ERA. He earned first-team All-State honors for the state of Florida in the 2015-16 seasons. Following Bleday's senior season, he was drafted by the San Diego Padres in the 39th round in the 2016 MLB Draft but instead elected to commit to Vanderbilt. Bleday immediately earned the starting right field spot for Opening Day his freshman year, and earned a more prominent role in 2018, being a regular in right field. Even though he battled through injuries for a portion of the conference schedule, he came up clutch in big moments and was a huge piece in the lineup, becoming one of the strongest hitters in the league.
[youtube https://www.youtube.com/watch?v=kocvy2TqZ1U&w=560&h=315] 
Bleday finished the season leading the Commodores' offense in batting average, slugging, and on-base percentage. Following the season, he starred in the Cape Cod League and was voted on by scouts as the top prospect for the summer league.
Strengths:
Bleday has very good control over the strike zone, as he very rarely chases pitches. He can drive the ball all over the field and has very quick hands, with A+ bat speed. He has recorded more walks than strikeouts, although this year his walk and strikeout totals are even at 45. Bleday has started to see his bat speed and strength translate to some more solid power, hitting five home runs in the Cape Cod League and a Division one leading 25 this year so far. Along with his power and contact bat, he has a plus arm with a 60 grade. With his two-way play in high school and showcasing an upper-80s fastball, Bleday has an arm made for the outfield.
Weaknesses:
Maybe the only concern for Bleday is his lack of speed, as he has attempted six steals and was caught three, with a grade of 40 from MLB Pipeline. Not only does this affect his base running, but also his ability to cover ground in the outfield. He does have solid instincts and this could certainly make up for his lack of speed, and right fielder's don't always have to necessarily have to be the fastest. With his plus arm and if he can get a little quicker, Bleday could be lethal in the outfield.
Overview:
Bleday is one of the best pure hitters in the draft class, maybe only behind California's Andrew Vaughn for the best. He can hit to all fields for contact and newly found power and his plate discipline is top of the class. His speed is the biggest red flag on the bases and in the field, as he is only able to play the corner outfield spots, but with a plus arm and quick instincts, he can still be a solid outfielder at the next level. With his ability to hit, solid instincts and arm, I don't see him as a first-round bust, and he should see the majors soon. Major League teams, with the way so many hitters having the "three true outcomes" are always looking for more pure hitters.
Draft Projection: Round 1, Pick 4 to the Miami Marlins
The Marlins are currently one of the worst, if not the worst, teams in all of the majors. They have a high strikeout rate and fail to deliver with RISP, and could really use adding a top hitting prospect like Bleday. Bleday is someone who has proven power and contact ability which should be a long-term reinforcement to their offense. He is someone they could put right into the middle of their lineup and count on to produce runs at a high level with power and hitting around .280 with a high OBP.
Check out our other Draft Previews:
Andrew Vaughn | Will Wilson | Jackson Rutledge | Hunter Bishop
Questions and comments?
thescorecrowsports@gmail.com
Follow Us on Twitter @thescorecrow
Follow Us on Reddit at u/TheScorecrow
Follow Us on Facebook at The Scorecrow
Follow Us on Instagram at The Scorecrow
Follow Alex Kielar on Twitter @KielarScorecrow
Main Credit Image
[getty src="967471746″ width="594″ height="396″ tld="com"]