Joey Ricotta | April 29th, 2019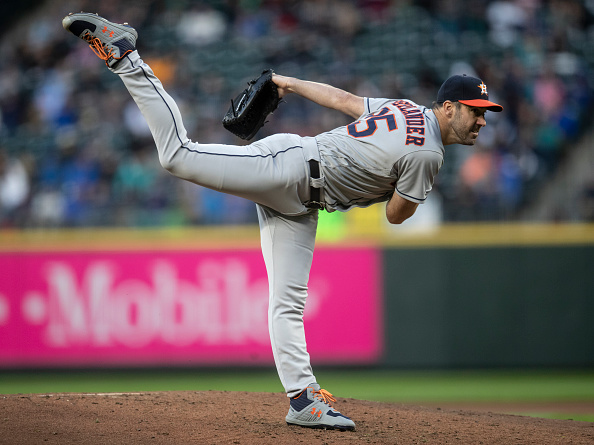 Sometimes we need to look at DFS like we are putting together a puzzle. The top-notch players are usually the highest priced ones. The lower priced guys can be serviceable, given the right matchup. My goal with the article today is to give you some pieces, both high and low, to give you the best chance of putting together the perfect puzzle. Take a ride with me as I lay out some spend up options, value and BvP plays, and stacks.
Pitching
Justin Verlander ($10.8K on DK and $11.3K on FD)
I don't have to tell you that Justin Verlander is a great option today, because he always is. But it's worth mentioning his name, along with the fact that he threw 8 innings of four-hit one-run ball while striking out 8 batters his last time out against these Twins. In 187 at-bats, Verlander has held the Twins to a lifetime .171 average. He has as high of a ceiling as anyone tonight. The only thing scaring me into not playing him in 100% of my lineups? The Twins are a good hitting team and Verlander has given up one home run in every game he's pitched this year. If anyone happens to be on-base and he gives up a bomb this time, his fantasy points production from a dollar for dollar standpoint could take a major hit. 
Zack Wheeler ($9.3K on DK and $8.6K on FD)
With three straight quality starts, Wheeler seems to be finding his form. He went seven shutout innings while striking out 11 his last time out, against a good Phillies lineup. Now he gets a nice matchup at home against a Reds team that can struggle at times. They have the third-lowest wOBA and second lowest wRC+ versus right-handed pitchers. They also rank near the bottom in K% and ISO against righties. Knowing Wheeler can strikeout batters in bunches, makes him even more appealing. If he gives up a couple of runs, at least the strikeouts will give him a solid floor.
John Means ($7K on DK and FD)
John Means pitched well his last time out against this White Sox team, and in my eyes it was predictable. What do I mean? Of course, he had the good fortune of it being his birthday, but he also had some other things working in his favor. He has a good changeup, that he uses 34 percent of the time, according to baseball savant. The White Sox are 27th in the league in hard contact percentage against left-handed pitchers, but fifth in the league in BABIP. Translation, they are due to regress. They also strikeout at a 25.6% clip against them, have a 304 wOBA, and a 123 ISO (6th lowest in MLB). Making matters easier, Eloy Jimenez has been placed on the IL.
Other Targets: Mike Soroka, Kenta Maeda, and Patrick Corbin
Spend Up
2B Ozzie Albies ($4.5K on DK and $3.9K on FD)
He can mash from either side of the plate, but especially hitting from the right side. He hit two home runs yesterday against a left-hander and gets the benefit of facing another on back to back days. He had a .384 wOBA and .213 ISO against them last season. What he did yesterday and so far this season is no fluke.
1B/OF Cody Bellinger $5.7K on DK and $5.3K on FD)
Bellinger is arguably the hottest hitter in baseball. He already has 14 HR, 36 RBI, and 5 stolen bases to go with it. San Francisco is a bad park for hitters. It doesn't matter. I don't know if they can make fences far enough away from home plate for Bellinger right now. Also, just because the ballpark isn't great for home runs, doesn't mean doubles and triples won't work. A matchup against "The Shark" Jeff Samardzija shouldn't strike fear into you. Unless you believe in the 2019 version more than the career data.
Value
1B Jesus Aguilar ($3.3K on DK and $2K on FD)
If you laughed while reading his name I don't blame you. Aguilar has gotten off to a very sluggish start to the season. He still possesses power and is dirt cheap across all DFS sites. Facing Kyle Freeland might not be ideal, but it's in a good hitters park. When Freeland does struggle, it's usually to righties. He gave up 15 of his 17 homers last season to right-handed batters. Aguilar is not someone I'll be playing in H2H or cash game contests, but he makes a ton of sense to take a tournament flier on.
SS Carter Kieboom ($3.7K on DK and $3K on FD)
Anthony Rendon could be heading to the IL. I'm assuming newly called up Carter Kieboom, won't be going back to the minors any time soon. Especially, after he has homered in two of his first three games with the big league club. He'll be facing Michael Wacha who can struggle at times with right-handed batters.
OF/2B Stevie Wilkerson ($2.4K on DK and FD)
Wilkerson is almost too cheap not to take a stab at. I played him in the game he homered in last week and those lineups turned out great. At this price point, it won't take much for him to pay off his salary. He has hits in four straight games and is a switch hitter. So, you probably won't have to worry about him getting pinch-hit for late.
BvP
OF Michael Brantley ($4.8K on DK and $4K on FD)
Including Brantley in your Astros stacks or even as a player by himself might be a wise move. He's 8 for 26 with 2 HR and 5 extra base-hits against Odorizzi, including a home run just last week off of him. What are the odds he hits another homer off of him? Maybe not great, but I could see at least a double and RBI opportunities being there.
2B/3B Howie Kendrick ($4.4K on DK and $3.2K on FD)
The Nationals don't always have Kendrick in the starting lineup and his price tag is a little high for many DFS players. But in small sample size, Kendrick owns Michael Wacha. He's 9 for 13 with a homer lifetime against him. Wacha is also notoriously worse against right-handed batters than he is lefties. He's given up 52 career home runs to them, compared to 24 to lefties, and has already given up four to them this season.
Stacks
HOU vs Jake Odorizzi 
Houston is a right-handed heavy lineup that can hit very well. I wrote them up as a stack last week against Odorizzi and it only halfway paid off. Odorizzi gave up eight hits but was able to limit the damage giving up only two runs. He still gave up a home run and only struck out two batters. Odorizzi is a reverse splits pitcher. The fact that the Astros were able to put the bat on the ball as often as they did, bodes well for them in a rematch. Getting a chance to face him again so soon, gives the Astros an advantage. They'll have a good memory of what Odorizzi features and should be able to have more success.
ATL vs Nick Margevicius 
Atlanta can really pummel left-handed pitching. As evidenced by their league-leading .259 ISO and .391 wOBA against lefties. While Margevicius has been decent this year, this is a spot he could get hurt. Albies, Acuna, and Donaldson are awesome versus lefties. Freddie Freeman and Johan Camargo can also do damage.
NYM vs Tanner Roark
Roark usually doesn't give up a whole lot of hard contact, but this year he has been. He's allowing 45.5% to lefties and 40.5% to righties. Cano might be out, but the rest of the Mets lineup could be in a good spot, especially the top five in the order.
 COL @ MIL
While most people will be attacking matchups, sometimes a good strategy can be to attack ballparks. I could potentially see both sides of this game going off, even if Yelich is out of the lineup.
WAS vs Michael Wacha
I don't usually stack against Wacha, but the more I looked at this matchup, the more I liked it. I like the price of a lot of players on Washington's side and I don't think they will be overmatched by Wacha's changeup. I think I'll mostly be targeting the cheaper right-handed bats in Washington's lineup to help supplement the more expensive stacks like Houston and Atlanta.
Joe Ricotta has been playing fantasy sports for a little over 10 years. Ricotta began playing daily fantasy shortly after its inception. He has taken down a few large field tournaments and regularly cashes in his head to head matchups. This is not to say that he always will, but he always has a reason behind his lineup constructions. Fanduel pricing has been included but for all intents and purposes, the article was based on DraftKings research. The main slate of games beginning at 7:05 EST were the ones addressed. Recheck starting lineups and weather concerns before the games start and make changes accordingly.
Questions and comments?
thescorecrowsports@gmail.com
Follow Us on Twitter @thescorecrow
Follow Us on Reddit at u/TheScorecrow
Follow Us on Facebook at The Scorecrow
Follow Us on Instagram at The Scorecrow
Follow Joey Ricotta on Twitter @theriot326
Main Image Credit:
[getty src="1143106413″ width="594″ height="445″ tld="com"]