Joey Ricotta | May 7th, 2019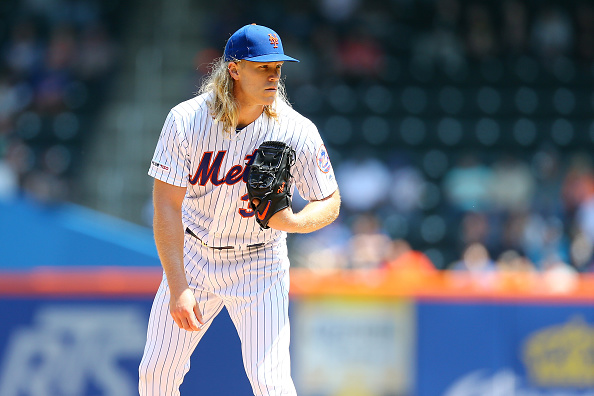 Back at it again for tonight's huge 13-game main slate. Last night was kind of a wash for me, but tonight is where we get back full-fledged in the win column. Or at least I hope. Let's take a look at who we can target tonight.
Pitching
Noah Syndergaard ($10.1K on DK and $10.4K on FD)
The San Diego Padres are in the lower third of the league in a lot of advanced categories against right-handed pitchers. The big ones to look at for me is strikeout percentage and batting average. They have been striking out at an extremely high rate around 27% which is the highest rate in the league. Syndergaard is coming off a completely dominating performance as he pulled a Bob Gibson to pick up a True Win. I like him a lot today throwing in a good pitchers park in like San Diego.
You might look at Tyler Mahle's 4.09 ERA, his win-loss record, and the Vegas odds and say why. The Oakland A's rank in the bottom third in hard contact percentage and wOBA against right-handed pitchers. They also hit the ball on the ground a lot against them. Something Mahle does well, he induces a lot of ground balls. He's also been pitching better than his numbers look on the surface. He's striking out batters at a 24% clip and his FIP and xFIP are in the mid 3's. Mahle also gets the ballpark upgrade, at the very least he should be able to get the win facing Mike Fiers.
Other Targets: Jon Lester, Caleb Smith, Collin McHugh, and Griffin Canning
Hitting
C Tucker Barnhart ($3K on DK and $2K on FD
Tucker Barnhart's hard contact rate and ISO is up against right-handed pitchers, and he's hit all three of his home runs this year against them. He draws a good matchup against Mike Fiers tonight in a game I expect the Cincinnati Reds to fair pretty well in. Fiers has been brutal against left-handers. If Barnhart hits 9th where he is projected, he will be protected by the top of the order. Fiers will have no choice but to attack him, which will give him an opportunity to produce at his low priced salary.
1B Joey Votto ($3.5K on DK and $3.4K on FD)
Joey Votto has gotten off to a sluggish start, but he draws a nice matchup tonight. Much like Barnhart, Votto gets the splits advantage against Mike Fiers. Last year, Votto had a .385 wOBA and 141 wRC+ against right-handed pitchers. Fiers struggles against that side of the plate, allowing a 411 wOBA to lefties. He also throws his fastball an extreme amount to them. Votto has always crushed fastballs and I expect that trend to continue tonight.
OF J.D. Martinez/Andrew Benintendi (Both $5.1K on DK and $4K on FD)
The matchup favors both of these guys against David Hess. I said it yesterday and I'll say it again today, Martinez is DUE for a long ball! In 5 at-bats against Hess, JD Mart has hit 2 of them. In another small sample size, Benintendi has also owned Hess. In 9 plate appearances, he has 3 HR, 5 RBI, and 1 BB. These are also not only BvP plays because Hess is not a good pitcher and struggles against hitters from both sides of the plate. Benintendi is also raking right now, with hits in each of his last 5 games and has gone 9 for 20 during that stretch. After receiving the day off last night against a lefty, I expect him to be fully charged and geared up for a good night.
OF Bryce Harper ($4.5K on DK and FD)
The price is too cheap for a guy like Bryce Harper. Yes, I realize he's not hitting much right now, but that only makes me like him that much more. If ownership is down, especially in tournaments I'll be all about it. This is a good matchup for him to break out against Dakota Hudson.
Other Targets: Stevie Wilkerson, David Fletcher, Jose Altuve, and Alex Bregman
BvP
2B Joe Panik vs Antonio Senzatela
Joe Panik is 8 for 18 lifetime versus Antonio Senzatela with two home runs. The game in Coors is risky, but he could go off tonight and is cheap salary wise for a Coors Field game at $3.9K.
Stacks
BOS vs David Hess
Hess gives up a ton of hard contact and flyballs. He struggles against both righties and lefties and a few Red Sox hitters have already hit him well. I think this is a big blow up spot for the Red Sox offense playing in Camden Yards tonight.
CIN vs Mike Fiers
Mike Fiers is a mediocre pitcher at best. The Reds will be running out a lineup that has been producing lately. Fiers has a 6.81 ERA, an xFIP and FIP well over 5, and a 1.95 HR/9 rate. Although they will be playing in Oakland and not the Great American Smallpark, the Reds should be able to tee off on Fiers.
SFG @ COL
Rain could be an issue for this game, but it won't stop me from playing some of these guys in tournaments unless it gets postponed. It doesn't seem like that will be the case, but monitor it closely. I like Panik, Crawford, and Belt on the Giants side and the usual suspects for the Rockies as well as Mark Reynolds.
TB vs Taylor Clarke 
Taylor Clarke will be making his first career big league start against a good lineup. We never know what to expect with a pitcher making his first start, but we've been seeing this Tampa Bay team explode lately. I'll take a shot with them in at least a couple of GPPs.
Joe Ricotta has been playing fantasy sports for a little over 10 years. Ricotta began playing daily fantasy shortly after its inception. He has taken down a few large field tournaments and regularly cashes in his head to head matchups. This is not to say that he always will, but he always has a reason behind his lineup constructions. Fanduel pricing has been included but for all intents and purposes, the article was based on DraftKings research. The main slate of games beginning at 7:05 EST were the ones addressed. Recheck starting lineups and weather concerns before the games start and make changes accordingly
Questions and comments?
thescorecrowsports@gmail.com
Follow Us on Twitter @thescorecrow
Follow Us on Reddit at u/TheScorecrow
Follow Us on Facebook at The Scorecrow
Follow Us on Instagram at The Scorecrow
Follow Joey Ricotta on Twitter @theriot326
Main Image Credit:
[getty src="1140911874″ width="594″ height="396″ tld="com"]