Joey Ricotta | April 23rd, 2019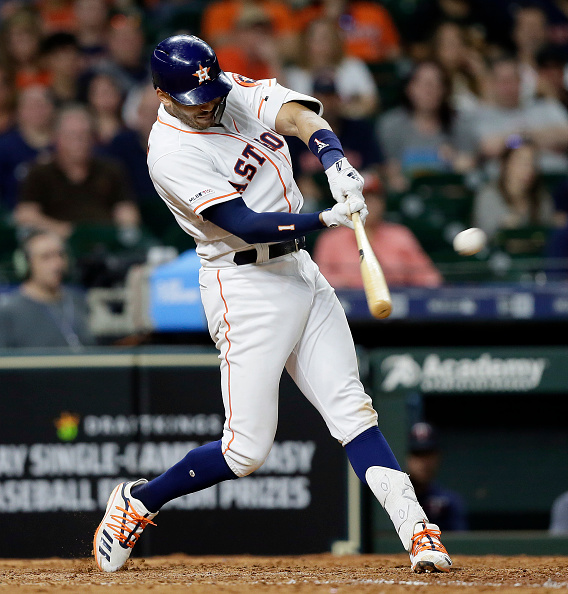 Welcome in. Hopefully you were able to cash last night with some of the plays provided in yesterday's article. Stephen Piscotty and Jonathan Lucroy came up huge for me and I was able to turn in a decent profit, cashing in 84% of cash games last night. Hopefully we can strike gold again. Let's take a look at some players to target for tonight's 13-game slate.
Pitching
Zack Wheeler ($7.9K on DK and FD)
Philadelphia is not typically a team we should pick on, but there are limited good options tonight for pitching. Wheeler is someone I believe in from a talent standpoint and there are strikeouts to be had in this Phillies lineup. As a team, the Phillies strikeout at a 22.7% clip against right-handed pitchers. Last year, Wheeler struck out batters at a 24.1% rate. He's had some command issues this year, but he's been allowed to throw over 100 pitches in each of his last three starts. His last time out against these Phillies he went 7 innings, gave up 3 runs, and struck out 5. Not an incredible stat line by any means, but serviceable. Fangraphs SaberSim also has him as the highest projected points producer for tonight's slate of games. If he can work his way around Bryce Harper, I think he'll be fine.
Other Targets: Trent Thornton, Domingo German, Frankie Montas, and Luke Weaver.
Locks
3B Yoan Moncada ($4.9K on DK and $4.2K on FD)
Until Moncada stops being consistent I'll keep playing him. Andrew Cashner is slightly better than David Hess as a starting pitcher, but he's still allowing a 50.6 hard hit %. All five of Cashner's home runs allowed this season have been to right-handed batters, but his career numbers say he's better against righties than lefties. It's too early in the season to not believe he won't revert back to his normal numbers. I think today is the day he gives up a homer or two to a left-handed batter.
SS Carlos Correa ($4.5K on DK and $3.7K on FD)
Correa was a name I left off the article from yesterday, but made his way into all of my cash game lineups. He was another guy who paid off in a big way. You could pay up for Trevor Story, but I'm all about maximizing salary and finding guys at a discounted price with similar upside. Correa is on a mini heater right now with home runs in two straight games. He also has the BvP stats working in his favor. He's 7 for 13 in his career versus Pineda with three homers and five extra base hits.
OF Juan Soto ($5K on DK and $4.3K on FD)
Soto has gotten off to a relatively slow start. Doing a deeper dive into his numbers it's hard to tell why, other than his increased strikeout rate. He has a higher walk rate, nearly the same hard contact rate, and over a 10% lower soft contact. Putting him in Coors Field against a susceptible right-hander Jeff Hoffman, sounds like a perfect time to break out the whooping stick.
Value
1B Chris Davis ($2.7K on DK and $2.1K on FD)
I know what you're thinking. Chris Davis? The guy who went hitless in 54 consecutive at-bats breaking an 0 for 46 record by Eugenio Velez? Yes, that Chris Davis. Prior to finally snapping out of his funk, he had been hitting the ball solidly and using the opposite field. He still has power upside and now he gets the benefit of facing someone he's had some success against in the past. Davis is 10 for 35 lifetime versus Ivan Nova with four home runs, 11 RBI, and 6 extra base hits. If he pops one out tonight, it'll be even better than Piscotty or Lucroy last night. With a salary under $3K, he doesn't have to do much to reach value.
3B/OF Nicky Delmonico ($3.5K on DK and $2.2K on FD
Nicky Delmonico plays third base? Well, not really, but he is third base eligible on Draftkings if you wish to use him there. Using Delmonico is more about his matchup, salary, and the guys around him than believing in his talent. Because Eloy Jimenez has been put on the bereavement list, Delmonico received the recall to the Majors. I think he'll be looking to prove himself to the White Sox or another organization and 15 of his 17 career home runs have come against right-handed pitchers.
Stacks
CWS @ BAL
Right back to the well with this one. Cashner is not a good pitcher and has given up four homers in his last three starts. The White Sox look to be in another great spot, but the Orioles could scuff up Ivan Nova as well. Both sides of this game, even an all out game stack makes sense.
WAS @ COL
Patrick Corbin is a good pitcher, but the Rockies have some guys that hit him well. Particularly, Arenado, Story, and Blackmon. Almost everyone is in play on the Washington side against Jeff Hoffman, with Juan Soto being my favorite single player out of the bunch.
HOU vs Michael Pineda
So far, Pineda has allowed 54.8% hard contact and a .369 wOBA to RHB's. There are a lot of good righties in the Houston order and the main ones have had success against Pineda.
TB vs Homer Bailey 
I still don't have any faith in Homer Bailey the pitcher. The Tampa Bay bats have been very good this year and Bailey will implode again sometime soon. Tonight could be the night.
Joe Ricotta has been playing fantasy sports for a little over 10 years. Ricotta began playing daily fantasy shortly after its inception. He has taken down a few large field tournaments and regularly cashes in his head to head matchups. This is not to say that he always will, but he always has a reason behind his lineup constructions. Fanduel pricing has been included but for all intents and purposes, the article was based on DraftKings research. The main slate of games beginning at 7:05 EST were the ones addressed. Recheck starting lineups and weather concerns before the games start and make changes accordingly.
Questions and comments?
thescorecrowsports@gmail.com
Follow Us on Twitter @thescorecrow
Follow Us on Reddit at u/TheScorecrow
Follow Us on Facebook at The Scorecrow
Follow Us on Instagram at The Scorecrow
Follow Joey Ricotta on Twitter @theriot326
Main Credit Image:
[getty src="1144461866″ width="568″ height="594″ tld="com"]