Joey Ricotta| April 8th, 2019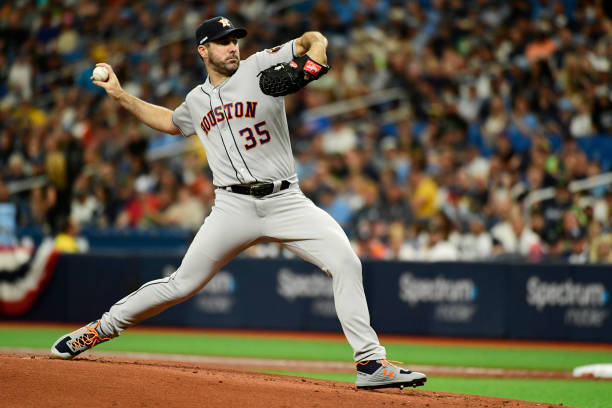 Players from Coors Field will be available to plug into your lineups today. Does that mean they are the best options on the board? Mondays can be the worst days ever. That doesn't mean they have to be bad fantasy days. Let's start the week off right as we look at some players to target for tonight's 8-game slate.
Locks
P Justin Verlander ($10.4K on DK and $10.7K on FD)
Just pay up. Sometimes we get too cute at the pitcher spot and we want to find the best value. I'm all for finding good value, but sometimes that great value is fool's gold. Some of the lower tier and lower priced pitchers have had recent success. That doesn't mean you can rely on it. Verlander can be relied on despite his shaky outing last time against the Rangers. Returning home to face the Yankees, Verlander will be fired up in this one. I expect him to strike out quite a few and get back on track against a lineup he has had success against in the past. Verlander has held the Yankees to a combined .190 batting average against. The Yankees still have tough hitters and can create problems for Verlander, but this is where to go in cash games.
GPP Options: Marco Estrada and Vince Velasquez
C Omar Narvaez ($3.6K on DK and $3K on FD)
Both sides of the plate hurt Homer Bailey last year, but left-handed hitters had a .394 wOBA against. He also gave up more HOMERS per 9 against lefties, 2.29 compared to 1.63 versus righties. Narvaez has been a completely different hitter versus right-handed pitching than he's been against lefties. His wOBA and ISO numbers were both nearly 100 points higher against righties and all of his 9 home runs came against them.
3B Nolan Arenado (5.4K on DK and $4.3K on FD)
Calling my shot here. Teheran struggles more against left-handed batters than right-handed ones, but Arenado is the exception to the rule. He has yet to homer this season and Teheran gives up a lot of fly balls. Arenado doesn't need a boost from the elements, but if he's getting one, jump on board. Hurry. Do it before people remember that's what he does.
OF Charlie Blackmon ($5.2K on DK and $4K on FD)
Going up against Teheran, Blackmon is in a good spot to produce. At Coors Field, speed and power combos work exceptionally well. Charlie Blackmon has been a key fantasy producer for years. Blackmon will be hitting at the top of a Rockies order that is expected to get some runs tonight. He has the platoon splits edge and has stolen base potential. If you can afford it, plug him in and forget it.
OF Robbie Grossman ($4K on DK and $2.7K on FD)
Grossman is a guy projected to hit at the top of the A's lineup in a game with a rising vegas team total at Camden Yards in Baltimore. He has pop in his bat, evidenced by his home run in yesterday's game and he hits right-handed pitching well. Cashner struggles against lefties and has given up 22 more home runs against them in almost 69 fewer innings over the course of his career.
Contrarian Value
OF Alex Gordon ($3.7K on DK and $3.9K on FD)
An old veteran squaring off against an old veteran. Alex Gordon versus King Felix. Gordon has had very little success against Hernandez in their head to head battles. Gordon has gone 4 for 29 hitting .138 with 9 K's against him. But this isn't the same King. Felix really struggled against lefties last year compared to his career numbers.
Career vs LHB – 28.9% HC, 3.60 FIP, 0.85 HR/9, 29.2% FB, 11.3% HR/FB
2018 vs LHB – 41.3% HC, 5.48 FIP, 1.85 HR/9, 37.9% FB, 18.2% HR/FB
BvP Dart
1B Paul Goldschmidt ($4.5K on DK and $4.2K on FD)
Goldy is off to a good start power wise with his new team. He has five home runs in the first nine games of the season. He's 11 for 26 lifetime versus Ryu with three home runs. I don't mind using him in cash games, it's just there are other options I think are safer. Ryu isn't a bad pitcher and Goldy is still only hitting .200 to start the year.
Stacks
SEA vs Homer Bailey 
Homer Bailey's current FB rate of 54.5% will not continue. Neither will his HR/FB rate of 0%. He will give up home runs. As long as we don't abandon targeting against him it will eventually pay off. With a name like Homer how can it not? Last year, he allowed an awful 40.9% hard contact rate and had an ERA over six.
STL vs Hyun-Jin Ryu
This is where I want to be sneaky tonight. Mike Shildt will most likely put together a lineup filled with some solid right-handed bats against Ryu. I'm thinking a stack of Goldy, Ozuna, Molina, and DeJong would do the trick.
PHI vs Anibal Sanchez
The Phillies are playing at home in a good hitters park facing off against Anibal Sanchez. Sanchez only made it through 4 innings his last time out. He was pulled after being struck by a comebacker. He still gave up 4 hits, 4 runs, and walked 4 batters before that and it came against these Phillies. Don't overthink this. The Phillies are a solid option tonight.
OAK vs Andrew Cashner
The Blue Jays stack against Cashner didn't work last time but I think an A's one does here. The left-handed bats like Grossman and Morales look like nice options at Camden Yards. The Vegas total was over 9 and as of writing, this has now reached 10 runs. Load up on the bats.
Both sides of the Coors Field game. ATL @ COL
All systems go in Colorado tonight. Freeland and Teheran are decent pitchers, but they don't have exceptionally overpowering stuff. Teheran gives up a lot of FB's and Freeland will be facing tough matchups. I'm expecting a high scoring game. Fading the game in tournaments could be wise. Many others will be playing it.
Joe Ricotta has been playing fantasy sports for a little over 10 years. Ricotta began playing daily fantasy shortly after its inception. He has taken down a few large field tournaments and regularly cashes in his head to head matchups. This is not to say that he always will, but he always has a reason behind his lineup constructions. Fanduel pricing has been included but for all intents and purposes, the article was based on DraftKings research. The main slate of games beginning at 7:05 EST were the ones addressed. Recheck starting lineups and weather concerns before the games start and make changes accordingly. 
Questions and comments?
thescorecrowsports@gmail.com
Follow Us on Twitter @thescorecrow
Follow Us on Reddit at u/TheScorecrow
Follow Us on Facebook at The Scorecrow
Follow Us on Instagram at The Scorecrow
Follow Joey Ricotta on Twitter @theriot326
Main Image Credit: [getty src="1138933782″ width="594″ height="396″ tld="com"]