Joel Dorcas |May 9th, 2019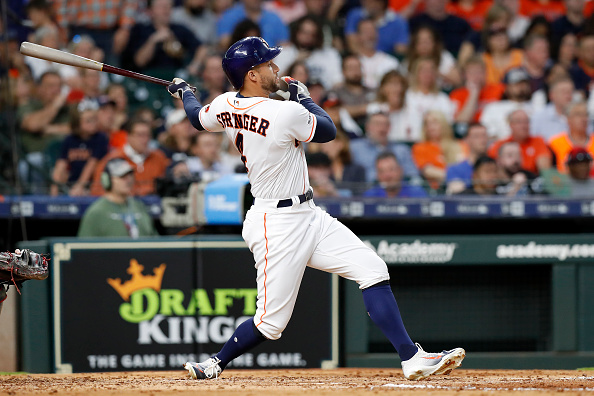 Good morning/afternoon, 10 games on the schedule today with half of them being matinees with the earliest set for 1:10 eastern. Highlights of where we want to attack are featured in the following games; Chicago White Sox at Cleveland Indians, Pittsburgh Pirates at St.Louis Cardinals, Texas Rangers at Houston Astros, and Washington Nationals at the L.A. Dodgers. Buckle up, let's go Around the Horn!
Pitcher
Carlos Carrasco CLE $10,200
Carrasco is today's' highest-priced pitcher. He has been a bit inconsistent given his rather high ERA, 5.60, but he does offer a very high ceiling. Of his seven games started this season, he's had some very solid performances, DK totals of 23, 40.8 and 30.5 are nothing to slouch at. Carrasco has had a few duds mixed in though, a -0.9 performance against the Twins and -12.7 versus the Royals. Carrasco will be up against a middle-of-the-pack type offense in the White Sox. Before Wednesday's action, they rank 18th in runs scored(164), 15th in wOBA(.321) but they do strikeout at a high rate, 6th most in baseball at 25.8%. Other routes to take would be Rich Hill($9,700) at home to the Washington Nationals and the surprisingly effective Mike Minor($9,400) visiting the electric Houston Astros. Hill's matchup looks similar to Carrasco's as the Nationals rank close to the White Sox, they are 21st in runs scored(162), 17th in wOBA(.316) and strikeout at a 26% rate.
Carrasco gets the nod because of the higher strikeout potential and the head to head data built up. they are only hitting .185 with a .243 wOBA in 157 at-bats.
Infield
Yuli Gurriel HOU 1B $3,100
We have to go down pretty far on the price scale for what could be a good find in Astros first baseman Yuli Gurriel. Gurriel isn't exactly tearing the cover off the ball, 33 games, .724 OPS, just a couple HRs, but does carry a respectable .260 average. Going into tonight's tilt with the Rangers Gurriel has a mini hitting streak of five games with multi-hits in three of those games. In 15 at-bats against lefty Mike Minor, Gurriel has two homers, five RBI, and a 1.304 OPS.
Justin Turner LAD 3B $4,200
Justin Turner and the Dodgers continue to rake. Turner went off Tuesday cranking three big-flies and driving in six runs well for, oh, how about 51 DK pts! Last night he went deep again. Hopefully, this is a good sign of better days for Turner. The discounted price tag bodes well as Turner will face lefty Patrick Corbin whom he has fared well against. In his career, he is 12-29 with a 1.229 OPS.
Outfield
George Springer HOU $5,000
Even though Mike Minor has been very good this season, 2.40 ERA, 48 K, just 14 BB, the Houston Astros are a different beast and are rolling of late, 60 runs scored in their last 10 games. The head-to-head and recent performances lend well to the elite outfielder. Springer is 6-17 with a .949 OPS in his career versus Minor. In his last 10 games, Springer has been fantastic, four homers, 10 RBI, a 1.193 OPS and has averaged 12.3 DK pts per game.
Starling Marte PIT $4,200
Marte is carrying a not-so-nice .223 average on the season. but is averaging a very respectful 9.4 DK pts per game. In his last 10 games, Marte has gone hitless just twice and has also swiped three bags. Marte is a focal point in a pesky Pirates lineup that has had some good success against Cardinals starter Michael Wacha hitting .277 with a .812 OPS in 112 career at-bats.
Questions and comments?
Follow Us on Twitter @thescorecrow
Follow Us on Reddit at u/TheScorecrow
Follow Us on Facebook at The Scorecrow
Follow Us on Instagram at The Scorecrow
Follow Joel Dorcas on Twitter @Joel_Dorcas6
Main Image Credit:
[getty src="1146142186″ width="594″ height="396″ tld="ca"]