David Lehr | January 12th, 2019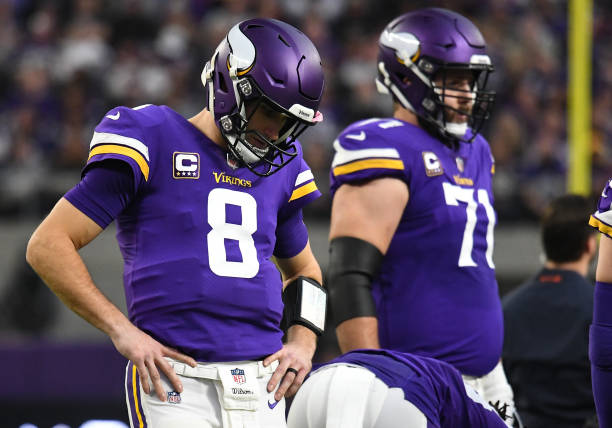 The Minnesota Vikings' season was one with many highs and many lows, and they were one of the most talked about teams all season. Paying a guy who had played in one playoff game 84 million dollars will do that to a franchise, but the Vikings season was not all about Kirk Cousins (although it definitely felt like it at times).
After 2017's miracle run, culminating in that ridiculous Stefon Diggs touchdown against New Orleans and falling flat on its face against the eventual Super Bowl champs, hopes were high and expectations were even higher for the Vikings in 2018, whose only apparent weakness was at the quarterback position. Bring in a new, talented QB to pair with what might be the top receiving duo in the NFL, throw in a running back who lead the league in rushing in his limited time as a rookie, and bring back most of your league-leading defense, and missing the playoffs should be out of the question, right? Not so fast. So what exactly happened?
Questionable Playcalling
As is so often the case in today's NFL, the Vikings simply did not want to run the ball. After week one, Dalvin Cook didn't get more than ten carries in a game until week 14 against Seattle (He did miss four games in that span). Kirk Cousins was throwing the ball almost 40 times a game, and even though they were putting up some big fantasy numbers, it wasn't producing wins at a consistent clip, as the team fired their offensive coordinator after week 15 and finished the season at 8-7-1, missing the playoffs on the final week of the season.
Kirk Cousins' skeleton in the closet continued to haunt him
One of the biggest knocks against Kirk Cousins throughout his career is how he performs against mid to top level competition. Yes, he can carve up teams with bad defenses, and they did have moderate success early, starting the season off at 5-3-1, although it was mostly against the league's basement dwellers, coming up with victories against absolute powerhouses such as the 49ers (4-12), Cardinals (4-12), Jets (4-12), and Lions (6-10). The best team Minnesota beat this year was the Eagles, who were having plenty of their own struggles at the time.
Why they will be better in 2019
There is definitely hope for Vikings fans, and this team could show major improvement next season. Not only will all the main skill positions be returning (Stefon Diggs, Adam Thielen, Kyle Rudolph, Dalvin Cook), but the offense will have an entire offseason with their new offensive coordinator,  Kevin Stefanski, who, I believe, after he was bumped up to interim offensive coordinator following John DeFilippo's firing, called plays that were better suited for what this team is built for. They now know their biggest weakness is the offensive line, and they are in a great position to nab a great one in April. Because the draft is so top-heavy with defensive talent, some exciting O-Line prospects should still be available for the Vikings at pick 18. My prediction is they will be able to add Greg Little, who was dominant in college and will undoubtedly bolster their overall line play. On the defensive side of the ball, they will see the return of Mike Hughes, their 1st round pick a year ago who was only able to play in six games before missing the rest of the season due to injury. Hughes played well in his limited time on the field and should boost the secondary next season.
When it was all said and done, the Vikings were a popular Super Bowl pick before the season started, and they were never able to put it all together and make a legitimate run. However, bright things do appear to be on the horizon, if Kirk Cousins can prove he deserves all that money. If his play does not improve, things may be looking bleak quickly in Minnesota.
Check out our other NFL Team Reviews | Atlanta Falcons
Questions and comments?
thescorecrowsports@gmail.com
Follow Us on Twitter @thescorecrow
Follow Us on Reddit at u/TheScorecrow
Follow David Lehr on Twitter @BayAreaSports13
Main Credit Image:[getty src="1077222538″ width="594″ height="416″ tld="com"]