Dale Money | April 24th, 2019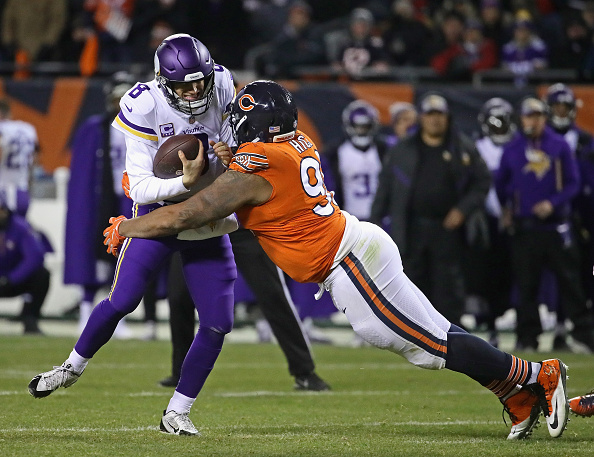 Going into last season, the Minnesota Vikings broke the bank, to bring in highly coveted free agent quarterback Kirk Cousins. Expectations were quite high, only to end up missing the playoffs. The final nail in the coffin was a week 17 loss to the Chicago Bears. Looking towards the draft, the Vikings have eight picks, including two six and seven round selections. It wouldn't be very surprising to see the Vikings take a pair of offensive linemen in the first four rounds.
1st Round, Pick 18: Cody Ford, OG Oklahoma
The Vikings main problem heading into this draft is not having the players to properly protect their $84 million dollar investment. Ford would be a great piece to add in order to help strengthen the offensive line. With an extremely rare combination of size and athleticism, he has the strength to bulldoze down blocks and open the gap. He plays with a truly nasty streak that any team would welcome from their offensive lineman. Ford is raw and relatively inexperienced as a starting tackle with exploitable holes that will need to be ironed out.
2nd Round, Pick 50: Irv Smith Jr., TE Alabama
With both Kyle Rudolph and David Morgan entering the final year of their current deals with the Vikings, they should be looking to add a good young tight end for the future. Expected to be the third tight end chosen in this draft, Smith finished with 44 catches for 710 yards and seven touchdowns in his final season at Alabama. Along with natural ability, he has a strong work ethic. He has good timing and handwork in his blocking.
3rd Round, Pick 81: Amani Oruwariye, CB Penn State
The Vikings adding to their cornerback depth, go with Oruwariye. He was voted first-team all Big 10 at Penn State. Oruwariye has nice size, and length so can match up well with the bigger NFL receivers. He is a solid tackler and will consistently make the tackle on short passes underneath.  He can explode to the ball carrier with good awareness and knows what he is doing in zone coverage.
4th Round, Pick 120: Nate Davis, OL NC Charlotte
The Vikings add another weapon to that offensive line, deciding to go with the 311 lb guard Davis. I think they'll be getting a nice addition, at this spot. Davis was moved to right tackle in 2018, earning himself a second-team all-conference selection. He also served a four-game suspension due to undisclosed violations his senior season. His strength and movement skills work with any run strategy. He has a lot of punch in his large frame and is capable of dominating at the point of attack. Davis possesses good footwork; however, he doesn't have great arm length, which creates some inconsistencies in his blocking.
6th Round, Pick 190: Elijah Holyfield, RB Georgia
I deciding to roll the dice on Dalvin Cook, and not reach early for a running back. Holyfield brings a lot of nice traits that would make him a viable option in the sixth-round. Has an aggressive running style, and eye-popping acceleration. Holyfield has a very disappointing showing at the combine, where he was slow and nonexplosive, and that will likely cause him to drop like a stone in the draft.
6th Round, Pick 209: Brett Rypien, QB Boise State
Looking to add a viable second-string quarterback behind Cousins, Rypien is a retro pocket passer. He is able to attack tight windows in the short and intermediate areas with his quick motion and nice speed on the ball. Uses his full body to generate velocity on his throws. He gets flustered under pressure and will make foolish decisions with the ball. Rypien doesn't have the feel needed to get out of dangerous situations.
7th Round, Pick 247: Emmanuel Butler, WR Northern Arizona
While the Vikings just signed Adam Thielen to a four-year extension and Stefon Diggs signed a five-year extension last summer, they lack depth behind the duo. After dealing with a shoulder injury that mostly ruined his 2017 season, Butler bounced back in 2018, with 35 receptions, 676 and 7 touchdowns. At 6'4 220 lbs with a well-proportioned body, he has a nice poise about him. Leaves Northern Arizona owning all receiving records.
7th Round, Pick 250: John Ursua, WR Hawaii
Ursua has great athletic ability and plays with a tremendous amount of balance in his routes, and after the catch. He left Hawaii with a bang, leading the country in touchdowns and was fifth in receiving yards. Along with his long speed and ability to separate down the field, Ursua has a great ability to give defenses problems in all fazes. His vision and ability to create plays with the ball in his hands makes him very hard to defend and bring down when in space.
Check out our other Team Mock Drafts: San Francisco 49ers| Washington Redskins | Indianapolis Colts | New York Giants  |Arizona Cardinals| Jacksonville Jaguars | Detroit Lions | Tampa Bay Buccaneers | New York Jets | Green Bay Packers | Cleveland Browns | Los Angles Rams | Pittsburgh Steelers | Chicago Bears | Tennessee Titans | Baltimore Ravens | Seattle Seahawks | Buffalo Bills | New Orleans Saints | Atlanta Falcons| Cincinnati Bengals  | Kansas City Chiefs | Denver Broncos | Houston Texans | Oakland Raiders
Questions and comments?
thescorecrowsports@gmail.com
Follow Us on Twitter @thescorecrow
Follow Us on Reddit at u/TheScorecrow
Follow Us on Facebook at The Scorecrow
Follow Us on Instagram at The Scorecrow
Follow Dale Money on Twitter @packerd_00
Main Image Credit:
[getty src="1063574634″ width="594″ height="457″ tld="com"]