Marcos Mendoza | February 28th, 2019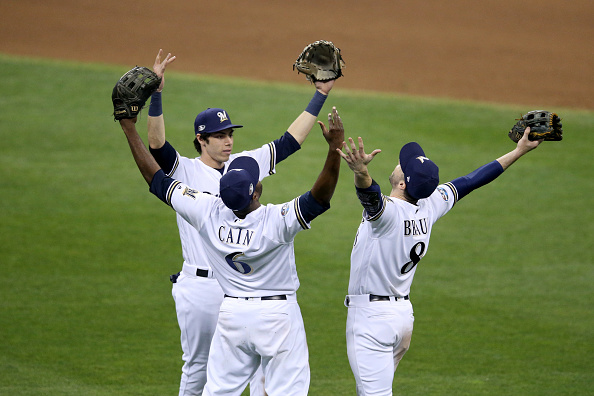 The Brewers came within one game of the World Series last year. Do they take the next step this season?
RECAP: 96-67 (1st NL Central)
The Milwaukee Brewers had an outstanding 2018 season, the Brewers won the NL Central and took the top seed in the NL for the Playoffs. Unfortunately, their season fell short in the NLCS losing the series (3-4) to the Los Angeles Dodgers. They made key acquisitions heading into the 2018 season signing CF Lorenzo Cain and trading for RF Christian Yelich who ultimately won the NL MVP. Although they lost in the NLCS the Brewers future looks bright for 2019.
Key Additions:
The Brewers added Grandal as a free agent on a 1yr 18.2MIL deal. In 2018 Grandal had a solid season with a slash line of .241/.349/.466 26HR 68RBI. Grandal brings veteran leadership to the club, he's also an elite defender. Grandal improve the Brewers lineup and rotation immensely as they lacked production from their catchers in 2018
Key Subtractions:
SP Wade Miley
Miley was one of the Brewers best SPs in 2018, in 80.2 IP Miley had a 2.57 ERA 1.215 WHIP. Miley averaged just a 7.9H9, 0.3HR9, 3.0BB9 5.6SO9, his per 9s weren't very promising, but his 0.3HR9 52.8 GB% led him to his marvelous 2018 season. The Brewers weren't able to re-sign Miley as he went to the Houston Astros for just only 1yr 4.5MIL.
Strengths:
• OFFENSE
In 2018 the Brewers' lineup was ranked 12th in AVG, 12th in OBP, 9th in OPS, 12th in Runs, and 5th in HRs. The Brewers have one of the best power hitting offenses in the league and they added to it with the addition of Yasmani Grandal. They had 4 hitters with 20+ HRs in 2018, Christian Yelich, Jesus Aguilar, Travis Shaw, and Ryan Braun. The Brewers also had 4 hitters who had a 3+ WAR in Yelich, Cain, Shaw, and Aguilar. Brewers also had 8 hitters who had above a .200 ISO which is elite power in that lineup. The Brewers have a deep lineup and they have great depth on their bench for them to continue to be a top 10 offense in 2019.
• BULLPEN
The bullpen is loaded with talent in the back end. They have a three-headed monster in the closer role which they can use at any time in Corey Knebel, Jeremy Jeffress, and Josh Hader. The 3 relievers combined for 43 saves in 2018. The Brewers relievers were 5th in ERA, 8th in WHIP, 16th in BB/9, 5th in H/9, 11th in HR/9 and 3rd in K/9. They were exceptional in not allowing runners on as Hader had a .131 BAA, Jeffress .181 BAA and Knebel with a .193 BAA. In the offseason, the Brewers added to their deep pen acquiring lefty specialist Alex Claudio who has a devasting 70MPH Changeup. The Brewers pen should continue to be elite in 2019 most likely the 2nd best pen behind the New York Yankees.
Weaknesses:
• STARTING PITCHING
Starting Pitching isn't necessarily a bad spot for the Brewers, but it's the most worrisome part of the team. They don't have star power in the rotation for 2019. The tough part for the Brewers rotation is mid quality arms like Jhoulys Chacin. Chachin had a quality season last year having 192.2IP with a 3.50 ERA. He's a quality arm to have in the rotation but as a 2-3 not a number 1 in which they have him at. As I pointed out earlier they also lost a key SP in Wade Miley who was great for them in 2018. It's not a very deep rotation if they have key injuries to the rotation it could also hurt their bullpen. Chase Anderson and Jimmy Nelson need to have seasons close to somewhat what they did in 2017 for their rotation to be a top one in the league. Brewers will likely continue to look for SP throughout the season and try to add a star by the Trade Deadline.
INFIELD PROJECTIONS:
C- Yasmani Grandal
1B- Jesus Aguilar
2B- Mike Moustakas
SS- Orlando Arcia
3B- Travis Shaw
OUTFIELD PROJECTIONS:
LF- Ryan Braun
CF- Lorenzo Cain
RF- Christian Yelich
STARTING ROTATION:
Jhoulys Chacin
Chase Anderson
Jimmy Nelson
BULLPEN PROJECTIONS:
Josh Hader
Corey Knebel
Alex Claudio
2019 Outlook:
I believe that the Brewers will continue to be one of the best teams in MLB in 2019. They have a very strong lineup and bullpen to go along with a decent rotation. If the Brewers can acquire a top tier SP, I believe they will be the best team in the NL and go on to the World Series. Even if they don't acquire an Elite SP there's a very high chance for the Brewers to make a World Series appearance in 2019. The National League will be very competitive in 2019, the NL Central will be one of the toughest divisions in baseball next season. My prediction is that the Brewers will win the NL Central once again in 2019, and will be the top team in the NL coming into the playoffs.
Check out our other Team Previews | Colorado Rockies | Toronto Blue Jays | Minnesota Twins | Atlanta Braves | Chicago Cubs | Tampa Bay Rays | Arizona Diamondbacks | Miami Marlins | Cincinnati Reds | Seattle Mariners | Texas Rangers |Los Angeles Dodgers | New York Yankees
Questions and comments?
thescorecrowsports@gmail.com
Follow Us on Twitter @thescorecrow
Follow Us on Reddit at u/TheScorecrow
Follow Us on Facebook at The Scorecrow
Follow Us on Instagram at The Scorecrow
Follow Marcos Mendoza on Twitter @MendozaM_12
Main Credit Image: [getty src="1052565872″ width="594″ height="396″ tld="com"]