Robby Messer | June 14th, 2018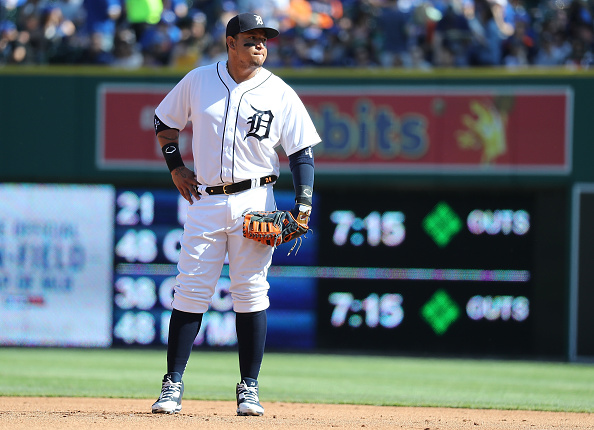 Once again, we are witnessing why baseball teams extending players too far can be disastrous. I'm not talking about paying them too much. I'm talking about giving them long contract extensions that, and I rarely use this term, ALWAYS end up proving a player's talents are one thing, but what their bodies will allow them to do is another thing entirely.
This time I am talking about the injury to Miguel Cabrera. His season is over after he ruptured a biceps tendon. I will even go so far as to say the fear he created in the eyes of opposing pitchers is gone as well. And the Detroit Tigers have 162 million reasons to be the most upset about this. That's right!
Miguel Cabrera is still owed $162 million dollars, at a minimum, on his contract. No matter what.
But this injury, to a guy who had been an Iron Man of sorts by avoiding the disabled list until 2015, can only be compared to a pitcher blowing out his pitching elbow. In either case, the Tigers simply do not know what kind of slugger they will have when he gets back in the lineup. If he gets back. Either way, "Miggy" is still going to get paid $30 million a year for the next three years before it goes up to $32 million for two years. Then they have a chance to buy him out (when he is 40 years old) for a mere $8 million.
Too Early and for Too Long
If the Tigers would have waited to give Miggy his extension until his previous contract expired, he had two years left on his deal when he signed it in 2014, they could have avoided this financial fiasco. Steve Jobs once said, "You can't connect the dots looking forward; you can only connect them looking backwards". The team certainly was blinded by his past results. Instead, they are living the reality of his body breaking down.
It does for everyone. Just ask Albert Pujols, whose contract with the Los Angeles Angels is one of the worst ever signed. He went from being one of the most feared hitters in the league to a threat to wear down a pitcher with his good eye and contact skills to a player you can simply pitch around to get out and deal with the occasional long ball.
The Tigers, no doubt were blinded by Miggy's triple crown year of 2012, and the follow-up campaign in which he hit another 44 home runs, drove in 137 and won another batting title with a .348 average when they offered him an extension. Had the team waited until even after the 2014 season to offer him all of that money (he signed it in March), they would have noticed their superhero was starting to fall apart. He had surgery to repair a broken foot that did not send him to the disabled list but limited him to just 25 home runs.
The next season, Miggy only hit 18 home runs after spending six weeks on the disabled list with a calf strain. In 2016 he rebounded and hit 38 home runs, but last year he only hit 16 after battling back problems all year. This year, he started the season injured and now he's out for the year. So, what will he be when he returns? No one knows, but one thing we do know is he will not live up to the hefty price tag he carries with him. It seems teams never think the bust contract is going to happen to them. But it always does.
There is no doubt Miggy, like Pujols, is going to the Hall of Fame. It's just that both of them are going to limp in there albeit knowing they earned their spot in history.
But their respective teams paid for the trip.
Questions and comments?
thescorecrowsports@gmail.com
Follow Us on Twitter @thescorecrow
Follow Us on Reddit at u/TheScorecrow
Follow Robby Messer on Twitter @talkoutofturn
Main Credit Image: [getty src="968139990″ width="594″ height="430″ tld="com"]