Beth Sullivan | September 11th, 2018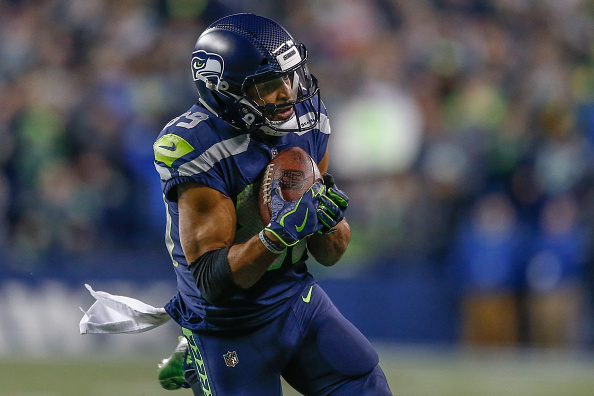 On Sunday it was reported that Doug Baldwin had suffered a partial MCL tear. Grade 2. While it is a significant injury, the recovery with good rehab is much faster than when an athlete tears the ACL or PCL.
The MCL is the medial collateral ligament and it runs from the medial (middle) side of the femur (upper leg bone) to the medial side of the tibia (lower leg bone). It is responsible for helping to stabilize the knee from damage caused by valgus forces on the knee. These forces occur when the knee is forcefully moved from a natural position toward the midline. MCL injuries occur when the knee is forcefully struck or stressed on the lateral side and moved toward the middle. Most athletes who experience MCL injuries are able to recover without surgery.
How Bad Is It?
Grade 1 MCL Strain or tear – This is basically an overly stretched ligament. There is minimal tenderness and swelling. Recovery takes 1-2 weeks and is basically a pain management issue. By strict definition, less than 10% of the ligament fibers are affected.
Grade 2 MCL Strain or tear – This is a more severe injury and results from the tearing and damage to more than 10% of the ligament but does not involve the whole ligament. Significant swelling and pain along the medial knee joint line are experienced and the athlete experiences pain when attempting to bear weight on the affected leg. The normal recovery time for this grade is 3-4 weeks. Rehab can begin once swelling and pain have resolved and the athlete is able to return to their sport once they are able to handle all activities involved without pain or swelling.
Grade 3 MCL Strain or tear – This is a complete tear of this ligament. This type of injury causes significant instability in the knee and is generally associated with other ligament damage. If it is only an MCL injury then recovery generally takes 8-10 weeks. Once healing has occurred, a knee brace is advised to help reduce the likely hood of reinjury.
I would expect Doug Baldwin to be ready to return to the field in 4-5 weeks. Although some return as quickly as 3 weeks, their participation is carefully monitored to eliminate recovery setbacks.
Questions and comments?
thescorecrowsports@gmail.com
Follow Us on Twitter @thescorecrow
Follow Us on Reddit at u/TheScorecrow
Follow Beth Sullivan on Twitter @GAPeachPolymer
Main Credit Image: Embed from Getty Images