Bryan Brammer | October 22nd, 2018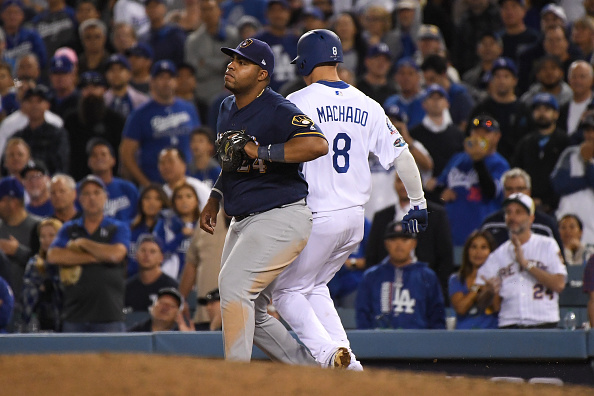 Calling an athlete a "dirty player" is quite an accusation. I would go as far to say that it's equivalent to referring to someone as a cheater or a liar. These qualifiers describe what one thinks about an individual. They go beyond an assessment of behavior. They take it one step further. Qualifiers describe who a person is. Their philosophy or perspective. Who they are within. Their intent.
Manny Machado was traded to the Los Angeles Dodgers in the 11th hour before the deadline on July 31st. Going from Baltimore to a much larger market in LA has placed Manny in the limelight. But what does this entail? It means his talents are on display even more than before. But it also means his shortcomings are on display as well.
This past week Manny has come under fire due to sloppy slides into second, foolish comments about hustling, and clipping Aguilar at first base. This isn't a good look for LA's new acquisition (or the Yankees future shortstop if we are being completely honest). The internet was set ablaze as soon as Manny's antics played out. As you could predict, "dirty" was the secret word of the day. It was most certainly a dirty play. But is Manny a dirty player? Or is he just dumb? A young player that lacks discretion when things don't go his way or when his ego is bruised.
As a Baltimore native and Orioles fan, I was ecstatic about Manny and the talent he brought to Baltimore after he was promoted straight from Bowie in 2012. The Orioles had a future star to build around. Finally!
Then, of course, there was the incident with Josh Donaldson tagging Manny out going to third. The "hard" (notice the quotes) tag "knocked" (more quotes) Manny to the ground in which he performed his best Vlade Divac impression. Of course, Manny was only around 10 years old when Vlade played but I digress. There was also Manny's charge of the mound after getting beaned by Yordano Ventura in 2016. And the tossing of the bat at Oakland's Fernando Abad – although it landed nowhere near the mound so it's a good thing Manny doesn't play horseshoes professionally. And let's not forget his controversial slide into second on Dustin Pedroia.
However, the question is with Manny's intent. Did he wish to harm these players? Was he trying to gain an upper hand by purposely taking another player out of the equation? I'm not willing to concede to this conclusion. At least, not at the moment.
I do not equate Machado to former Detroit Lion now LA Ram Ndamukong Suh. Or even Vontaze Burfict. Their actions are clearly malicious (dirty). I know the two sports are drastically different but going out of one's way to actively harm another player is not the same as making a dumb decision that happens to possibly harm someone.
Manny has made several dumb decisions and his retaliation methods have been nothing short of boneheaded. But does this make him a categorically dirty player who wishes ill-will on the opposition? No. But if he isn't careful it will become more than that. I just can't call him a dirty player at the moment. I can't just flippantly use the word to describe an athlete who makes a dumb decision. I'd rather reserve that qualifier for something that truly deserves it…
Like pineapple on pizza.
Questions and comments?
thescorecrowsports@gmail.com
Follow Us on Twitter @thescorecrow
Follow Us on Reddit at u/TheScorecrow
Follow Bryan Brammer on Twitter @ballandmitt
Main Credit Image: [getty src="1052332724″ width="594″ height="396″ tld="com"]