Joey Ricotta | February 3rd, 2019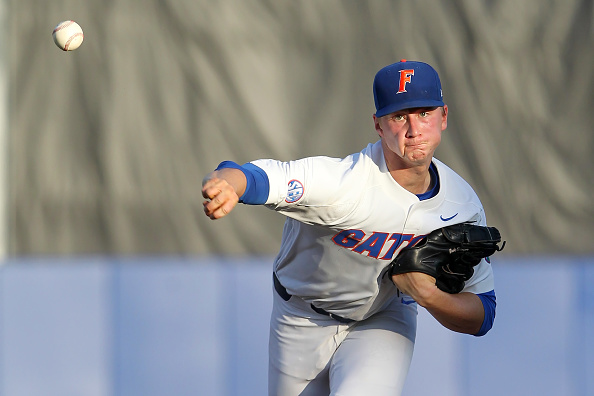 After making it to the World Series in back to back years and winning the World Series in 2015, the Royals have found themselves needing to reboot. Being a smaller market team, it's tough for them to pay boatloads of money in free agency. That makes it essential for them to take advantage of their player development system. If they can get some of the younger guys correct that won't cost them as much money, they can be legitimate contenders again.
They began tearing it down and acquiring draft picks in 2017. Obtaining five picks for day 1 of the 2018 MLB Draft. Three of those five have made this list along with some other talented players that were already in their system. How fast will they make it to the Majors and how good will they be?
Note: Doing some digging and making calculations, the players were graded on a 20/80 scale that is more commonly used among scouts and organizations today. In order, it is Present grade/Future grade.
Fastball: 60/60
Slider: 60/60
Changeup: 40/50
Control: 50/55
Overall: 50/60
Brady Singer basically bet on himself. He was originally drafted in the 2nd round of the 2015 MLB Draft by the Toronto Blue Jays. Something the Jays saw with his shoulder and potential injuries scared them off. They made him an offer that was less money than the recommended amount for his spot in the Draft. He decided to follow thru with his commitment to the University of Florida in hopes of making the money he wanted with the potential to be drafted even higher.
That's exactly what happened. In 2018, Singer led the SEC with a 2.55 earned run average, finished 3rd in opponent batting average with .203 against, and 18th in the nation with a 0.94 WHIP. He also had 13 quality starts out of 17 starts in total and a 5.18 strikeout to walk ratio. Singer ended his career at Florida with 282.2 innings pitched, 281 strikeouts, and a 3.22 earned run average.
The 22-year-old was drafted again in 2018 with the 18th overall pick by the Royals. He throws a 2-seam fastball that sinks and 4-seamer that rides, sitting comfortably between 92-96 miles per hour. Singer also has a plus slider and a changeup in his repertoire.
Brady Singer is a big talented right-handed pitcher with electric stuff. He fell a little bit further in the draft than some thought he would, but the Royals are not complaining whatsoever.
Scouts have concerns about his low arm slot release point and delivery. While it does make him very deceptive, they feel like that could lead to potential injuries as well as start bad habits, leading to command issues. Also, his ability to get left-handed hitters out without further developing his changeup is a concern.
Could advance relatively quickly thru the minors, because his fastball and slider are plus pitches already and he knows how to pitch. He's deceptive with a lot of late life movement. By all accounts, he's been defined as a great competitor and has performed on big stages. Singer had 21 strikeouts in 2 College World Series starts and is being compared to Aaron Nola, pitcher for the Phillies.
Singer has shown good command in college and the Royals are hoping he can become a number 2 or number 3 starter. "The safest bet in the 2018 Draft," said Pedro Martinez. He always has the potential to become a closer if he doesn't pan out as a starter. With the way he throws and his 2 big league ready pitches, that wouldn't be the worst move. ETA: 2021
2. Khalil Lee – OF 5'10" 170 LBS
Hitting: 45/55
Power: 45/55
Speed: 55/55
Fielding: 50/55
Throwing: 60/60
Overall: 45/55
Khalil Lee was drafted in the 3rd round of the 2016 Draft. The left-hander drew some teams interest as a pitcher because he threw low 90s gas with a slider. But the Royals drafted him to become an everyday player as an outfielder.
Lee has proven himself quite a bit already at the Minor League level. His first year with the organization in 2016, he led the Rookie Arizona League in Total Bases (88), Runs (43), and triples (6). Then in 2017, with the Low Class-A Lexington Legends, he finished 2nd in home runs with 17 and 3rd in walks with 65. Last year he had a solid year between high Class-A and Double-A, slashing 263/382/390. His slugging percentage and home runs were down compared to the two years prior. But he was working on some adjustments that have been helping him cut down on strikeouts. Lee also began using the opposite field more, increasing his opposite field usage by more than four percent.
The Royals like his raw power and speed combo as well as his bat speed and throwing arm. Not the biggest guy in the world from a physical standpoint, but when he connects the ball really jumps off of his bat. He's a potential 20 home run 20 steal guy. Lee works counts well and draws walks, but they would still like to see him cut down even more on strikeouts while not removing all of his power to do so.
Lee has a plus arm being a former pitcher and the speed to play center field. He's probably better suited to play right field and could even have gold glove potential over there. If he continues to play well at the Minor League level it shouldn't be long before he's called up. ETA: 2020
Fastball: 55/55
Slider: 50/55
Curveball: 45/50
Changeup: 45/55
Splitter: 35/50
Control: 45/55
Overall: 40/55
Daniel Lynch was the last of three first-round Draft picks the Royals had in the 2018 Draft. Taken out of Virginia, directly behind Kowar at the number 34 position. Some people were surprised the Royals drafted the 22-year old that early because of the lack of success early in his career at Virginia. He had an earned run average upwards of 5.00, up until 2018 when he had a 3.96 ERA. Lynch also saw an uptick in strikeouts, 105 in 88.2 innings pitched. Compared to 82 strikeouts in 118.1 innings combined the previous two seasons.
Virginia has a long track record of changing pitchers' styles and making them conform to the way they want them to pitch. Reports are that they were messing with his mechanics until towards the end of his career there. Supposedly he told them he was going to pitch the way he wanted. Good thing he did, because that's when he started having success. The Royals have seen no real issues with his mechanics and have seemingly let him pitch the way he wants to without making any big changes.
Lynch tore up the South Atlantic League and the Appalachian league last year in his first pro-level experience. Starting a combined 12 games, he went 5-1 with a 1.58 ERA, 1.01 WHIP, and a 7.63 strikeout to walk ratio.
Lynch throws a fastball, changeup, slider, curveball, and occasionally a splitter. Scouts weren't as high on him because of his velocity sitting around 89-93 miles per hour. That has since seen an uptick to 92-95 MPH and topping out at 97. His changeup is rather deceptive and has some dive to it. The slider is better than his curveball at this point. Both the slider and changeup are considered plus pitches.
Expect him to start 2019 with High-A Wilmington. If he can maintain his increased velocity and strikeout rate for a full season, Lynch could become a guy that many teams will regret passing on. The Royals will most likely still be patient with him, but if he continues to dominate he shouldn't spend more than 1 season at any Minor League level. ETA: Late 2020/Early 2021
Fastball: 55/55
Curveball: 35/45
Changeup: 55/60
Control: 40/50
Overall: 40/50
Kowar is another starting pitcher out of Florida. Taken at number 33 in the 2018 MLB Draft. In 2018, similar to his teammate Brady Singer, Kowar notched 13 quality starts out of 18 in total. He showed that he could pitch in big games as well. Kowar became the first pitcher in the last 40 years to fan 13 batters in less than 7 innings of a College World Series game against Texas. That feat also became the most K's ever in a College World Series game by a Florida pitcher.
After being drafted he was able to get some experience at the pro level. Kowar started 9 games with the Lexington Legends of the South Atlantic League. Finishing with 22 strikeouts in 26.1 innings and a 1.18 WHIP.
Kowar features a fastball that consistently hits 93-96 miles per hour. He mixes that with a plus changeup that throws off hitters balance with his deceptive arm speed. He does throw a breaking ball, but it isn't consistent enough to be used with regularity at the big league level. Scouts describe him as being similar to Clay Buchholz, although if he were to keep the same repertoire of pitches he'd also compare to a Michael Wacha type.
His lack of an established breaking ball is scary. Not too many pitchers become stars or have above average careers as a starter with just a fastball and changeup. He could develop one and has shown signs of being able to, but without one and without being pinpoint accurate with his other pitches, that leaves less room for error.
Scouts believe that there is room for improvement and a velocity increase to his fastball. They think with added strength, he could potentially hit 100 miles per hour with regularity. The question is whether or not he can improve some command issues and develop a breaking ball. Without doing those things he still projects to be a solid big leaguer. Most likely he would fall into a mid to back end of the rotation or a solid bullpen role. ETA 2021
Hitting: 25/50
Power: 50/60
Speed: 50/40
Fielding: 45/60
Throwing: 60/60
Overall: 35/55
Melendez is a Left-handed hitting catcher taken in the 2nd round of the 2017 draft by the Royals. The Royals drafted him because of his plus defensive abilities and plus power. Last season he finished 9th in the league in Low-A with 19 home runs. He finished with a slash line of 251/322/492, an ISO of 241, a 357 wOBA, and a 128 wRC+.
He has the tools to catch at the big league level and has a Benito Santiago-like frame. Scouts say he is advanced for his age (20) at calling games. Melendez is quick on his feet with an above average throwing arm. He also does a nice job framing and blocking pitches.
Scouts have worries about his ability to hit above league average, because of his tendency to have a long swing. That coupled with his high strikeout rate of 30.3% in each of the last two seasons. As long as he continues to hit with power and play great defense, he should have no problems being a regular at the next level.
The Royals have a potential log jam at catcher, at least until Salvador Perez gets moved or becomes a free agent in 2022. Meibrys Viloria got the September call-up last year from High-A Wilmington. With no spot ready for him in the immediate or near future, it makes sense for the Royals to remain patient with Melendez. ETA: 2022
Honorable Mention – Seuly Matias – OF
Hitting: 25/40
Power: 55/70
Speed: 55/50
Fielding: 45/50
Throwing: 65/65
Overall: 35/55
Power. Raw freaking power. That's what the 6'3″ 200 lb Matias possesses. We saw him blast a home run in the Futures game a year ago. It was an opposite-field missile off a 94 mile per hour fastball from Yankees high praised prospect Justus Sheffield.
He wound up finishing second in home runs in Low Class-A with 31 for the year. He slashed 231/303/550 (853 OPS). Matias posted very good ISO, wOBA, and wRC+ numbers. 320 ISO, 372 wOBA, and 138 wRC+.
Scouts have concerns about his ability to ever hit for a high average. He strikeouts out at a very high clip 34.8% a year ago. Although he has shown signs of reigning that in a little more in the future and has been making changes in his approach, he still needs to work more on his pitch recognition.
Matias has a cannon for an arm. He is built like a linebacker but has good speed given his size. At just 20 years old, Matias still has a lot of room to grow and a very high ceiling. Given his incredible bat speed and raw power, he could potentially be a 30-35 homer per season player. ETA: 2022
Check out the rest of our Top-5 Prospect Series | Toronto Blue Jays | Colorado Rockies | Minnesota Twins | Chicago Cubs | Texas Rangers | Atlanta Braves | Tampa Bay Rays | Arizona Diamondbacks | Cincinnati Reds
Questions and comments?
thescorecrowsports@gmail.com
Follow Us on Twitter @thescorecrow
Follow Us on Reddit at u/TheScorecrow
Follow Joey Ricotta on Twitter @theriot326
Main Credit Image: [getty src="951610728″ width="594″ height="396″ tld="com"]