Pranav Ramasubramanian | September 2nd, 2018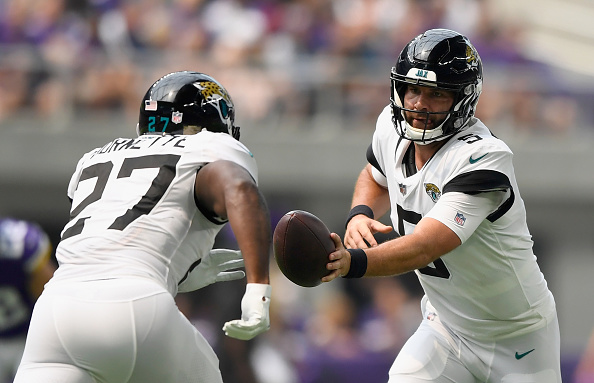 The Jacksonville Jaguars had a ten point lead on Tom Brady and the Patriots on the road and looked on their way to a Super Bowl before some questionable calls. Can they replicate the same type of season or more success this season?
Jacksonville Jaguars Season Preview
Recap of Last Season
Nobody expected much out of the Jacksonville Jaguars who had only won three games the year before and hadn't added anything substantial other than the fourth pick in the 2017 NFL Draft, who was Leonard Fournette, the nation's No.1 running back from LSU. It was also year one of Doug Marrone after Gus Bradley didn't work out because the team was downright horrible with a 14-48 record with Gus Bradley as the head coach. Jacksonville was allowed tons of time to figure out their identity as Andrew Luck and Deshaun Watson had been injured and out for the season. They exceeded expectations and nearly crashed into the Super Bowl showing how much potential they have and put the entire league on notice.
Strengths This Year
The Jacksonville Jaguars have an amazing defense from top to bottom and the position they excel at is cornerback with the tandem of Jalen Ramsey and A.J. Bouye, who had become two of the best cornerbacks over the course of the 2017-2018 season. Jalen Ramsey recorded 63 combined tackles(52 solo), 17 pass deflections and four interceptions while A.J. Bouye recorded 56 combined tackles(53 solo), 18 pass deflections and six interceptions. The linebacker position is very strong with Myles Jack and Telvin Smith Sr., who are great run-stoppers racking up tackles in the middle of the field forcing opponents to have to throw on them as Myles Jack, came out of UCLA, hadn't really tapped into his potential because of his constant injury issues. Last year as a strongside linebacker Myles Jack really took off with 90 combined tackles(60 tackles solo), three pass deflections and two sacks. Telvin Smith Sr. had 102 tackles playing the duty as primary run-stopper. The whole defensive line was a huge reason for Jacksonville's successful season, dubbed as "Sacksonville", the Jaguars had a league-leading 55 sacks with Calais Campbell, the captain of the defense with 14.5 sacks, Malik Jackson with 8 sacks, and Yannick Ngakoue with 12 sacks building off a successful rookie season. Dante Fowler Jr. chipped in also with 8 sacks even though he does more with run-stopping. The running back position was upgraded largely with Leonard Fournette, who shouldered most of the offensive responsibility taking pressure off of Blake Bortles with 1,040 yards, 10 touchdowns, and 302 receiving yards.
Weaknesses This Year
Blake Bortles doesn't have a good receiver core around him as the No.1 receiver, Keelan Cole, only had 748 yards receiving. The issue with increasing Leonard Fournette's workload is that he suffered ankle issues. The Jacksonville Jaguars get a little too cocky and overconfident with the way they are playing and often come into games flat or forget to close them out properly because their adrenaline is running very high. After their huge win in London smacking the Baltimore Ravens 44-7, the Jacksonville Jaguars came back and lost to the New York Jets in overtime.
Additions/Improvements
The biggest addition in the offseason for the Jacksonville Jaguars is Donte Moncrief because they need more reception yardage. Donte Montcrief's last fully healthy season he caught 64 passes for 733 yards with six touchdowns proving to be a timely weapon. The Jacksonville Jaguars wanted to get better on the line to offer some protection for Blake Bortles. They got Andrew Norwell, a guard from the Carolina Panthers, who was the top offensive linemen of 2017 allowing 0 sacks or hits on the quarterback. He should slide into the left side to help create more running gaps for Leonard Fournette as Norwell helped the Carolina Panthers run game rank in fourth, tenth, and second in the NFL in Andrew Norwell's time there. The Jacksonville Jaguars also added one defensive player in free agency to get some depth at cornerback in D.J. Hayden, the cornerback from the Detriot Lions. The Jags didn't make too many major moves in the 2018 NFL Draft, but still drafted a couple possible playmakers. DJ Chark, a wide receiver known for his straight-ahead speed from LSU with some big-play ability, had 40 receptions for 874 yards and three touchdowns in his senior season. Will Richardson, an offensive tackle out of NC State, who hadn't allowed a quarterback sack or pressure in all of 2017 with extreme quickness was selected to shore up the right side.
Subtractions/Regressions
The biggest loss for the Jacksonville Jaguars is Aaron Colvin, who played the role as the No.3 cornerback, who went to the Houston Texans for more money. Jacksonville will see an easy schedule evaporate as they now have to play Andrew Luck and Deshaun Watson as opposed to Tom Savage and Jacoby Brissett while also having the likes of the New England Patriots and Philadelphia Eagles. Paul Posluszny decided to retire after last season even though he had 61 tackles(42 solo), two pass deflections and 1.5 sacks on the season providing the Jaguars with experience. He helped develop the young linebackers Telvin Smith Sr. and Myles Jack.
Prediction
Jacksonville stayed intact and that means the legendary defense will continue to terrorize opposing players all season putting up great numbers to steer the Jaguars in the right direction yet again. Even with a tougher schedule, the Jags are too stacked on both sides of the ball to lose many games. Blake Bortles should hold his own offensively while Leonard Fournette's running game will probably power the bulk of the team's offense. They will lose some big games next year as they tend to get overconfident, but overall should finish at 12-4 because they still have a stronghold in the division and will finish division play at 5-1 with their only loss being to the Indianapolis Colts. The Jacksonville Jaguars should finish as AFC South division winners and will secure a first-round bye if they can indeed finish at 12-4. The Jacksonville Jaguars put themselves on the map last year and now are perennial Super Bowl contenders so don't sleep on them like last season.
Questions and comments?
thescorecrowsports@gmail.com
Follow Us on Twitter @thescorecrow
Follow Us on Reddit at u/TheScorecrow
Follow Pranav on Twitter @PranavRama1
Main Credit Image: [getty src="1018892400″ width="594″ height="383″ tld="com"]