Zach Gotlieb | January 11th, 2019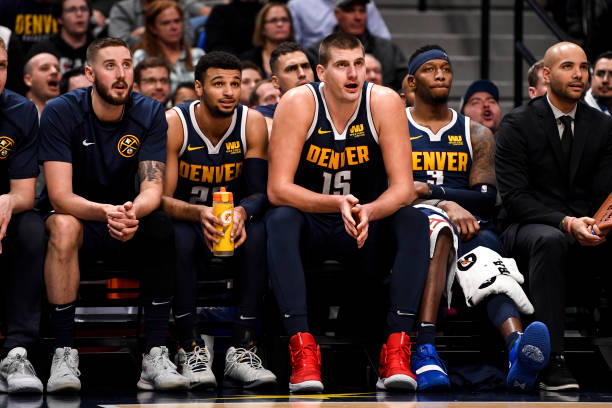 Since the offseason, ESPN analyst Jalen Rose has been saying that this Denver Nuggets team can be a strong contender – a dark horse, able to hold its own even with the front runner Rockets and Warriors.
Charles Barkley was recently quoted as saying, "The Denver Nuggets are going to the Western Conference Finals."
People are starting to recognize what's going on in the Mile High City. It is obvious that this team has traction. This Nuggets team is for real – even with the injury bug that has hit the team in the worst way this season.
If you count up the games missed by all of the injured Nuggets, the total comes to 174. That includes three starters: Will Barton (37 games missed), Gary Harris (12 games missed), and Paul Millsap (eight games missed). There are also three players who have missed the entire season – first round pick Michael Porter Jr., who isn't expected to play at all this year, second-round pick Jarred Vanderbilt, and recently signed free agent Isaiah Thomas. The timetable for the return of Vanderbilt and IT is unknown, but the two are expected to return at some point this year.
The funny thing is that all of that hasn't seemed to derail the Nuggets, at all.
In the eight-game span in which three starters were missing, the team went 5-3, including huge wins over the Grizzlies, Thunder, and Raptors. And without Will Barton. they've gone 25-12.
Despite the bench being a major weakness last year, the only way that the Nuggets have been able to be so successful, despite all the injuries, is that this year's bench has become a huge strength for this team – suggesting that this may just be one of the deepest teams in the NBA, with an endless stream of guys who can all produce.
Malik Beasley has taken a big step forward, providing a huge scoring lift off the bench. He's averaging a career-high 9.4 points per game, with his 3-point shot having become one of the most consistent on the team.
Juancho Hernangomez is another player who has come off the bench to score important points. Torrey Craig has been fantastic defensively, and has really picked up his offensive production lately.
Mason Plumlee has been solid both offensively and defensively, providing a rock solid performance at the back end of the defense night in and night out.
None of these players, however, have been as important as second-year guard Monte Morris. With Isaiah Thomas out, there was a big concern about production at guard behind Jamal Murray, but Morris silenced all the worries pretty quickly. He's a pure point guard – second in the league in turnover ratio at 5.54 assists per turnover, which is crazy – and he's giving just under 10 points per game. As far as production off the bench goes, he has been everything this team needs, and then some – producing in ways no one seemed to expect.
As good as the bench has been, however, it is the starters who have been the most impressive. 
Before the season began, Nikola Jokic was signed to the team's first max contract since Carmelo Anthony in 2007, and he has definitely lived up to the contract. Right now, he is averaging 19.2 points, 10.1 rebounds, and an astounding 7.5 assists per game. He is an incredible talent on the offensive end, doing things that most big men simply can't do.
Jamal Murray has been inconsistent at times, but with a 48-point game against the Celtics earlier in the year, and a 36-point game in which he scored 34 of the baskets in the second half at Sacramento just last week, he is a scorer who can't be taken lightly.
Gary Harris has quickly become one of the better all-around guards players in the NBA. He's able to score from anywhere on the floor offensively, and take on top shooters on the perimeter defensively.
Those three players are set up to be the core of this team heading into the future, and for good reason.
They may not be there quite yet, but Jokic is an up-and-coming superstar, who's posting some silly numbers; Murray is inconsistent, but has shown the ability to make any shot he puts up, and to get super-hot from the floor; and although Harris can still improve on both sides of the ball, he has been terrific on both ends this year.
The Nuggets have led the Western Conference for three weeks, this year, so far. They've beaten some of the top teams in the league, including Golden State, Toronto (twice), and Oklahoma City (also twice).
They don't have much experience with the playoffs, however, which is a worry, but they are fun to watch, and they are gritty. They won't go down easy against any team, so there is no way to count them out.
Last year they had an excellent finish down the stretch, missing out on the playoffs by just one game. This year, they continued the momentum with a fast start and now ongoing success, beginning to stack up some notable wins – the national media is finally starting to take notice.
Who knows how far the Nuggets will go this season, but the team certainly has a chance to be something special.
Questions and comments?
thescorecrowsports@gmail.com
Follow Us on Twitter @thescorecrow
Follow Us on Reddit at u/TheScorecrow
Follow Zach Gotlieb on Twitter @zachgotlieb
Main Credit Image:[getty src="1071569066″ width="594″ height="396″ tld="com"]