Zach Gotlieb | May 23rd, 2019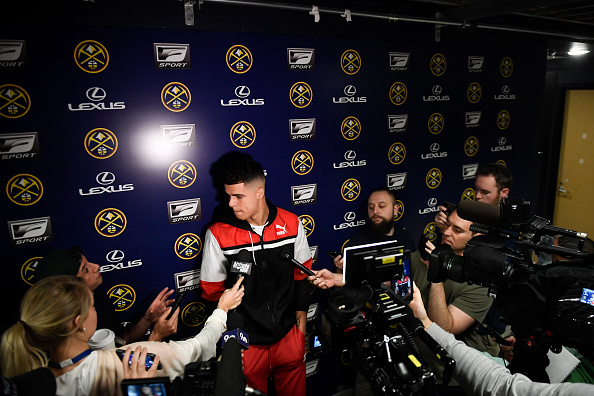 It has been 11 months since Michael Porter Jr. heard his name called with the 14th pick by the Denver Nuggets in the 2018 NBA Draft. After redshirting his rookie year as he recovers from a pretty severe back injury, Porter spoke to the media during his exit interviews. He had good news for all Nuggets fans answering if he had been fully cleared by his doctors to play in Summer League by saying, "yeah, I'm expected to play in Summer League, and I can't wait for that."
Tempered Expectations
We don't know what he's going to look like in his first legitimate five-on-five action since round one of March Madness for Missouri. That doesn't matter to fans in Denver, seeing their prized first-round pick from the previous year going to be on the court for the first time as a pro is what matters.
Let's start with the bad news first, just to temper some expectations for Porter off the bat. What happened with Porter is an injury that historically, has not boded well for athletes in the past. Guys like Tiger Woods, Tony Romo, and Rob Gronkowski have all had injuries like this. It took three surgeries to repair Woods, and it took him five years to win his next tournament. Romo and Gronk never really looked the same after this injury.
The quick rundown for what happened in Porter's back was that he had a herniated disc between the L3-L4 vertebrae on his back. Basically, there's a jelly-like substance in the disc, and not unlike a jelly donut, when it gets pressed or squished enough, the jelly squeezes out. That causes compression on the nerves that go through the spine. So reading reports that he couldn't get out of bed or move his back is because of that.
Porter had two surgeries to repair his back. This injury is not one that players can just mess around with. Typically athletes that make it back to the field/court after recovering never make it back to the same level they were at before and/or have a shortened playing career. It's more severe for athletes than just standard people because there is a lot more stress on the whole body, working out every day having to play with full impact night-to-night against some of the top athletes in the world.
The hope is the fact that he's only 20, still young, and still relatively early in his basketball career, will help him make a strong recovery where he can play at a high level for a long time. But the truth is, it's unknown what's going to happen with him, and we don't know what level he'll be at until we see him on the court.
The Good News
As for the good news, all reports are saying that Porter is looking good. Videos on social media of him working out on the side during practices and before games, while not full speed, can prove as much. He's profiled as a legitimate scorer from everywhere on the court. Can score from three, put the ball on the floor and get to the basket. Nuggets owner Josh Kroenke has high praise for Porter saying, "Michael is as talented a player as we've had come through our doors in a long time."
As for getting ready for this year's Summer League, it's been a really long year. Coach Michael Malone talked about how there were times where he was frustrated that he couldn't be out there and playing and how he's so excited and eager to get out there and just play. The rehab has been slow, going to the gym every day working with the strength staff and player development staff to slowly progress and work his way back. Every step we saw based on videos posted on social media has shown really encouraging signs. Starting with just hitting short shots without jumping all the way to watching him play competitive three-on-three games with teammates such as Jarred Vanderbilt and Isaiah Thomas before games.
Hard Work Should Pay Off
Let's put it this way, based on his injury, the odds are stacked against Porter that he'll be able to play at the All-American level he did in high school or that he'll have a long and prosperous career in the NBA. His teammates, coaches, and front office staff have all been complimentary of his work ethic through this season, which they hope means that he can make a full comeback.
The Nuggets are legitimately one or two guys away from being championship contenders. Their biggest hole is that they haven't had a legit starting small forward for years, whether you want to say it was Danilo Gallinari or Carmelo Anthony. While I wouldn't expect him to look like the best version of himself at Summer League, he could finally be the missing piece that Denver has been looking for at small forward, and that's got Nuggets fans and media alike extremely excited and eager to watch him get his first action.
Questions and comments?
thescorecrowsports@gmail.com
Follow Us on Twitter @thescorecrow
Follow Us on Reddit at u/TheScorecrow
Follow Us on Facebook at The Scorecrow
Follow Us on Instagram at The Scorecrow
Follow Zach Gotlieb on Twitter @zachgotlieb
Main Image Credit:
[getty src="1148900912″ width="594″ height="396″ tld="com"]