Nickolas Loza | September 19th, 2018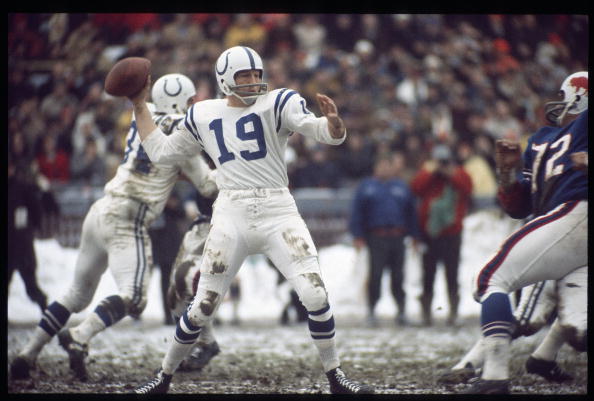 We all know the toughest position to play in sports is the Quarterback position. You have to call all the plays, dissect defenses, detect blitzes, throw through a gauntlet of defenders to receivers, and run around when it's necessary. We all know the QB position requires a lot of practice and work, but how has it changed since the 1940's? This is what we will be going through today with future articles looking at each era and the evolution of the QB position. Be prepared for a history lesson.
History of the Forward Pass and Pioneers of the QB Position: 40's
The QB position has changed dramatically since The Forward Pass was legalized in 1906. The first ever forward pass to be thrown, according to most sources was by St. Louis University's Bradbury Robinson which fell for an incompletion. In the early 1900's the forward pass was considered a dirty trick and unsportsmanlike. We'll skip to the 1940's now where the forward pass was only being instilled every five plays. As most football historians know, running the ball up until the 70's was primary, and the forward pass was secondary. But starting in the very late 30's, that all began to change when three revolutionary quarterbacks were selected within eight years of each other. Those QB's were Sammy Baugh, Sid Luckman, and Bob Waterfield. They made the QB position change from a guy who hands the ball off to a guy who throws the ball down the field for big completions. We'll start with Sammy Baugh who in his rookie season passed for 11 touchdowns compared to just 15 interceptions, these were the expected stats out of a QB back in the late 30's. The most impressive part about his rookie season, however, was the fact that he got All-NFL honors and completed 81 passes, which wasn't very many considering he passed for 1,127 yards. If we skip to 1943 in Slinging Sammy's career he did something that got everyone to notice. He captured a rare "Triple Crown" in 1943 when he led the NFL in passing, punting, and interceptions. That got him All-NFL honors and a lot of recognition. When he finished his career he compiled 21,886 passing yards, 187 passing TDs, and 203 interceptions. We move on now to Sid Luckman who was drafted in 1939 and didn't make his impact until 1943, where he got All-NFL honors and passed for 2,194 yards and passed for an eyebrow-raising 28 TDs. He also had an extremely impressive 107.5 passer rating. At the end of his career, he compiled 14,686 passing yards and 137 TDs. The last great QB of the decade was Bob Waterfield who only played seven years and compiled 11,800 passing yards and 128 TDs. Waterfield's best work came in the 1950's.
History of the QB Position: 50's
There was one standout QB in the 50's who bucked the still standing trend of "The QB should just hand it off to his Halfback", his name was Otto Graham. Although he only played for half the decade he was excellent. In 5 years of his career in the 50's, he led the league in passing yards twice and in completion percentage three times. In his entire career, he passed for 23,584 passing yards and 174 TDs while being an AAFC/NFL Champion seven times! There was another QB in the 50's who was excellent and his name was Norm Van Brocklin. He passed for 23,611 yards and 173 TDs and was an NFL Champion twice and went out a champion and MVP in 1960. The decade was arguably the second most important decade for passing. This is when the ratio of forward passes to runs went down from 1/5 plays to 1/3 plays. The era was a precursor for the next era of passers who really started getting the figurative engine roaring at max capacity. My final note for this decade is that this is the last decade in which the TD-INT ratio was negative (1-2) which is important because it signaled the end of this dark era and beginning of a more accepting era for passers and slingers.
History of the QB Position from 1960-1966: A Changing Time
Times were changing in the early 60's. The QB was now free to throw the ball down the field if he so chose and this era brought about a few different QBs who you could mention. QBs were measured previously for their toughness and smarts. This was the most dramatic change in the process of selecting a QB. The process changed from "who is the smartest" to "who has the most arm strength with smarts." This would be the perfect description for one of the greatest Quarterbacks to ever play the game. His name is Johnny Unitas. He was probably the first QB ever to pass prolifically to the point where the pass was preferred over the run. Although his most famous game came in 1958, he still passed extremely well into the 60's and his stats were almost unheard of. He amassed 40,239 passing yards, 290 passing TDs, a passer rating of 78.3, he was a three-time NFL champion, a one time Super Bowl champion, a five-time All-Pro and a ten-time Pro Bowler. Those were unheard of numbers and he was passing as good as any QB would today. The QB position changed in these three decades from a guy who hands the ball of to a dude who throws the ball down the field. Stay tuned for upcoming articles on how the QB position has evolved through the years.
Hope you all enjoyed!!!
Questions and comments?
thescorecrowsports@gmail.com
Follow Us on Twitter @thescorecrow
Follow Us on Reddit at u/TheScorecrow
Follow Nickolas Loza on Twitter @sp0rtstAlkNick
Main Credit Image: [getty src="78184742″ width="594″ height="401″ tld="com"]