Pranav Ramasubramanian | August 28th, 2018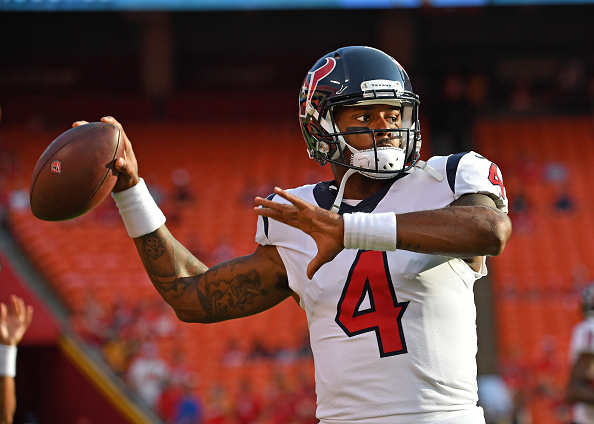 The Houston Texans needed a quarterback because it was their only Achilles heel going into the 2017-2018 season as they knew Brian Hoyer wasn't going to help them long-term. So in the 2017 NFL Draft the Houston Texans worked out a trade for the No.12 pick with the Cleveland Browns by giving them the pick No.25 and a 2018 1st-rounder so they could select Deshaun Watson, who impressed them by leading the Clemson Tigers to a National Title over Nick Saban and the Alabama Crimson Tide, the nation's No.1 defense. Will Watson lead them to the playoffs?
Houston Texans Season Preview
Recap of Last Season
The Houston Texans had no idea what to expect after a 9-7 campaign and a divisional loss to the New England Patriots because of their aimless direction at quarterback, but they found a way to sink even lower in the 2017-2018 season because of the fact that noone was healthy enough to try and lead the team to a Super Bowl contention, which was expected by many fans after seeing the potential of Deshaun Watson. The wasted 2017-2018 campaign may serve as a great lesson as the Houston Texans will suit up to try and take over the AFC in their 2018-2019 campaign.
Strengths This Year
Quarterback is a big strength for this year for the first time in a long time without having to deal with the Brock Osweiler mess and with a bunch of mediocre quarterbacks. But Deshaun Watson now seems to be the guy for the Houston Texans that could put them in Super Bowl contention. Another offensive strength they have is at wideout with top receiver DeAndre Hopkins, who produces great numbers no matter who is playing quarterback, establishing himself with his knack to extend his body to be able to catch almost every ball thrown his way. Will Fuller is an average receiver that can stretch the field out if the ball is thrown his way, which was shown earlier in the 2016-2017 campaign when he was racking up the touchdowns and receptions. The defensive side of the field is where the Houston Texans have always been very formidable over the years because they draft well in that department. The defensive end has been a strength ever since J.J Watt was drafted 11th out of Wisconsin in 2011 and his accomplishments have turned him into the game's No.1 defensive end demanding double teams while opening up opportunities for other teammates. The Houston Texans also are successful in stopping the run with outside linebackers Whitney Mercilus and Jadeveon Clowney, who just simply can get tackles. They seem like a complete team on paper, but some issues still loom.
Weaknesses This Year
In 2018 free agency Tyrann Mathieu was released by the Arizona Cardinals for refusing to take a pay cut and it seemed nobody wanted to deal with Tyrann Mathieu's constant health issues because it provides too much inconsistency. Health won't just be an issue for Tyrann Mathieu, but for the whole team as Deshaun Watson, J.J. Watt, and Whitney Mercilus missed a large stretch of the season last year with major injuries, as they are all huge pieces in the team's success. The Houston Texans need a reliable running back and even though Lamar Miller is decent he doesn't really take the load off as he only ran for three touchdowns last year. Deshaun Watson will have to carry more of the load offensively and it makes Deshaun Watson have to throw more, which could lead to some problems this year as Deshaun Watson is due for a sophomore slump and could still be very rusty because of his ACL injury. The Houston Texans also never seem to be consistent because of their youth and consistency. The Texans have to learn to close out games as well as they didn't execute properly, which is a coaching issue that Bill O'Brien fails to address and doesn't seem to have the composure needed in games against the Seattle Seahawks, New England Patriots, Indianapolis Colts, and the Baltimore Ravens. He also had a tough time adjusting back to Tom Savage after having a more free-flowing playbook for Deshaun Watson. The Houston Texans don't want to put young kicker Ka'imi Fairbairn in too many pressure situations because it was shown in the case of Roberto Aguayo that too much pressure on a young kicker messes with their ability to get points especially with extra points being farther than before.
Additions/Improvements
Tyrann Mathieu is the biggest addition for the Houston Texans in the offseason as it's believed league-wide that the Houston Texans defensive scheme will get him back to his Pro Bowl form. Brandon Weeden had been a backup even getting some starting time because of injuries to various other players so seeing him back might comfort some, but he is a third-string quarterback and there is no real reason to play him, but keeping him as a security blanket makes sense. Deshaun Watson's offensive line gets upgraded more with the signing of Senio Kelemete, who is an offensive guard, Zach Fulton, who is a guard and Seantrel Henderson, who is an offensive tackle giving Deshaun Watson more time in the pocket as they are proven veterans to protect the quarterback and block more efficiently to help running backs get bigger gains on runs. The Houston Texans realized they needed some cornerback help so they paired Jonathan Joseph with Aaron Colvin, who came from the Jacskonville Jaguars. It's hard to imagine the Houston Texans went more defensive in this year's draft, but they decided to try and develop more talent so they went with Justin Reid, who is a safety out of Stanford, Duke Ejiofor, who is an outside linebacker from Wake Forest, Peter Kalambayi, who is a linebacker out of Stanford, and Jermaine Kelly, who is a defensive back from San Jose State to try and keep the defensive side consistent. They also got some offensive pieces for Deshaun Watson with their picks of Jordan Akins, who is a tight end out of UCF, Jordan Thomas, who is a tight end out of Mississippi State, and Keke Countee, who is a wide receiver out of Texas Tech. The offensive selections provide some great potential as all three of these players played pretty well as Keke Coutee was considered one of the fastest receivers in the draft with plays like his 92-yard kick return against Baylor or his 1,429 recieving yards last season. Jordan Thomas was considered was considered one of the best big targets because of height and his ability to run block rather than really scoring. Jordan Akins was also drafted for more tight end insurance as he had a really good season catching 32 passes for 515 yard and four touchdowns and his consistency through his college career lead to his selection.
Subtractions/Regressions
The reason the Houston Texans had to draft two big tight ends was the loss of C.J. Fiedorowicz, who retired at the end of the season due to suffering many injury problems that included four concussions by age 26. The Houston Texans cut Jake Rodgers after being unimpressed seeing him on the practice squad as they lost out on on some offensive tackle depth that they might need later on this year also cutting Kendall Calhoun, but at least that one resulted in another OT signing in Roderick Johnson. They also cut Jeff Allen, who has been a solid starter for other teams like the Kansas City Chiefs. The cutting of all these offensive guards seems to be confusing as they don't know what direction that position is headed for them. The Houston Texans have to figure out how to mesh fast or else disaster will strike yet again.
Prediction
Deshaun Watson will progress and grow this year a lot even though his risks throwing may lead to many narrow wins against teams they should be blowing out. The Houston Texans from a talent standpoint look like a Super Bowl team, but at the very least they can be a playoff team. Some of their big wins this season should come against the Dallas Cowboys, Indianapolis Colts, and Tennessee Titans. This season will see a team that is fully healthy and go 11-5 and 4-2 in the division because the Jacksonville Jaguars have a great defense and that's the one team Deshaun Watson will experience trouble against. The Houston Texans will finally step up in a year their head coach also needs because the competition isn't daunting compared to last year when they had to play at Gillette Stadium and Century Link Field. Expect to see a different Houston Texans team this year that will cause some fireworks in the AFC and be one of the teams to watch for.
Questions and comments?
thescorecrowsports@gmail.com
Follow Us on Twitter @thescorecrow
Follow Us on Reddit at u/TheScorecrow
Follow Pranav on Twitter @PranavRama1
Main Credit Image: [getty src="1016728924″ width="594″ height="424″ tld="com"]