Givanni Damico | March 18th, 2019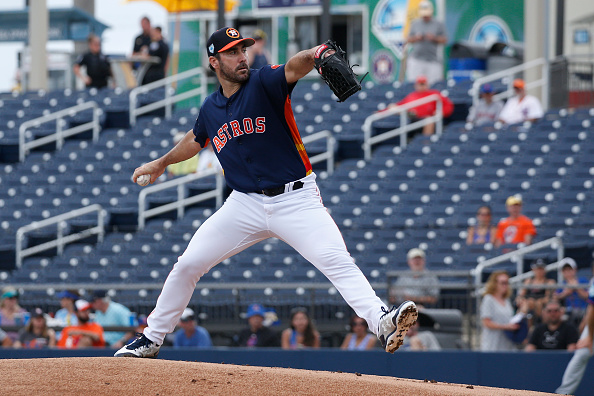 The Houston Astros couldn't pull off the repeat last year. That doesn't mean they are going away any time soon. They are still among baseball's elite teams and look to grab another ring before their window closes.
Recap: 103-59 (1st in AL West, Defeated in ALCS)
The Houston Astros continued their dominance from 2017 into 2018. They did not return to the World Series though, taking a 4-1 series loss in the ALCS. They had a very well-rounded team, including a star-studded pitching rotation which will, for the most part, carry into 2019 as well. The Astros are great at reviving pitcher's careers. We saw it with Justin Verlander in the second half of 2017 as well as all of last season. In his season and a half with the Astros, Verlander has a 21-9 record with a 2.32 ERA, striking out a career-high 12.2 batters per nine innings last season. We have also seen his walks per nine drop from 2.7 in his time with Detroit to just 1.5 with Houston. In 2018, Verlander allowed a career-high in fly-ball percentage, with 51.2 percent of balls put in play being weak fly balls. This might not sound like a good thing because usually fly balls equal home runs, but when 20 percent of the contact that batters made against him was soft contact, fly balls are easy outs. He also allowed a career-low in ground ball percentage at just 29.1 percent. This was far-and-away a career low with the second-lowest being 33.5 percent in 2017. He didn't need to worry about much hard contact since most batters were either striking out or popping it up.
Gerrit Cole was a whole other animal. Cole had an All-Star season in 2015 with a 2.60 ERA, but 2018 was the craziest transformation I've seen in a while. Cole had a 4.26 ERA in 2017 and he turned around and went 15-5 with a 2.88 ERA and striking out a whopping 12.4 batters per nine. I don't know how the Astros keep doing it. Cole also had a high fly-ball percentage at 42.7 percent. That's nowhere close to Verlander's rate but the Astros' pitchers love making batters whiff and pop up. The soft contact rate sat at 18 percent for Cole while the medium was at 50 percent.
That is not all, though. How about Charlie Morton? Before 2017, you probably didn't even know who he was. At age 34, Charlie Morton had the best season of his career, going 15-3 with a 3.13 ERA and striking out 11 batters per nine. Not to mention that the velocity went up for all three of these pitchers. Trevor Bauer insinuated that the Astros' were cheating by doing something to these guys to make them throw faster and have better spin rates and honestly, I think it's possible. That's another article though, stay tuned. Most of the contact that Morton allowed was soft or medium ground balls.
The lineup was also very good, but I will talk about that later on. Let's just say that Alex Bregman and Jose Altuve shone very bright.
Key Additions
Michael "Dr. Smooth" Brantley, OF (2018 w/ CLE: .309 BA, 17 HR, 76 RBI, 12 SB, .364 OBP, .468 SLG, .832 OPS, 3.6 WAR)
2016 and 2017 were very disappointing for Michael Brantley, as he was just unable to stay healthy. Last year was much better as he played in 143 games and was back to his old self. I love this addition to the outfield for the Astros because last year, the outfield was probably the weakest aspect of the team. Brantley is always a threat to get on base and he can go yard too. Only 12 percent of Brantley's contact last season was soft contact. He doesn't strike out much either, so you know you can expect solid at-bats from Dr. Smooth a lot.
Robinson Chirinos, C (2018 w/ TEX: .222 BA, 18 HR, 45 RBI, .338 OBP, .419 SLG, .757 OPS, 1.5 WAR)
The Astros lost Evan Gattis, Brian McCann, and Martin Maldonado to free agency, so getting a catcher back was huge for them. Chirinos is exactly the type of player that Brian McCann was, except a little bit more nimble. I think this season could be a breakout year for Chirinos. It's just a hunch, but either way, Chirinos is a nice power option for the Astros and he isn't useless defensively either. When looking at Chirinos' strikeout rate, I mouthed "yikes" to myself, as this rate is at about 33 percent. It's never ideal when a player on your team strikes out one out of three times he steps up to the dish so this could be an issue. Chirinos' contact is hard contact 41 percent of the time, which is good, but if he continues to strike out at such high rates, he won't be very useful offensively.
Subtractions
Dallas Keuchel, SP ? (2018 w/ HOU: 12-11, 3.74 ERA, 153 SO, 58 BB, 1.314 WHIP, 2.6 WAR)
Keuchel's last four seasons have been very inconsistent. He won the Cy Young in 2015, then proceeded to pitch to a 9-12 record with a 4.55 ERA. Then in 2017, he went back to a 2.90 ERA with a 14-5 record. Then in 2018, his strikeouts per nine dropped by a whole strikeout and he went back to a mediocre season at 12-11 with a 3.74 ERA. His hits per nine also went up by two whole hits. He allowed a career-high 211 hits in 2018. There is a question mark next to Keuchel's name because he is still a free agent at the time of writing. There is speculation that he goes back to H-Town, so if you're reading this and he resigned with Houston, ignore this.
Charlie Morton, SP (2018 w/ HOU: 15-3, 3.13 ERA, 201 SO, 64 BB, 1.162 WHIP, 3.5 WAR
Charlie Morton was one of those pitchers that I talked about that made an insane turnaround in his career. There isn't much to say about him that I already haven't said. He's another big loss for the rotation, but I'm not sure how good he will do now that he's out of Houston. It will definitely be interesting to see if he performs poorly because that might be a good way to see if Houston is tampering with their pitchers.
Marwin Gonzalez, UTIL (2018 w/ HOU: .247 BA, 16 HR, 68 RBI, .324 OBP, .409 SLG, .733 OPS, 2.5 WAR)
Gonzalez had a fantastic 2017 when he hit .303 with 23 home runs, but it didn't translate into 2018. He was a solid player last year, but nothing to write home about. I am not disrespecting his value to the organization, though. This is a huge loss for the 'Stros because Gonzalez could play almost anywhere, wherever they needed him to. He was loved by the fans and will be missed on the team.
Martin Maldonado,C (2018 w/ LAA & HOU: .225 BA, 9 HR, 44 RBI, .276 OBP, .351 SLG, .627 OPS, 0.5 WAR)
Maldonado was only with the team for 41 games. His offensive numbers have never been impressive, but Maldonado is known for his defense. This is one of three catchers that the Astros lost in the offseason.
Evan Gattis, DH/C ? (2018 w/ HOU: .226 BA, 25 HR, 78 RBI, .284 OBP, .452 SLG, .736 OPS, 0.4 WAR)
Once again, the question mark means that at the time of writing, this player is still a free agent. Gattis is more of a designated hitter than a catcher, but he can catch in a pinch. He provided good power, but his batting average was at a career low last season. Nevertheless, still a big loss.
Brian McCann, C (2018 w/ HOU: .212 BA, 7 HR, 23 RBI, .301 OBP, .339 SLG, .640 OPS, 1.0 WAR)
McCann is at the point in his career where he is beginning to regress. McCann isn't a good defensive catcher and his offense has gotten worse, making this a minor loss for the Astros.
Tony Sipp, RP (2018 w/ HOU: 3-1, 1.86 ERA, 42 SO, 13 BB, 1.034 WHIP, 1.3 WAR)
Sipp pitched very well last season. He was mainly a lefty specialist and those can be hard to replace. Sipp was a big piece of the pen and he is now with the Nationals. Another substantial loss for Houston.
Strengths
Rotation
I'm not going to give too much of a reason as to why this is a strength because I already went over it. Gerrit Cole and Justin Verlander have had their careers revitalized. Collin McHugh was formerly a starter, came out of the bullpen last year and did great, now he is back to a starter. Wade Miley had a good year last year with a sub-3.00 ERA. Brad Peacock is listed as the fifth starter now. He was better as a starter in 2017 than he was a reliever in 2018. Lance McCullers will miss the entire season which is a huge blow, but the rotation is still strong.
Pretty Much the Entire Lineup
Alex Bregman had a great year hitting .286 with 31 home runs last year. 2018 was much better than in 2017 and 2016 for him, I just wonder if he can do what he did last year in 2019. Jose Altuve has hit well over .300 for five straight seasons. He also hit 24 home runs in both 2016 and 2017, but last year he just hit 13. He is easily a five-tool player and if his power can surge back in 2019, he could be looking at a second MVP award. Carlos Correa missed 52 games last year and overall had a disappointing year, hitting just .237 with 15 home runs. Let's not forget though, that in 2017, he hit .315 with 24 home runs. Last year was a slow year for him, but I expect him to come back even better this year. Yuli Gurriel is a good hitter, as is Tyler White. Gurriel hit .291 with 13 home runs last year while White hit .276 with 12 home runs in 70 fewer games. Not to mention George Springer and Michael Brantley. This is a very well-rounded team that will easily be a threat to win it all again.
Bullpen
I could have just put "entire team" under strengths but I thought I'd look at the team in-depth. Their bullpen is rivaled by only the Yankees in my opinion. They got rid of their worst piece mid-season in 2018, which was Ken Giles. They traded him to the Blue Jays for Roberto Osuna, who was involved in a domestic violence incident. He will be the closer for them this year. Ryan Pressly was very good for Houston last year, going 2-1 with a 2.54 ERA. He struck out a whopping 13 batters per nine innings. Hector Rondon is another solid piece in the pen. He went 2-5 with a 3.20 ERA, striking out 10 batters per nine. Chris Devenski had a bad season last year after two great years in 2016 and 2017. His career stats are 14-12 with a 2.74 ERA, striking out 10 batters per nine innings. Will Harris also struggled last year, but he is still a very effective reliever. All five of these guys can be closers if they needed to pitch in that role and they are all very effective.
Weaknesses
None
There really aren't any. The catcher position is the worst spot on their team, but Robinson Chirinos isn't bad enough where I would consider the position a huge weakness.
Infield Projections
1B – Yuli Gurriel, Tyler White
2B – Jose Altuve
3B – Alex Bregman
SS – Carlos Correa, Aledmys Diaz
Outfield Projections
LF – Michael Brantley, Tony Kemp
CF – George Springer, Jake Marisnick, Derek Fisher
RF – Josh Reddick, Kyle Tucker
Starting Rotation Projections
Justin Verlander
Gerrit Cole
Collin McHugh
Wade Miley
Brad Peacock
Bullpen Projections
Dean Deetz
Will Harris
Chris Devenski
Ryan Pressly
Hector Rondon
Roberto Osuna
Prediction: 1st in AL West (99-63), Clinch Playoffs
I think it will come down to the Astros and the Yankees in the ALCS. Both of these teams have no clear weaknesses. As long as they both can stay healthy, it'll be an interesting race in the American league. I think Correa will pick it up again from his down year last season. I also think that Jose Altuve will bring his power numbers up. The key question for me is: Will Alex Bregman, Justin Verlander, and Gerrit Cole all continue their dominance?
Check out our other Team Previews | Colorado Rockies | Toronto Blue Jays | Minnesota Twins | Atlanta Braves | Chicago Cubs | Tampa Bay Rays | Arizona Diamondbacks | Miami Marlins | Cincinnati Reds | Seattle Mariners | Texas Rangers |Los Angeles Dodgers | New York Yankees | Milwaukee Brewers | San Diego Padres | Detroit Tigers | Kansas City Royals | Cleveland Indians | Oakland A's | Philadelphia Phillies | Boston Red Sox | New York Mets | St. Louis Cardinals | Pittsburgh Pirates | Washington Nationals
Questions and comments?
thescorecrowsports@gmail.com
Follow Us on Twitter @thescorecrow
Follow Us on Reddit at u/TheScorecrow
Follow Us on Facebook at The Scorecrow
Follow Us on Instagram at The Scorecrow
Follow Givanni Damico on Twitter @giodamico15
Main Credit Image: [getty src="1127409767″ width="594″ height="396″ tld="com"]