John Lepore | December 17th, 2018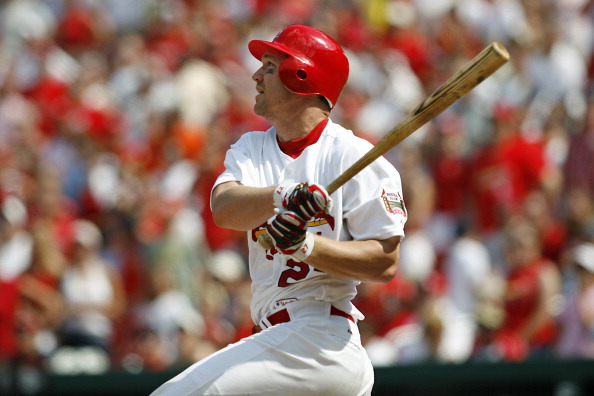 Let me say this right off the top. Scott Rolen deserves to be in the Hall of Fame. What is even more of an affront is that he only received 10.2% of the vote last year. Sometimes I don't understand what the voters are looking at, but I will attempt to help them out.
Scott Bruce Rolen was born on April 4, 1975. After being drafted in the second round by the Philadelphia Phillies in 1993, the 18-year old high school kid made it all the way to the Show in 1996 at 21. His MLB debut would come on August 1, 1996 vs. the St. Louis Cardinals. Ironically, he would play for them from 2002-2007 and also face them in his final game on October 3, 2012. Through his career, he would be traded twice. Once from the Phillies to the Cards in 2002(with Doug Nickle and cash for Placido Polanco, Bud Smith, and Mike Timlin) and again from the Blue Jays to the Reds in 2009 (for Edwin Encarnacion, Josh Roenicke, and Zach Stewart).
Comparison
In light of Adrian Beltre retiring this year, I'd like to do a little comparison. I have no doubt that Beltre will be in the Hall of Fame one day and probably get in on the first ballot. I'm sure many of you would agree. So let's compare Rolen and Beltre based on 162-game average and accolades especially since Beltre played nearly 900 more games.
| | | |
| --- | --- | --- |
| | Scott Rolen | Adrian Beltre |
| Slash | .281/.364/.490 | .286/.339/.480 |
| 2B-3B-HR | 41-3-25 | 35-2-26 |
| Runs | 96 | 84 |
| RBI | 102 | 94 |
| SB | 9 | 7 |
| BB/K | 71/112 | 47/96 |
| DRS (last 10) | 11.4 | 11.5 |
| OPS+ | 122 | 116 |
| Accolades | 1997 ROY, 8X GG, 7X AS | 5X GG, 4X AS |
As we can see, looking at you HOF voters, Rolen compares favorably to Beltre. I am by no means trying to take away from AB's HOF career, but when we look at the numbers it is hard for me to comprehend that Rolen got barely 10% of the vote last year. As a side note, if you don't trust DRS and want to go traditional, Rolen had a .968 fielding % compared to the average of .954 which translates to committing 80 fewer errors over the course of his career compared to the average third baseman.
What Hurts Rolen
He doesn't have the big counting stats in his career(only 316 HRs and only 2,077 hits with less than 1,300 runs and 1,300 RBI). He battled through injuries, but the thing is he still managed to play 2,023 games at third base. Interestingly, he never played another position in the field, even for an inning. He also doesn't have what some voters like to look at, black ink, which means Rolen never led the league in any major offensive category. One other thing that may put a slight damper on his chances is that his playoff stats overall are not great. He slashed .220/.302/.376 for his career. Although in the 2006 World Series win for the Cardinals, Rolen was 8-19 with a HR.
I am not expecting Scott Rolen to jump up from 10.2% to over 75% and get in this year. There is a logjam and this is only his second year on the ballot, so I get that others should see votes ahead of him. He will get into Cooperstown eventually but will likely have to wait a few years and possibly have it come down to his final year to get the appreciation he deserves.
Other articles in our Hall of Fame series: Billy Wagner | Andy Pettitte| Edgar Martinez |Mike Mussina | Todd Helton| Larry Walker | Roger Clemens | Roy Halladay | Fred McGriff | Jeff Kent
Questions and comments?
thescorecrowsports@gmail.com
Follow Us on Twitter @thescorecrow
Follow Us on Reddit at u/TheScorecrow
Follow John Lepore on Twitter @jball0202
Main Credit Image: [getty src="121575731″ width="594″ height="396″ tld="com"]