Joe Reeks | January 19, 2019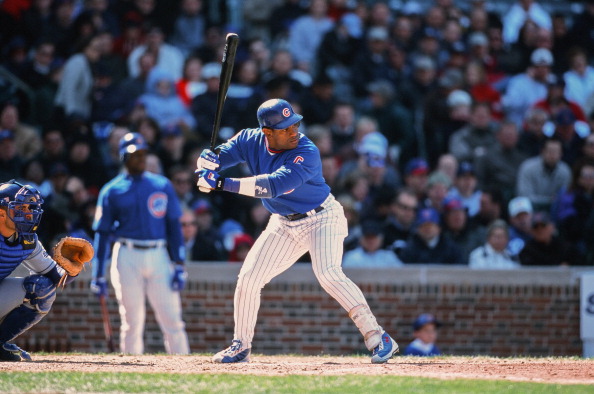 Sammy Sosa wasn't just an all-time great right-handed slugger, he was an icon. People who didn't watch the game or know anything about baseball knew who Sosa was. From his traditional pregame sprint out to right field, to his home run hop, and post home run dugout signals to his mother, he became a household name. But time is running out for Sosa and his chances to enter Baseball's Hall of Fame. This marks his 7th time on the ballot and if he doesn't see a huge increase in votes soon, he will most likely not be a Hall of Famer. 
Early Life and Career
Sosa was born on November 12, 1968, in the Dominican Republic. His officially registered place of birth is San Pedro de Macoris, but he was actually born in Consuelo. His childhood was not the easiest, at the age of 7 his father passed away. Sosa then began working to help support his family. He didn't even begin to play organized baseball until he was 14 years old. In 1986, Sosa came to the United States to play Minor League ball in the Texas Rangers organization. In 1989, he made his debut for the Rangers. His first Major League Home Run came off of the great Roger Clemens. His stint with Texas was short lived as he was quickly traded to the Chicago White Sox after only 25 games played. He bounced around for a couple of seasons between the big league club and the Minors. At the end of Spring Training in 1992, Sosa was traded to the Chicago Cubs, where he would go on to play for 13 seasons.
1998
A year that I remember like the back of my hand. It was the year I began playing Coach pitch baseball. The same year that Major League Baseball made a comeback in a huge way. The biggest reason being Sammy Sosa and Mark McGwire's epic Home Run race. Baseball was desperately needing something to draw more fans, new and old. America's Pastime was actually beginning to feel like it was past its time. Following the 1994 strike, many of the pure die-hard baseball fans and casual fans had given up hope and become angry at Major League Baseball. For the most part that changed, when Sosa and McGwire set out in an amazing back and forth chase of Roger Maris' single season Home Run record. In the midst of the single-season chase, Sammy set the record for most home runs in any single month by any player. He hit 20 in the month of June.
On September 8, 1998, Mark McGwire hit his 62nd long ball of the year to break Maris' record. Amazing by itself, but also significant because it came in a home game against the Chicago Cubs with Sammy Sosa on the field. After he hit it, Sosa ran in from Right Field and the two of them shared in a historic moment as Sosa congratulated him. They hugged and McGwire lifted him up off of the ground. Five days later, on September 13, 1998, Sosa would hit his 61st and 62nd home runs of the year, to tie and to break Maris' record as well. Sammy would eventually fall short to Big Mac, 70-66 for the season, but what a magical season it was. The Cubs made the playoffs with a Wild Card birth for the first time since 1989. They would eventually lose in the Divisional Series, but Sosa would take home the National League MVP Award and win a Silver Slugger Award.
Accolades & Stats
The MVP award that he won in 1998 was his first and only one. He came close in 2001 to grabbing another one but finished 2nd to Barry Bonds. Sosa also was a 7-time All-star and 6 time Silver Slugger winner. He led all of the Majors in Games Played in 1997 and 1999, each with 162. Sosa was the only player to ever hit 60 homers in 3 separate seasons. In Sosa's early years, he had plenty of speed. Something that goes overlooked when you think about the slugger, but he still is the only Cubs player to have a 30/30 season. He had two of them. In 1993 – 33 HR 36 SB and in 1995 – 36 HR 34 SB. He led the National league or all of the Majors in Runs Scored 3 times. Sosa had the most RBI's in the Majors twice. Despite his insane Home Run totals, especially single-season totals, Sosa only led the Majors once in his career, in 2000 with 50. But he is 9th All-time. He also led the Major leagues in Total Bases 3 different times. Holds the record for most Home Runs in a month as previously mentioned. (20 in June '98)
Career numbers:
WAR 58.6 AB 8813 R 1475 H 2408 BA .273 HR 609 RBI 1667 SB 234
OBP .344 SLG .534 OPS 878 OPS+ 128
Bad Stats: 
Strikeouts – 2306 – Led either the National League or Majors in Strikeouts three different times. Defensively, he had a career dWAR of -0.3. 
Say it ain't so, Sosa
Sadly, the biggest arguments against Sammy getting elected, are the things he might've done off the field to gain an advantage on it. Majority of people assume that Sammy along with many others took steroids. That assumption was further put to the light when the NY Times came out with a report that saw 104 different players on a list, all of which were said to have tested positive for performance-enhancing drugs.
June 3, 2003, The Cubs were battling it out against the Tampa Bay Devil Rays at Wrigley Field. I happened to be in the stands with a friend and his father, sitting a few rows up behind home plate. Sosa stepped up to the plate, hit a broken-bat, RBI ground out to the second baseman. Nothing peculiar about the play, Cub fans were happy, as we had tallied a run. That was until everyone noticed the umpires gathering around to take a look at Sosa's broken bat. They proceeded to eject Sosa from the game, send the scoring runner (Grudzielanek) back to 3rd base, and charge the Cubs with an out. We had no idea what was wrong with the bat as we sat there completely dumbfounded. The game continued and we started to hear murmurs in the stands from other fans, speculating that the bat might've been corked. Sure enough, leaving the ballpark we turned on the radio. (670 The Score) It was confirmed, to us at least, there was cork in the bat.
Sammy would go on to tell the media that it was a mistake. He picked up a bat that he normally used for batting practice on accident and used it in the game. Certainly, that could have been the case, but it was a major blemish to his career and to his reputation. Baseball officials took 76 of his bats, they did X-rays on the bats and found no signs of cork in any of them. They also ran tests on all five of his bats that belong to the Hall of Fame, one was his 500th Home Run bat, the other four were from the 1998 season. All of the bats came back clean. MLB would go on to suspend him for 7 games for the incident. 
Overall, 2003 wound up being a year Sosa and the Cubs would never forget, and not in a good way. Following the corked bat incident, the Cubs seemed destined for a deep playoff run. That dream came crashing to a screeching halt, after what became known as, the Bartman game. Slammin' Sammy then went thru the worst slump of his career in 2004. On the final game of the season, Sosa asked to be out of the lineup and then proceeded to leave the ballpark early. This was the final straw for Cubs management. In the off-season, he was dealt to the Baltimore Orioles. He played one season there before taking a year off from baseball. Returned in 2007 with the Rangers. There he'd hit home run number 600 and finish out his career. 
Recent News
Jeremy Schaap of ESPN recently conducted an interview with Sammy Sosa for an E:60 episode. He had many questions for Sosa, including direct questions about performance-enhancing drugs. Sammy, in many ways, avoided answering the question directly. "Did you use any performance-enhancing drugs at any time in your career?" Schaap asked. "I never have tested positive in this country," Sosa responded. He wouldn't say whether or not the NY Times report about him testing positive in 2003 was wrong or not, but he also wouldn't deny it. He then quickly changed the subject and ended the interview prematurely. Schaap clearly wanted more answers as did the rest of us watching at home. They later continued the interview, but the questions still remained.
With the 2019 Cubs convention starting in Chicago, Tom Ricketts was asked about the possibility of Sosa making a return to Chicago. He made it abundantly clear, he wants the entire era to come clean. He said he wasn't going to speak about Sammy specifically, but he didn't have to. "Players from that era owe us a little bit of honesty," Ricketts said. That's all you really need to hear from Mr. Ricketts. He wants Sosa to come clean and to apologize.
Players that are very much linked to PED's and steroids are picking up more votes than ever. Barry Bonds and Roger Clemens are both tracking over 70% of the known HOF votes, last updated 1/18/19 on bbhoftracker.com Sosa is also tracking higher than ever before at 13% of known votes, expected to go his way. If that holds, that would be the most he's ever gotten since entering the ballot in 2013. Still a long ways away from the needed 75% of votes, but its progress.
Conclusion 
Without Sammy Sosa, baseball wouldn't be what it is today. The gigantic effect that he had on the game in the United States and in the Dominican Republic is immeasurable. With how badly things ended in Chicago, Cubs fans and baseball fans, in general, haven't received their Sammy Sosa celebration day. We were never able to give him his proper send-off or the appreciation he deserved. Was the guy perfect? Absolutely not. Did he change the game and leave a lasting impression worthy of the Hall of Fame? Yes, he did.
I'm only slightly biased of course. My mom gave me the nickname "Joey Sosa" and chanted it every time I came to bat. My first ever batting stance was based around his. My birthday falls one day after his on the calendar. He basically gave my mother the idea to take me to a Cubs vs Cardinals game every year, as a kid. Without him knowing any of this, of course, he gave this die-hard Cub fan many great memories. Writing this article in his appreciation was the least I could do. Should he get in? Yes. Will he get in this year? No.
One question remains. Will the BBWAA eventually be very, very good to him? Or will he sit in a separate part of the Cooperstown museum labeled the steroid section? 
Other articles in our Hall of Fame series: Billy Wagner | Andy Pettitte| Edgar Martinez |Mike Mussina | Todd Helton| Larry Walker | Roger Clemens | Roy Halladay | Fred McGriff | Jeff Kent | Scott Rolen | Curt Schilling | Lance Berkman
Questions and comments?
thescorecrowsports@gmail.com
Follow Us on Twitter @thescorecrow
Follow Us on Reddit at u/TheScorecrow
Follow Joey Ricotta on Twitter @theriot326
Main Credit Image: [getty src="454762579″ width="594″ height="394″ tld="com"]