Alex Kielar | January 19th, 2019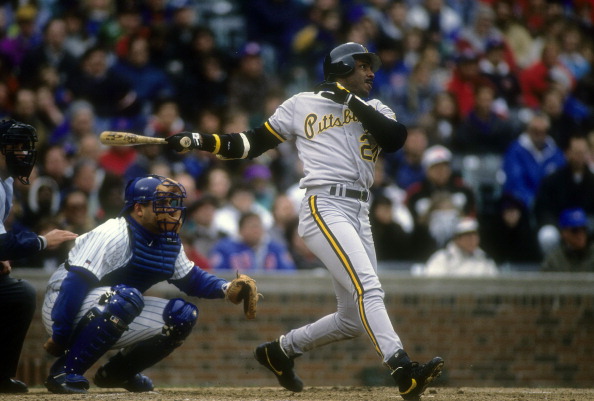 As Barry Bonds heads into his 7th year of Hall of Fame eligibility, the question still remains if players that were accused of steroid use at any point in their career should be allowed into the Hall. Bonds is coming off a 2018 ballot in which he sat at 56.4% of the vote, still needing an 18.6% increase to get in. Will this be the year that the voters decide to let steroid users in, thus inducting Bonds?
History
Barry Lamar Bonds was born in Riverside, California in July 1964 and grew up in San Carlos. Bonds attended Junípero Serra High School, a Catholic College Preparatory school in San Mateo, California, where he was an excellent three-sport athlete, playing baseball, basketball, and football.
Being a stellar three-sport athlete kept Bonds' options open for which one to focus on more. However, Bonds always had baseball in his blood, as he was born into a loaded baseball family. First off, his father, Bobby Bonds, had a great career for the San Francisco Giants as an outfielder. Reggie Jackson aka "Mr. October" was his cousin and his godfather was the legendary Hall of Famer Willie Mays, the "Say Hey Kid."
Bonds made the varsity baseball team at Junípero his sophomore year after playing for Junior Varsity his freshman year. Bonds hit for an astonishing .467 average his senior year, on the way to being named an All-American. The Giants took a chance on him out of High School, as they drafted him in the 2nd round of the 1982 MLB draft, as he was finishing up his high school career.
Bonds had a lot to mull over as whether or not he should start his Major League career early or instead go off to college. The main concern for Bonds, however, was the money, and the minimum amount he was seeking was $75,000. The maximum offer given by Tom Heller, the VP of baseball operations for the Giants, was at a "mere" $70,000. Since Bonds wouldn't get the money he wanted going into the Bigs, he instead decided to attend college at one of the major powerhouses in College Baseball, Arizona State University, where he would continue developing and honing his craft.
Fast Rise to the Show
After a very substantial college career, starting as a freshman at Arizona State and hitting for a .347 average, bashing 45 home runs, and driving in 175 runs, Bonds was drafted by the Pittsburgh Pirates with the sixth overall pick in the 1985 MLB draft. A few days after being drafted, the Pirates signed Bonds for a $150,000 bonus, and he was sent to play for their Single-A team, the Prince William Pirates of the Carolina League. In the one season he played for them in 1985, Bonds won the July Player of the Month, and the following season in 1986, he jumped to the Pirates Triple-A team in the Pacific Coast League, the Hawaii Islanders. In the 44 games Bonds played in for Hawaii before getting the call to the show, he hit for a .311 average and made his Major League debut on May 30th. Bonds made it look easy as he rose to the show, and he didn't falter when he started his Major League career. In his rookie season, he led all National League rookies with 16 home runs, 48 RBIs, 36 stolen bases, and 65 walks, but finished 6th in the Rookie of the Year voting. 
Continued Consistency
Bonds maintained consistent numbers in the next three seasons, '87, '88, and '89 as the Pirates leadoff hitter. In 1987, he hit 25 home runs, stole 32 bases, and drove in 59 runs, as the Pirates set an attendance record in the home opener with having such a high-level talent in Bonds on their team.
The attendance record was again broken in the 1988 home opener, and in that season, Bonds improved his average to .283, drove in 58 runs and hit 24 home runs.
Bonds' power numbers fell off slightly in 1989, as he finished with 19 home runs, but he still drove in 58 runs for the second straight season. He also made 14 outfield assists in that season, which was second in the NL.
Rise to Super-stardom
Through four seasons in the Major Leagues, Bonds maintained numbers that were solid but not at the highest level just yet. That changed in 1990, when he took a big leap in his statistic numbers, finishing the season with a .301 batting average, his first season at .300 or better.
Bonds also hit 33 home runs and drove in 114 runs, a career best by a long shot. He also stole 52 bases to earn a spot in the 30-30 club for the first time in his career and won a Gold Glove and Silver Slugger award. These numbers were very impressive and they earned Bonds the NL Most Valuable Player (MVP) Award.
In the 1990 season, Bonds led the Pirates to the NL East title for their first postseason birth since winning the 1979 World Series. They would, however, fall to the Cincinnati Reds in the NLCS.
Bonds would play in Pittsburgh for two more seasons, driving in over 100 runs and hitting at least 25 home runs in both seasons. His home run total rose to 34 in 1992, and his walks were whopping 127, as teams were afraid to pitch to him. The 1992 season would see Bonds win another MVP award after finishing runner-up in 1991.
Bonds would be signed by the San Francisco Giants following the 1992 season, the team that drafted him back before he decided to go to college instead. He would win six MVP awards, make the All-Star game all but four seasons, and hit over 30 home runs in 12 of the 15 seasons he played for the Giants from 1993-2007. This included the record-breaking 2001 season in which he broke Mark McGwire's single-season home run record of 70 by smashing a massive 73 home runs.
Tainted Career?
The numbers say it all for Bonds as far as the Hall of Fame goes. A career .298 hitter, 762 career home runs, 7 MVP awards, and 14 All-Star game selections alone would make him a surefire first-ballot Hall of Famer. But the first question everyone, especially the Hall of Fame voters, asks themselves is "Are these numbers tainted because of his suspected steroid use?" Before that question can be answered, we must first look back at where in the career of Bonds the allegations occurred.
The first allegations against Bonds and steroid use started coming out in 2003. His personal trainer, Greg Anderson, who had been a childhood friend, started prescribing him to supplements that corrected any imbalances in his blood. In front of a jury into the Laboratory that prescribed the drug, Bonds testified he never paid Anderson for drugs or supplements but said he paid $15,000 for weight training. Bonds was charged with perjury for lying in the case as it was found that the company was distributing illegal drugs to several athletes, and Bonds was one of the athletes found to have been offered the supplement.
There was never a positive drug test for Bonds, but the evidence pointed to him taking a drug at some point between 1998 and 2003 at least once or possibly a few times. Back to the question that everyone asks, "Are Bonds' numbers tainted because of the suspected steroid use?" The easy, short answer is yes. His numbers later in his career are definitely tainted. He wouldn't have reached such an unbelievable level without steroids. He probably wouldn't have broken the single-season home run record in 2001 without steroids if he indeed was taking a supplement at that time, which is likely.
However, his numbers early in his career were still at a high level, and are worthy of the Hall of Fame alone. Knowing this, and if he was able to maintain the same level without steroids, he would have been able to keep putting up superb numbers through the rest of his career. Not Babe Ruth level numbers, but still numbers worthy of the Hall of Fame.
Final Verdict
Barry Bonds had an unbelievable career, which was also full of controversy as he was linked to steroid use. His numbers were great and consistent for the first 11 years of his career before he started to be linked to steroids. His numbers were worthy of the Hall of Fame, pre-allegations, and the steroids would have just elevated his numbers to a crazy level.
No one can ever know for sure how Bonds would have performed without steroids during the alleged seasons, but one would think he could have maintained the same level of play that earned him an MVP award in 1990 and again in '92 and '93, in the seasons without the allegations.
Bonds belongs in the Hall of Fame, he was arguably the greatest hitter of his generation and one the greatest of all-time. After sitting at 56.4% of the vote in 2018, he still needs a push to get in this year, but still has three more years on the ballot after this time around. If he does not get voted in this year, he will get in at least by his tenth and final year on the ballot. It's only a matter of time before 75% of the voters agree that his career was just too good, steroid-use or not.
Other articles in our Hall of Fame series: Billy Wagner | Andy Pettitte| Edgar Martinez |Mike Mussina | Todd Helton| Larry Walker | Roger Clemens | Roy Halladay | Fred McGriff | Jeff Kent | Scott Rolen | Curt Schilling | Lance Berkman | Sammy Sosa
Questions and comments?
thescorecrowsports@gmail.com
Follow Us on Twitter @thescorecrow
Follow Us on Reddit at u/TheScorecrow
Follow Alex Kielar on Twitter @yankeescave7
Main Credit Image: [getty src="118755572″ width="594″ height="401″ tld="com"]
Advertisement