Christopher Dinkins | November 9th, 2018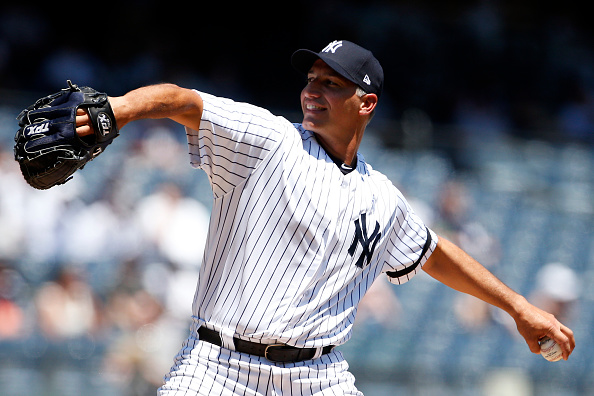 On the ballot for the first time, does Andy Pettitte have a Hall of Fame resume? Does his PED use hurt him and are his numbers and postseason performances enough to get him in?
History
Andrew Eugene Pettitte was born on June 15, 1972, in Baton Rouge, Louisiana. He was drafted in the 22nd round (#594) by the New York Yankees, and he signed with them about a year later. Five years later (April 29, 1995) he made his Major League debut against the Kansas City Royals with two-thirds of an inning of relief, he was twenty-two years old. He ended up starting 26 games and winning 12, pitching to a 4.17 ERA with 3 complete game victories. A portend of things to come with this potential second coming of "Louisiana Lightning". I remember Ron Guidry and those years well. A lefthander from Louisiana pitching for the Yankees is not such a bad thing. And his postseason ERA of 3.81 is actually better than his regular season ERA of 3.85.
Comparison
Pettitte pitched for 18 years in the majors and won 256 games in that period (37 wins coming with Houston Astros). Pettitte and his numbers compare favorably to Jack Morris who was selected to Hall of Fame by the Veterans Committee late last year. But one of Pettitte's former teammates, Mike Mussina actually has better numbers and is on his sixth try to get into the Hall. Comparing these three pitchers, all of them have similar numbers and they all pitched for 18 seasons. Andy Pettitte had 256 wins, Jack Morris had 254 wins and Mike Mussina had 270 wins. Pettitte has the most postseason wins ever (19), which may not matter for much, but he does hold the record. And yes, I'm showing unabashed "Pettitte" bias, but it is well-earned and deserved. All three of these pitchers have pitched in big games and pitched well, but my vote goes for Andy Pettitte because he has proved worthy of Hall of Fame consideration. Other candidates for 2019 HOF include Roger Clemens, Derek Lowe, Ted Lilly, Curt Schilling, Roy Oswalt, and the late Roy Halladay among others. Pettitte's numbers compare favorably to some of his contemporaries but he is in his first year on the ballot. It might be a tough call to get him in on his first try.  He has the third most innings pitched out of all 2019 HOF pitching candidates. Pettitte has pitched in big moments even though his numbers may not jump out at you like a Roger Clemens or a Roy Halladay,  but then again they are also worthy of a Hall of Fame nod.
Negatives
The numbers do not mean a thing once "PEDs" enter the conversation, and you cannot really defend that. Pettitte was an admitted user of illegal substances and that is going to be a major hurdle in his HOF candidacy, but as long as Roger Clemens is on the ballot then Andy Pettitte deserves some love too. And yes he had some playoff failures in '97 and '98 versus Cleveland, '99 World Series versus Atlanta, 2001 World Series versus Arizona, and 2002 against Anaheim. The PED situation may hold him back even though he was honest about his involvement. He may not have been the most dominant pitcher of his era, but it cannot be denied that he was a winning pitcher that brought longevity and stability to the table.
What are his Chances?
Truthfully, not really good considering who else is on this year's ballot, but Andy Pettitte is definitely worthy of a Hall of Fame selection. Probably not this season or next and that is only because of the PED situation. Once Roger Clemens and/or Barry Bonds gets in, then there should be no denying Pettitte and his accomplishments. And the fact that nobody is really even mentioning Andy Pettitte in their HOF conversation is strange but I'm going to state my case for him to get in, if not this year, eventually. That's the word for Andy Pettitte's candidacy for the Hall of Fame: Eventually, and his case should be a cautionary tale for future pitchers, leave those PEDs alone.
Main Credit Image: [getty src="987709304″ width="594″ height="396″ tld="com"]