John Lepore | January 22nd, 2019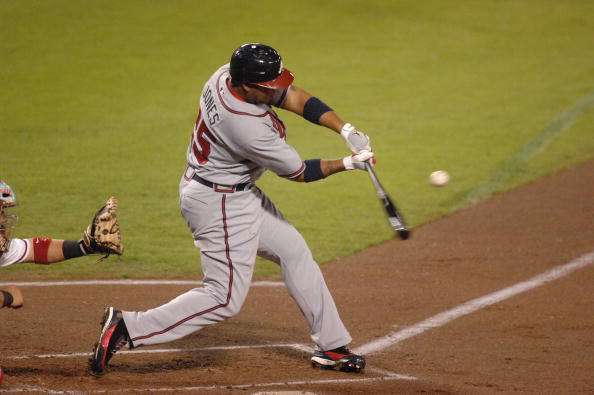 Andruw Jones is looking to improve on the 7.3% of the vote he received last year. This is his second year on the ballot and he is not trending in the right direction. That is a shame as he was an amazing centerfielder but will he get that plaque in Cooperstown.
Andruw Rudolf Jones was born in Curacao on April 23, 1977. He went to St. Paulus High School and was signed as an international free agent at 16 years old. Jones would debut with the Atlanta Braves on August 15, 1996 at 19 and would play until 2012. He would be one of the best fielders ever at his position and was no slouch with the bat either.
What helps his case
In a ten-year span from 1998-2007, Andruw Jones put together an amazing run. Let's take a look at Jones compared to a Hall of Fame CF.
| | | |
| --- | --- | --- |
| | Andruw Jones (1998-2007) | Kirby Puckett (1986-1995) |
| Slash | .266/.344/.503 | .324/.367/.500 |
| HRs | 345 | 203 |
| Runs | 974 | 928 |
| RBI | 1,034 | 980 |
| SBs | 115 | 99 |
| GGs | 10 | 6 |
| Rtot | 218 | -52 |
While Puckett's slash is better, especially batting average, Jones beats him in every other category. As a Twins fan myself, I am by no means taking away from Puck. I believe he deserves his plaque in Cooperstown. But for as great as Kirby was, Jones was just as good, if not better. His defense was second to none at that time and possibly in the history of the game. Jones is one of only four players in history to have 400 HRs and 10 GGs. The others: Willie Mays, Ken Griffey Jr., and Mike Schmidt. Pretty good company I would say. He is also one of only four players to hit 50 HRs in the NL since 2003. The others: Prince Fielder, Ryan Howard, and Giancarlo Stanton.
What hurts his case
What hurts Andruw Jones are some of his total numbers. Despite playing 2,196 games in the majors, he didn't reach 2,000 hits (1,933). He also struck out 1,748 times which is good for 26th on the all-time list (20th when he retired). His final slash of .254/.337/.486 leaves a lot to be desired. Finally his OPS+ of 111. While that isn't horrible and a couple Hall of Famers like Craig Biggio and Cal Ripken Jr. have a 112 OPS+, they also have the total career accolades such as 3,000 hits. A 111 OPS+ is also equal to the likes of Adam LaRoche, Jermaine Dye, and Carlos Guillen.
Result
With Andruw Jones currently trending at around 7% just like last year, I doubt he will gain enough momentum to make it into Cooperstown, this year or in the future. While he was one of the best defensively at a premium position, his lack of total numbers, severe drop off, and low AVG/OBP will likely keep him out completely.
Other articles in our Hall of Fame series: Billy Wagner | Andy Pettitte| Edgar Martinez |Mike Mussina | Todd Helton| Larry Walker | Roger Clemens | Roy Halladay | Fred McGriff | Jeff Kent | Scott Rolen | Curt Schilling | Lance Berkman | Sammy Sosa | Barry Bonds | Manny Ramirez | Mariano Rivera  | Gary Sheffield
Questions and comments?
thescorecrowsports@gmail.com
Follow Us on Twitter @thescorecrow
Follow Us on Reddit at u/TheScorecrow
Follow John Lepore on Twitter @jball0202
Main Credit Image: [getty src="76946824″ width="594″ height="395″ tld="com"]