James Hicks III | March 6th, 2019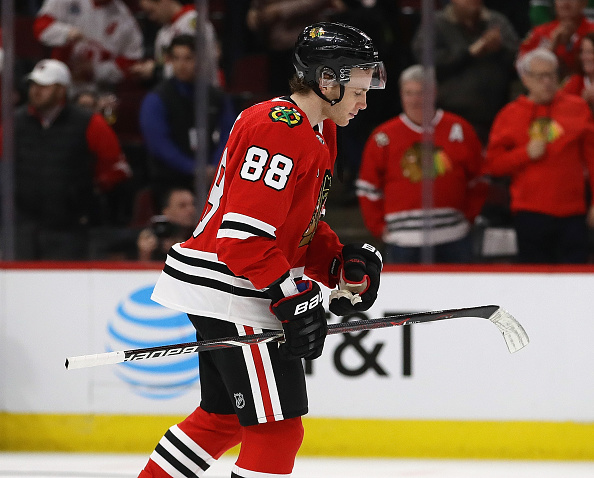 It is time for a gut check if you are the Chicago Blackhawks. They are in the fight of their lives, being EIGHT points out of a spot as of now, it is going to take a lot of hard work and determination. Alright, with that being said, what are the chances the Hawks break into the playoffs? While the Chicago Blackhawks are my team, I have to stop and be realistic here. They took two out of a possible six points on their last road trip in California. I feel as if the team is out of gas, and running out of time to make the playoffs. Here's why….
• Patrick Kane is looking more tired as games go on. Sitting at 94 points in 65 games, it's asinine to place any blame on him. While he may wear a superman cape, expecting a superstar such as Kane to win every single game for you is preposterous. These past 5 games alone, he is averaging 23-26 minutes per game. Obviously, that is going to take a toll on anybody.
• The Penalty Kill is straight trash. While they are the worst in the league at 72.8%, they allowed a Los Angeles Kings team to take advantage of 2 early power plays to go up 2-0 in the first period. I don't see the type of determination that is needed to kill off penalties ¾'s of the time. Whether it's winning the faceoff to clear the puck, or just getting a clear and not turning the puck over. IT DOES NOT HAPPEN! I always try to keep a fair view, but it is difficult to sit here and tell you unbiased that the Penalty Kill can get better. But, if you want to make the PK better, stay out of the box.
• Defense is lacking. How many times during a game do you yell, what the heck are you doing??? I am not advocating for fans to play armchair defenseman or to say "I totally could have made that play" while watching the game with friends. All I ask is that you at least try and make smart plays. Now, does personnel play a part in this? Yes. Absolutely 100%. Everything is a factor in this case, from Age to Ability. Playing Brent Seabrook and Duncan Keith against the best forwards of the opposing team cannot be the best option this team has. I keep hearing about the "Future" with this team. Wait for Adam Boqvist everyone says. But to play devil's advocate, who is to say the guy is going to be NHL ready for next season? The team needs a major overhaul of its defense. I'll get into a plan of action at a later time.
So now that we have 3 potential reasons why the Blackhawks could be out of the playoffs for the second straight season, let's take a look at the rest of the season. Their schedule is full of games that are winnable, but also games against teams who are almost a lock to make the playoffs. With 16 games left, the burning question has to be, are they going to fight and make things interesting? Or are they going to allow other teams to dictate the terms…. Only time will tell when they take on the Buffalo Sabres come Thursday.
Questions and comments?
thescorecrowsports@gmail.com
Follow Us on Twitter @thescorecrow
Follow Us on Reddit at u/TheScorecrow
Follow Us on Facebook at The Scorecrow
Follow Us on Instagram at The Scorecrow
Follow James Hicks III on Twitter @JDHicks88
Main Credit Image: [getty src="1128767867″ width="594″ height="478″ tld="com"]