Givanni Damico | May 5th, 2019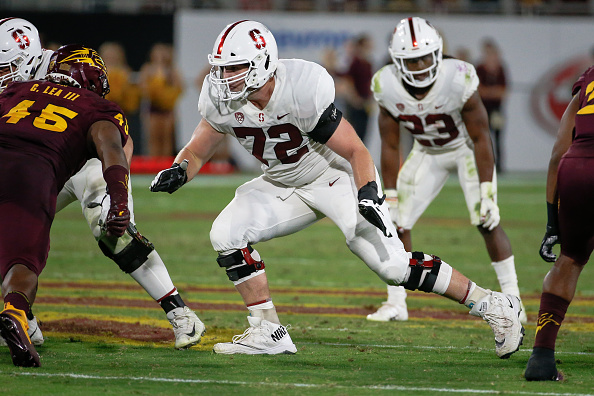 2020 "Way Too Early" NFL Mock Draft
Before all of the keyboard GMs come for my head, this is called the "way too early" mock draft for a reason. This is a preliminary idea of what could happen based on a draft order that I did not create.
#1 Miami Dolphins – Walker Little, OT (Stanford)
Before the 2019 draft, everyone had the Dolphins tanking and taking Tua Tagovailoa at the number one overall pick. Well, now they have Josh Rosen. This was a low-risk, high-reward trade for the Dolphins. Now that they have Rosen, unless he has an absolutely atrocious season, I can't see the Dolphins going quarterback. They need to start rebuilding their offensive line after losing Ja'Waun James to free agency. Walker Little is a franchise offensive tackle that will bolster this offensive line group to protect Josh Rosen.
#2 Arizona Cardinals – Chase Young, EDGE (Ohio State)
The Cardinals went pretty offense-heavy in the 2019 draft and Chase Young is your star defensive player in 2020. He is the Nick Bosa of 2020. The Cardinals can't get by with just an offense and let the defense suffer. Chase Young has great technique and is very powerful. It will be easy for him to break through the offensive line to get to the opposing quarterbacks. His hand usage is unrivaled by almost anyone in college football.
#3 Cincinnati Bengals – Justin Herbert, QB (Oregon)
I am aware that the Bengals just took Ryan Finley in the 2019 draft, but I see Finley to be used like Kyle Lauletta from the 2018 draft, which is not used at all. If the Bengals are in this position, I can't see them skipping on a franchise quarterback just because they have hope that Ryan Finley will develop. No, Tua Tagovailoa is not my QB1 going into the 2019 season. Justin Herbert showed good athletic ability and mechanics in 2018 and he will only get better in 2019 with an Oregon team that should compete with the big dogs. Herbert will be the most NFL-ready quarterback and the Bengals should jump on him.
#4 New York Giants – Jerry Jeudy, WR (Alabama)
You got your "franchise quarterback" (I say that lightly) in 2019 with Daniel Jones, so what do you do in 2020? Surround him with weapons. Jerry Jeudy is easily the most talented wide receiver in this draft class. He does it all. He catches the ball with soft hands while burning defenders down the field. This is the kind of guy that Daniel Jones needs to be successful.
#5 Washington Redskins – Andrew Thomas, OT (Georgia)
This is not a flashy pick by any means but it is what the Redskins need. Trent Williams is getting older and closer to retirement and Morgan Moses hasn't panned out too well. Thomas is a mauler who does it all well for Georgia. I'm interested to see him blocking for D'Andre Swift in 2020. Jake Fromm has all the weapons around him now, so is it Natty season for Georgia? It's possible and Thomas would play an underappreciated, but key role in that run.
#6 Oakland Raiders – A.J. Epenesa, EDGE (Iowa)
Am I the only one that isn't a believer in Arden Key being a four-down starter for the Raiders? Epenesa has somewhat flown under the radar mainly just because he goes to Iowa not a school like Alabama or Oklahoma. Epenesa is very quick, athletic, and physical. He had a fantastic sophomore season for Iowa and will look to improve on that in 2019 to up his draft stock. There are high expectations for him so we will see if he comes through.
#7 Tampa Bay Buccaneers – Tua Tagovailoa, QB (Alabama)
Let me preface this pick by saying that I am still a firm believer in Jameis Winston. He shows flashes of excellence and just needs a defense and a stronger offensive line to win games and be successful. That being said, this is a make-or-break year for Winston. I'm going to take the safe bet and say he doesn't come through. I actually have Jake Fromm as QB2 right now, but Tagovailoa fits the Buccaneers scheme better than Fromm. Plus, I doubt a team that needs a quarterback would pass up on Tua if he fell in their lap. Tua struggled against the tougher competition last season, so for him to jump Fromm and Herbert in my rankings, he needs to show better poise in the pocket and accuracy in those big games.
#8 Buffalo Bills – C.J. Henderson, CB (Florida)
Is Florida DBU? I don't want to start any arguments so I won't go there. The Bills lack depth at cornerback right now, but Henderson would be much more than just a depth option. He would more than likely jump in and line up across from Tre'Davious White. E.J. Gaines, Kevin Johnson, Ryan Lewis, and Lafayette Pitts are all pending free agents after this season so Henderson would be a huge addition to throw in there with White and Taron Johnson. Henderson has a lot of upsides. He is big at 6'1" while also being fast running a 4.49. He is an athletic playmaker that Buffalo can't pass on if he falls to them.
#9 New York Jets – Trey Smith, OT (Tennessee)
Smith was a prospect for the 2019 NFL Draft but he decided to return to college which was definitely an intelligent move. Let's face it, the Jets' offensive line is horrible. They need to protect Sam Darnold and Trey Smith can be the cornerstone of that line.
#10 Detroit Lions – CeeDee Lamb, WR (Oklahoma)
Holy playmaker. My NFL comparison for this guy as of now is Odell Beckham Jr. Lamb is going to have a huge role in the offense this season and can easily prove himself as worthy of a top 10 pick. My only concern isn't with Lamb, it's with the passing ability of Jalen Hurts. Will Hurts underutilize Lamb and his receivers? This shouldn't interfere with Lamb's draft stock but it would. Lamb is very flashy when it comes to one-handed catches and great plays. He just makes plays all over the field. There is no other way to put it. He is my favorite 2020 draft prospect as of now, but there is plenty of time for that to change. The Lions have a pretty mediocre wide receiving corps right now and could use someone flashy like Lamb.
#11 Denver Broncos – Derrick Brown, DT (Auburn)
This is another guy that could have declared this year but intelligently decided not to. The Broncos always seem to lack the interior pass rush which Brown could bring to Denver. He is an all-around player who I want to see more of to truly make up my mind on who he is. I don't have an NFL comparison for Brown yet, but I do know that he would make Denver's front seven much scarier.
#12 Baltimore Ravens – Yetur Gross-Matos, EDGE (Penn State)
What a name. You know who the Ravens' starting right end is right now? Zach Sieler. It's ok if you don't know who that is because I am not entirely sure either. They did pick up Jaylon Ferguson in the 2019 draft but they need someone to play across the line from him. Gross-Matos is a raw player with great athleticism and good pass-rushing ability. He will be one of the players that I look into a lot in the coming weeks and of course when the season starts.
#13 San Francisco 49ers – Cameron Dantzler, CB (Mississippi State)
Dantzler possesses great size at 6'2" to go along with good long speed and great athleticism. I admittedly don't know as much about Dantzler as I should, but he is a ball hawk who makes plays. His zone coverage is stronger than his man at this point, but he has a full season to prove himself as a complete player. The 49ers' cornerback group is mediocre at best, allowing Dantzler to be a day one starter.
#14 Carolina Panthers – Bryce Hall, CB (Virginia)
The Panthers only have James Bradberry and Donte Jackson as viable cornerbacks at this point. Hall is a great tackler with exceptional ability to change direction which is extremely important for cornerbacks when they need to turn their hips and run up field. His hip fluidity is very impressive and he has great body control. For a former two-star recruit, Bryce Hall is a very decorated player who deserves more recognition than he gets. For his size (6'1"), Hall is very fast. My only issue with him is that he spends a lot of time in zone coverage and gives the receivers that he is covering too much room to operate.
#15 Jacksonville Jaguars – Travis Etienne, RB (Clemson)
The Leonard Fournette era in Jacksonville seems to be coming to an end. I don't believe that Ryquell Armstead if a great long-term option for Jacksonville. Etienne is very fast and has great vision to get through the holes that his offensive line creates. He's very shifty and loves making people miss. He is one of the most complete running backs in this very strong class and should start right away unless Armstead stands out.
#16 Tennessee Titans – Isaiah Simmons, LB (Clemson)
This will be a Clemson-heavy draft because they have a ton of talent coming out in 2020. The Titans right outside linebackers are not long-term options. Kamalei Correa should not even start this year, let alone next year. Isaiah Simmons is actually a safety who would be better as a box linebacker. He had 88 tackles last season, nine of them being for loss, as well as an interception which went for a touchdown. Simmons likes playing in the backfield, so playing at outside linebacker would allow him to drop back in coverage as well as rushing the passer. Simmons is a dual-threat who will be a Swiss-Army Knife player in the NFL. He is currently my second favorite player going into the 2019 season.
#17 Pittsburgh Steelers – Nick Coe, EDGE (Auburn)
Coe has good size and athleticism. He gets to the backfield with ease using his fantastic hand technique. The Steelers need another guy to rush the passer. It seems as though every year, the Steelers need someone on the front seven. Nick Coe will be just one piece of the monstrous Auburn defensive line. You have already seen Derrick Brown go and you will see at least one more go in the first round of this mock.
#18 Seattle Seahawks – Dylan Moses, LB (Alabama)
Alabama turns out defensive players in the NFL draft like nobody else. Moses already has a lot of hype surrounding him and looks to add to it in 2019. Bobby Wagner is on an expiring deal so the Seahawks will need linebacker help if they can't reach a deal with Wagner. Moses has next-level speed, running a 4.46 forty-yard dash and can line up wherever he is asked to do so. He is extremely strong and tall at 6'3" and is easily the most athletic linebacker in this class. He sounds like the perfect Bobby Wagner replacement to me.
Not only does he have my favorite name in the draft, but Albert O. is my favorite tight end in this draft and it isn't close. Okwuegbunan has great athletic ability (at this point, who doesn't?) and a great ability to get yards after the catch. He has soft hands and will catch almost anything you throw his way. Let's be real, Jason Witten and Blake Jarwin are not long-term options, so why not pick up a true athlete who can catch the football? The only "red flag" with Albert is the fact that his blocking ability isn't great, but with how good Dallas is at blocking, they shouldn't have to worry about that too much.
#20 Houston Texans – Mekhi Becton, OT (Louisville)
The Texans did not do a good enough job of addressing the offensive line in the 2019 draft. They need to protect Watson and Becton will be a perfect fit. He blocks well for the run as well. Becton is a huge man at 6'7", 355 pounds and will maul the opposing defensive linemen with ease.
#21 Atlanta Falcons – Tylan Wallace, WR (Oklahoma State)
Mohamed Sanu is on the trade block and Julio Jones isn't getting any younger. When are we going to start talking about the Falcons' need for depth at wide receiver? Wallace is a huge playmaker and would compliment Calvin Ridley and Julio Jones well while giving Matt Ryan another fantastic weapon to throw the ball too. Wallace came up with 23 contested catches in 2018 while also being able to burn opposing corners. He sounds like a mixture of Julio Jones and Calvin Ridley.
#22 Cleveland Browns – Marlon Davidson, EDGE (Auburn)
Here is another piece of the monstrous Auburn defensive line. The Browns failed to address the need of getting another pass rusher besides Myles Garrett and Davidson will be just that. Davison could have declared last year but he wanted to solidify his spot as a first-round pick. This was a smart decision and we will see if he can prove his value in 2019. He did not have a ton of sacks last year, but this is his year where he can really break out. I'm a believer and I think he will have at least eight sacks this year.
#23 Minnesota Vikings – Darryl Williams, OG (Mississippi State)
The Vikings spent their first-round pick on center Garrett Bradbury in the 2019 draft but they still need offensive line help. This is by no means a flashy pick, but Kirk Cousins needs to be protected to have success. He has all of the weapons around him on offense and a very good defense as well. Darryl Williams did a fantastic job as a pass blocker for Nick Fitzgerald in 2018 so he could definitely help the Vikings. I'm just hoping he doesn't fall off as Greg Little did.
#24 Green Bay Packers – Anfernee Jennings, EDGE (Alabama)
Oh, look, a defensive prospect from Alabama. Yawn. Anfernee Jennings was someone else who thought about declaring for the 2019 draft but made the intelligent decision to return to Alabama. Jennings had 13 tackles for loss and 5.5 sacks in 2018 to go along with two fumble recoveries and a pick. This production in his junior year is fantastic and he can only build off of it in 2019 in order to keep his stock high. There will be a huge spotlight on him and everyone around him, so it's important that Jennings stands out.
#25 Philadelphia Eagles – Paddy Fisher, LB (Northwestern)
Fisher is such a Philadelphia Eagles' type player. He would fit in so well. Hew as another player who I scouted as a 2019 draft prospect, but his stock is already way up from where he would have been drafted in 2019. Fisher isn't the fastest player, but he gets to the ball, as we saw in 2017 and 2018 where he had a combined 227 tackles over these two seasons. Fisher's best trait is his tackling ability. He uses his strength to drag players down and very rarely misses a tackle. Something tells me that he will be in competition for the Butkus award this season.
#26 Oakland Raiders – Tyler Biadasz, C (Wisconsin)
Wisconsin is OLU and Tyler Biadasz is their best lineman going into 2019. Rodney Hudson is set to be a free agent in 2020 and Biadasz could jump in and play the same role. He is a great pass blocker but an even better run blocker. He opens holes for Jonathan Taylor, after all.
#27 Los Angeles Chargers – Laviska Shenault Jr., WR (Colorado)
Shenault is another big play receiver. The Chargers lost Tyrell Williams in free agency and are short-staffed at the position. Shenault would compliment Keenan Allen and Mike Williams very well. This third wide receiver is really the only piece the Chargers are missing on offense. I doubt Shenault will fall this far, but we saw Kelvin Harmon fall to round six this season so anything can happen.
#28 Indianapolis Colts – Grant Delpit, S (LSU)
I really wanted to put Delpit higher but the teams above the Colts all have bigger needs to fill than safety. The Colts somewhat addressed the need with Marvell Tell in the 2019 draft, but Delpit is better than Clayton Geathers and Derrick Kindred combined. Imagine a safety duo of Malik Hooker and Grant Delpit. Delpit is one of the best overall players in this class and knowing Chris Ballard, he would take the flyer on value over team need here.
#29 Kansas City Chiefs – Collin Johnson, WR (Texas)
Whether or not Tyreek Hill is in trouble, the Chiefs still don't have good depth at wide receiver. Sammy Watkins is always hurt and I'm not sure how productive Mecole Hardman will be. Demarcus Robinson is more of a return man than a fourth wide receiver. Collin Johnson would be a change of pace in Kansas City and give Patrick Mahomes a huge red zone target. I worry about his ability to create separation and his hands are questionable at times, but he has a year to improve and prove his ability.
#30 Los Angeles Rams – Kenny Cooper, C (Georgia Tech)
The Rams addressed offensive tackle in the 2019 draft but not the bigger problem: the interior offensive line. John Sullivan retired (thank God) and Austin Blythe is terrible. Kenny Cooper might be a bit of a reach at this point, but he can play center or guard and add an anchor for the Rams' run game. I question his pass blocking ability especially at a school that predominantly runs the ball, but we'll see how he fares in 2019.
#31 New Orleans Saints – Jake Fromm, QB (Georgia)
The Saints would be on acid if they passed up Jake Fromm if he fell this far. That being said, he probably shouldn't fall this far, but none of the teams who didn't take him are in dire need of a quarterback. Drew Brees' contract is up after this season and he will either be a free agent or retire. I know the Saints love Teddy Bridgewater, but Bridgewater is just not a capable starter, especially in the competitive NFC South. Fromm is raw and could use a year under Bridgewater if the Saints insist. Fromm is inconsistent so I would love to see him come back stronger in 2019 and be a consistently good quarterback week in and week out.
#32 New England Patriots – Shaquille Quarterman, LB (Clemson)
I'm not a huge believer in Kyle Van Noy or Elandon Roberts. Van Noy has played well so far for Bill Belichick, but if Shaq Quarterman falls to them at 32, they need to take him. He would be an upgrade over Roberts easily and could be a huge playmaker for the Patriots
Players who just missed:
Lorenzo Neal, DT (Purdue)
Raekwon Davis, DT (Alabama)
Prince Tega Wanogho, OT (Auburn)
Calvin Throckmorton, OT (Oregon)
Denzel Mims, WR (Baylor)
Jonathan Taylor, RB (Wisconsin)
J.K. Dobbins, RB (Ohio State)
Questions and comments?
thescorecrowsports@gmail.com
Follow Us on Twitter @thescorecrow
Follow Us on Reddit at u/TheScorecrow
Follow Us on Facebook at The Scorecrow
Follow Us on Instagram at The Scorecrow
Follow Givanni Damico on Twitter @giodamico15
Main Image Credit:  [getty src="1052573918″ width="594″ height="396″ tld="com"]