Givanni Damico | April 25th, 2019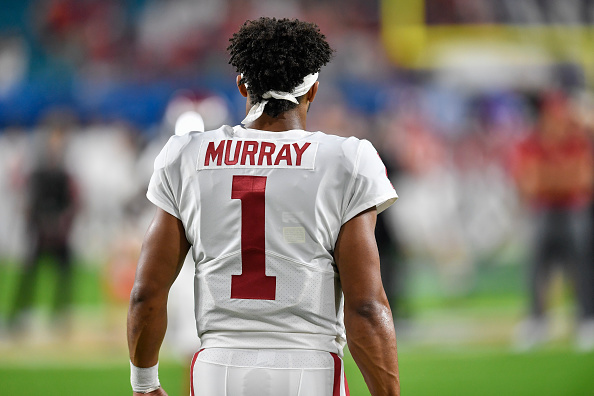 #1 Arizona Cardinals – Kyler Murray, QB (Oklahoma)
Is it all a big smokescreen? No one can truly say. But right now, Kyler Murray to the Cardinals seems like a safe bet.
#2 San Francisco 49ers – Quinnen Williams, DT (Alabama)
Because of the politics of San Francisco and of Nick Bosa, I do not think Bosa to San Francisco would be compatible. I know that seems like a weird reason not to pick the best player in the draft, but I really do not see it happening. Quinnen Williams would add to the already effective defensive line consisting of Solomon Thomas, DeForest Buckner, and Arik Armstead.
#3 New York Jets – Josh Allen, EDGE (Kentucky)
Josh Allen is my favorite prospect in this draft class because of how high his potential is. He recorded 17 sacks last season and is an all-around athletic freak. He has a high bust potential because nobody truly knows how he will do against NFL competition. Despite playing in the SEC, Allen did not go up against top-level competition too often, but this should not take away from his production.
#4 Oakland Raiders – Nick Bosa, EDGE (Ohio State)
Nick Bosa would be the obvious pick for the Raiders here. They need to replace Khalil Mack and Bosa is the perfect candidate for that. Plus, he can play against his brother twice a year.
#5 Tampa Bay Buccaneers – Devin White, LB (LSU)
The Buccaneers lost Kwon Alexander. Devin White is just as athletic and fast as Alexander with a better pass rush capability. They have been talking with White a lot through the process and this is a pick that I am pretty sure should happen, but I would not hold me to that.
#6 New York Giants – Jonah Williams, OT (Alabama)
Now, this is somewhat of a bold prediction on my end. There has not been much talk about the Giants going offensive line, but they need to protect their quarterback. Jonah Williams is the most pro-ready offensive lineman. Daniel Jones should still be available at the Giants next pick, so if they are smart, they will wait on Jones.
#7 Jacksonville Jaguars – Jawaan Taylor, OT (Florida)
This is another pick that I am pretty sure has a good chance at happening. Taylor has had numerous talks with the Jaguars who are in dire need of offensive line help. Ereck Flowers cannot start another game.
#8 Detroit Lions – Devin Bush, LB (Michigan)
The Lions are in a strange spot where they do not have any dire needs, but they are also nowhere near playoff ready. Devin Bush is one of the best players available at this point and would bolster the linebacker corps to a top 10 at the position.
#9 Buffalo Bills – Ed Oliver, DT (Houston)
The Bills have talked with Ed Oliver a lot and he seems to fit the culture in Buffalo. The Bills filled holes at wide receiver and offensive line in free agency, making pass rush one of their more important needs. I would be surprised if Oliver made it this far, but I have seen plenty of reports saying he will fall.
#10 Redskins (Broncos) – Dwayne Haskins, QB (Ohio State)
I am not sold on the Broncos going quarterback this season. The Redskins traded for Case Keenum, but he is not a long term solution. At the least, Dwayne Haskins could sit for a year and learn under Keenum, or he could jump in and start right away.
#11 Cincinnati Bengals – Drew Lock, QB (Missouri)
Andy Dalton has not been able to lead the Bengals very far in the playoffs. Favor for him is falling away and Drew Lock has tons of potential. He has a huge arm and the mobility needed to move out of the pocket when the Bengals O-Line crumbles. He reminds me a lot of Josh Allen from the 2018 draft class.
#12 Green Bay Packers – Montez Sweat, EDGE (Mississippi State)
The Packers need pass rush more than anything right now. Montez Sweat is extremely quick and athletic and has the ability to rush the passer and potentially play some coverage defense. I worry about him when it comes to run defense, but Sweat should not be a liability.
#13 Minnesota Vikings (MIA) – Cody Ford, OT (Oklahoma)
The Vikings make the trade to pick up their new franchise offensive tackle in Cody Ford. Kirk Cousins struggled last year partially because of his lack of offensive line help. Ford is more than ready to jump in and start and be an anchor in the past game.
#14 Atlanta Falcons – Andre Dillard, OT (Washington State)
I am not sold at all on Andre Dillard as a first-round prospect, but the Falcons lost a couple linemen and need to rebuild their offensive line with young guys. Dillard has loads of potential but he may struggle in his rookie season, especially against the big defensive ends that bully the tackles.
#15 Denver Broncos – Clelin Ferrell, EDGE (Clemson)
I am aware that I am more than likely the first person that you have seen say that the Broncos will get Ferrell. Ferrell would play very well across from Von Miller and is currently the best player available.
#16 Seahawks (via CAR) – T.J. Hockenson, TE (Iowa)
I highly doubt that Hockenson will fall this far, but when it comes to team need, everybody in the top 15 has more pressing needs than tight end. The Seahawks make the trade up with Carolina to get their new franchise tight end for years to come.
#17 Giants (via CLE) – Daniel Jones, QB (Duke)
Jones has very raw talent with a lot of potential. He is a great candidate to sit year one behind Eli Manning and learn from him, and then be ready to start in 2020.
#18 Miami Dolphins (via MIN) – Chris Lindstrom, OG (Boston College)
The Dolphins need offensive line help and Lindstrom is currently the best player available. He also has very raw ability and lacks some upper body strength, but he is a great pass blocker and will be able to be an anchor for Tua Tagovailoa in 2020.
#19 Tennessee Titans – D.K. Metcalf, WR (Ole Miss)
Nobody has taken a wide receiver yet and the Titans have a need at that position. Corey Davis can completely carry their receiving corps, but a one-two punch of him and D.K. Metcalf would be hard to defend. This is another semi-bold prediction that may not happen but is something that makes a lot of sense.
#20 Pittsburgh Steelers – Brian Burns, EDGE (Florida State)
Burns can do it all. He can rush the pass, he isn't totally useless in the run game, and he can play some pass coverage. It seems as if the Steelers always need someone on the front seven on defense and hopefully, Burns pans out for them.
#21 Carolina Panthers (via SEA) – Greedy Williams, CB (LSU)
Greedy seems to have fallen out of favor when it comes to the top 15. Williams didn't have great workouts and seemed to lack hustle. I don't agree that Williams isn't a top 15 pick, but I do seem him falling out of the top 15. The Panthers don't have as solid of a cornerback corps as people let on and Williams would join his teammate, Donte Jackson to solidify the corps.
#22 Baltimore Ravens – Marquise Brown, WR (Oklahoma)
Despite his Lisfranc injury, Brown is still a burner who can add to this receiving corps and hopefully make an immediate impact.
#23 Houston Texans – Yodny Cajuste, OT (West Virginia)
Yodny Cajuste is a big man who can bully defensive linemen. He used to be considered a first-round pick but off the field issues have since changed that. The Texans need to protect Watson and this will help with that.
#24 Oakland Raiders (via CHI) – Noah Fant, TE (Iowa)
They lost Jared Cook and Fant is an even better, more athletic version of Cook. He has soft hands and fills a major need.
#25 Philadelphia Eagles – Jeffery Simmons, DT (Mississippi State)
Simmons has had off the field issues to go along with injuries, but that doesn't take away from how good of a player he is. He is athletic and takes a great point of attack. This fills a hole for the Eagles.
#26 Indianapolis Colts – A.J. Brown, WR (Ole Miss)
The Colts have a mediocre receiving corps at best. Brown was once everybody's number one, but after a sluggish season, he fell down boards. He is the best receiver left on the board and will join T.Y. Hilton to help out Andrew Luck.
#27 Oakland Raiders – Josh Jacobs, RB (Alabama)
Jacobs is an all-around great running back that will start right away most likely. This team is in dire need of a running back and Jacobs fits their scheme.
#28 Los Angeles Chargers – Dexter Lawrence, DT (Clemson)
Lawrence isn't the fastest or most athletic player, but he is a run stuffer and someone who can get to the quarterback. This is exactly what the Chargers need right now since they have Joey Bosa and Melvin Ingram to work on the edge.
#29 Seattle Seahawks – N'Keal Harry, WR (Arizona State)
Harry increased his stock at the combine with his 4.5 speed. The Seahawks receiving corps is below-average and getting older. Harry would probably be a number three in Seattle in year one.
#30 Green Bay Packers – Hakeem Butler, WR (Iowa State)
Butler is a great player with good athletic ability. His hands are questionable at times but he will jump in and be the number three or four in Green Bay for year one.
#31 Los Angeles Rams – Garrett Bradbury, C (NC State)
The Rams lost John Sullivan to retirement and need an immediate replacement. Bradbury is pro-ready and a good pass blocker for Jared Goff.
#32 New England Patriots – Deandre Baker, CB (Georgia)
The Patriots cornerback group is solid enough with Stephon Gilmore and J.C. Jackson but it lacked at times last year. They have little depth at the position and Baker would be more than a depth guy for them.
*Note, the Seahawks are supposed to still have their second first-round pick. The trade was for their first this year, their second this year, and a second next year.
Questions and comments?
thescorecrowsports@gmail.com
Follow Us on Twitter @thescorecrow
Follow Us on Reddit at u/TheScorecrow
Follow Us on Facebook at The Scorecrow
Follow Us on Instagram at The Scorecrow
Givanni Damico on Twitter @giodamico15
Main Credit Image:
[getty src="1076269386″ width="594″ height="396″ tld="com"]