John Lepore | May 10th, 2019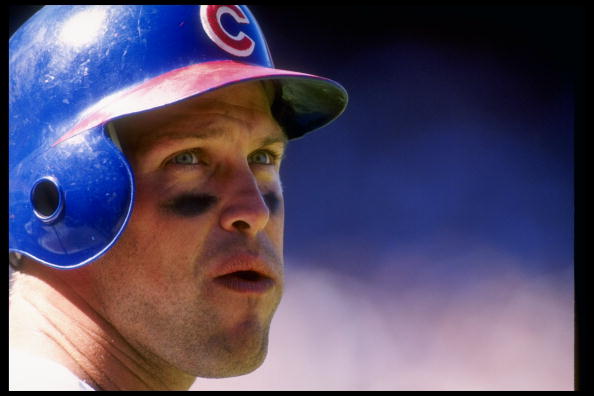 Every Thursday or Friday we will take a look back on the life and career of a player. You will get some background, an iconic moment, and plenty of stats. As voted on by the Twitter community, today we look back at Mark Grace.
Mark Eugene Grace was born on June 28th, 1964 in North Carolina. He attended Tustin High School in California and played baseball and basketball there. After attending Saddleback College initially, Grace transferred to San Diego State and was selected by the Chicago Cubs in the 24th round of the 1985 draft. He would spend three years in the Cubs minor league system before getting called up on May 2nd, 1988
Career
Grace went 2-5 in his debut and his first hit was a single off of Jimmy Jones of the San Diego Padres. The new Cubs first baseman would go on to slash .296/.371/.403 in 134 games that season. He finished second in Rookie of the Year voting to Chris Sabo. Plate discipline was something Grace displayed from day one. Even as a rookie he walked 60 times and only had 43 strikeouts.
He would follow it up with a very good 1989 where he slashed .314/.405/.457 with 13 HRs and 14 SBs while walking almost twice as much as he struck out (80/42). The Cubs made the playoffs that season but unfortunately fell to the San Francisco Giants in the NLCS. No one could blame Grace for that. He reached base 15 times in 22 PAs and drove in half of the runs the Cubs scored in the five-game series (8 of 16).
Through the decade of the 90s, no one had more hits (1,754) or doubles (364) than Mark Grace. He won four Gold Gloves and was a three-time All-Star during the decade and in 1998 would lead the Cubbies back to the playoffs. This time it was not Grace's series as he went 1-12 and the Cubs were swept in the NLDS by the Atlanta Braves.
After the 2000 season, Grace was a free agent and signed with the Arizona Diamondbacks. He played three years in the desert and finally got his ring in 2001 when the Diamondbacks defeated the New York Yankees in a dramatic seven-game series. Grace announced his retirement on September, 26th, 2003 and played his last game on September 28th of that year but would collect his final hit the day before against Sterling Hitchcock.
Iconic Moment
In Game Seven of the 2001 World Series, the Diamondbacks were down 2-1 in the bottom of the ninth. Facing the daunting task of coming back against the greatest closer ever, Mark Grace got it started off with a single on a 1-2 pitch from Mariano Rivera.
The rest is history as the Diamondbacks would, in fact, come back and win 3-2 on a walk-off single by Luis Gonzalez. Grace also hit a home run in that series in Game Four off of "El Duque" Orlando Hernandez. For the series, Arizona's first baseman went 5-19 with his signature great plate discipline (4 BB/1 K).
Post-Playing Days and Legacy
Mark Grace was considered for the vacant Diamondbacks managerial position after the 2004 season but Arizona decided to hire Bob Melvin instead. Grace then turned his attention to broadcasting. He was the color commentator for the Diamondbacks from 2004-2012 and a Fox Sports analyst from 2007-2011. Near the end of the 2012 season, Grace requested a leave of absence, likely related to a DUI in August, and did not return to the booth until 2017 where he serves as a baseball analyst for Fox Sports Arizona.
Never afraid to speak his mind, Grace told Jim Rome on an episode of "Rome is Burning" what a slump-buster was. "A slump-buster is if a team's in a slump, or if you personally are in a slump, you gotta find the fattest, gnarliest, grossest chick and you just gotta lay the wood to her. And when you do that, you're just gonna have instant success. And it could also be called jumping on a grenade for the team."
Grace first appeared on the Hall of Fame ballot in 2009. He was only able to garner 4.1% of the vote and subsequently fell off the ballot after just one year. His case can be reviewed again in 2022 by the Today's Game Committee. Grace finished with a slash of .303/.383/.442 and had 1,075 walks to only 642 strikeouts. Unfortunately, despite being a consistently excellent hitter and an above average first baseman defensively, Grace didn't have a dominant peak and his lack of power at the first base position (Never had 20 HRs or 100 RBI in a season) will likely keep him out of the Hall of Fame.
For more great quotes from Mark Grace and a lot more info, check out this site which is run by fan Brad Wackerlin.
Stats and Notes
Grace and Pete Rose are the only two players to lead a decade in hits and not be in the Hall of Fame
Led the NL in doubles in 1995 with 51
Walked more than he struck out every season
Gave up David Ross's first big league home run on September 2nd, 2002
He is the last Cub to hit for the cycle (May 9th, 1993)
Ranks second in doubles in Cubs franchise history (456)
Is one of only three players in Cubs history to have played over 1,750 games and have a .300 average
Check out our Other Throwback Thursday/ Flashback Friday Articles: Kirby Puckett | Gary Carter | Willie Stargell | Don Mattingly | Kenny Lofton
Questions and comments?
thescorecrowsports@gmail.com
Follow Us on Twitter @thescorecrow
Follow Us on Reddit at u/TheScorecrow
Follow Us on Facebook at The Scorecrow
Follow Us on Instagram at The Scorecrow
Follow John Lepore on Twitter @jball0202
Main Credit Image: [getty src="1402838″ width="594″ height="396″ tld="com"]