John Lepore | May 3rd, 2019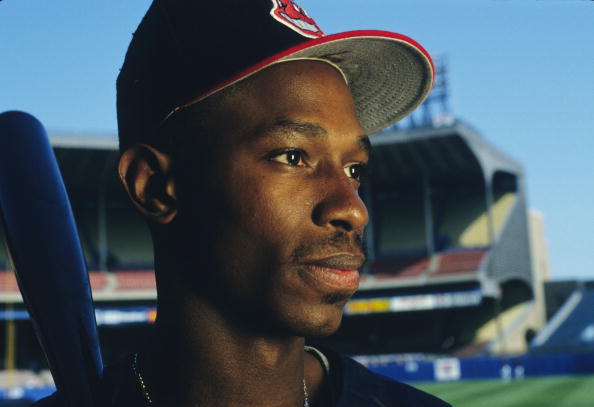 Every Thursday or Friday we will take a look back on the life and career of a player. You will get some background, an iconic moment, and plenty of stats. As voted on by the Twitter community, today we look back at Kenny Lofton.
Kenneth Lofton was born on May 31st, 1967 and grew up in Chicago. He attended Washington High School in East Chicago and went on to the University of Arizona on a scholarship, but it wasn't in baseball. Lofton was a great basketball player so he went to play for Lute Olson. He was the backup point guard on the 1988 team which made the Final Four. He got his chance to start the following year and brought the Wildcats to the Sweet Sixteen. All of this while playing minor league baseball in the Houston Astros system who drafted him in the 17th round in 1988.
Career
Lofton was finally a September call-up and made his debut on September 14th, 1991 going 3-4. He would only have 12 more hits in 70 ABs the rest of the season for the Astros and was traded in the offseason to the Cleveland Indians. For the next five years, Lofton would man center field for the Tribe and would lead the American League each year in SBs. He won four Gold Gloves in that time and finished fourth in MVP voting in 1994. He led the AL in hits that year with 160 and in SBs with 60. He also batted .349 with a .948 OPS. After leading the AL again in steals with 75 in 1996, the Indians traded Lofton to the Atlanta Braves along with Alan Embree for Marquis Grissom and David Justice.
At the conclusion of the 1997 season, Lofton was a free agent and came back to Cleveland where he would spend the next four years. Being on the wrong side of 30, Lofton's speed took a slight hit. He still averaged 30 SBs a season and batted .280 with a .783 OPS with an exceptional BB/K rate of 73/76 per season. He also made the All-Star team in 1998 and 1999. Starting in 2002, Lofton began his trip around the majors playing for eight teams in six years before heading back to the Indians for a final 52-game stretch in 2007.
Iconic Moment
In Game four of the 2007 ALCS vs. the Boston Red Sox Kenny Lofton stole a base off of Manny Delcarmen and Doug Mirabelli in the bottom of the 5th inning. Nothing surprising as that was kind of what he did. This one was special though as he passed Rickey Henderson for the most postseason stolen bases ever with his 34th. Lofton was also an excellent fielder at the beginning of his career. He ranks 15th among center fielders in assists and led the AL four times. He also ranks 5th in Total Zone Runs (since 1953) and led the AL three times. He also had a few highlight reel catches along the way.
[youtube https://www.youtube.com/watch?v=bc-ZY-AxtRQ&w=1280&h=720]
Post-Playing Days and Legacy
Lofton is the CEO and co-founder of FilmPool, Inc. He is an avid golfer and also a self-proclaimed neat freak. Lofton got on the Hall of Fame ballot in 2013 but unfortunately garnered only 3.2% of the vote and fell off after only one year. He has a 68.3 bWAR which is higher than 38 of the 61 Hall of Fame outfielders who played at least 65% of their games in the OF. He is 15th All-Time in SBs with 622 and of the 18 players with 600 career steals, he is 5th in SB% at 79.5. He was inducted into the Indians HOF on August 7th, 2010.
Lofton was a great player. His JAWS scores match up well with the average HOFer at his position. Some may see him as a borderline HOFer and that's fine. There is an argument to be made. The fact is though that he was a much better player than the voters gave him credit for. There was no way he should've fallen off the ballot after his first year. Hopefully, the Veteran's Committee will put him in eventually. At the time we didn't know it, but Lofton was one of the last true leadoff hitters and we see now that it was a dying breed.
Stats and Notes
Fourth AL player to lead the league in SBs five years in a row (1992-1996)
Had a .586 BA on bunts
Tied Red Rolfe for the modern-day record with a run scored in 18 consecutive games
One of only two players to play in a Final Four and a World Series game (Tim Stoddard)
Had 29 leadoff HRs in his career
His best BA vs. an opponent was against the team that drafted him. He hit .373 with an OPS of .980 against the Houston Astros
Indians all-time leader in SBs with 452 and holds the team's single-season record with 75
Check out our Other Throwback Thursday Articles: Kirby Puckett | Gary Carter | Willie Stargell | Don Mattingly
Questions and comments?
thescorecrowsports@gmail.com
Follow Us on Twitter @thescorecrow
Follow Us on Reddit at u/TheScorecrow
Follow Us on Facebook at The Scorecrow
Follow Us on Instagram at The Scorecrow
Follow John Lepore on Twitter @jball0202
Main Credit Image: [getty src="74210423″ width="594″ height="407″ tld="com"]