Givanni Damico | April 14th, 2019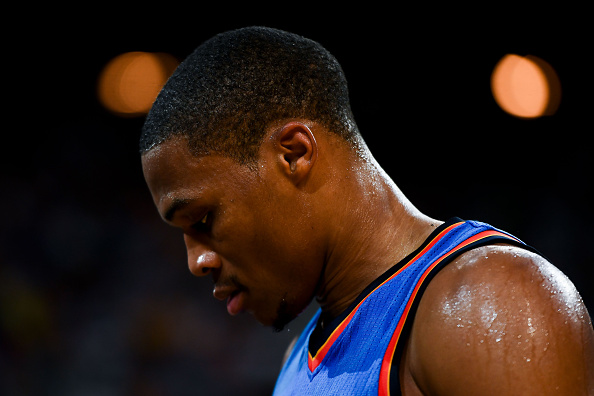 The West was more competitive than usual. The Blazers had a great season in which they found themselves as the third seed with a record of 53-29. It's their second straight season as the three seed, but they won four more games this year than they did in the 2017-18 season. The Oklahoma City Thunder won 49 games which placed them sixth in the conference. During the 2017-2018 season, the Thunder won one less game but were fourth in the West. Clearly, the Western Conference teams were even better than usual this season. Here's what you can expect from each team in this series.
Portland Trail Blazers:
Overall: The dynamic duo of Damian Lillard and C.J. McCollum dominated for the Blazers. Lillard averaged 26 points per game to go along with seven rebounds, further proving how underrated he truly is. He is the heart and soul of the Blazers, and from what I've heard, he doesn't plan on leaving anytime soon. Despite people constantly talking about Lillard being underrated, I think that C.J. McCollum doesn't get the respect that he deserves even more so. McCollum still has yet to make his first All-Star Game! McCollum is a scorer, averaging at least 20 points per game for four straight seasons now. This year, he managed 21 points per game with three assists and four rebounds. Unfortunately for the Blazers, they will be missing a huge piece of their team that they had for the majority of the regular season. That piece is their starting center, Jusuf Nurkic. Nurkic left March 25th's matchup against the Brooklyn Nets after suffering a very graphic leg injury. Nurkic was soon ruled out for the season with a fractured leg. He averaged a double-double this season with 15.6 points and 10.4 rebounds per game. Despite his importance to the team, the Blazers still managed to go 7-2 without Nurkic in the lineup. This series will be tough for the Blazers, especially with the loss of Nurkic. It's important to note that the Blazers were 0-4 this season against the Thunder.
Key Players: The player who is most crucial to the Blazers' success is definitely C.J. McCollum. Damian Lillard is very important too, of course, but C.J. McCollum was very inconsistent against the Thunder this season. He shot 35 percent from the field and 36 percent from three in the four games against Oklahoma City. He averaged 20 points, three assists, and about four rebounds per game. These stats are very comparable to his season statistics except for his field goal percentage. His field goal percentage is down 10 percent against the Thunder. After watching the tape, I'm not entirely sure what the reason for this is. Paul George is seldom guarding McCollum. McCollum is usually being guarded by Terrance Ferguson, who is definitely not a superior defender. C.J. just can't seem to get open and is forcing bad shots. He needs to take smarter shots in this series and work the pick-and-roll much better than he did in the past.
Al-Farouq Aminu is a good defender and a strong rebounder. He will more than likely be tasked with guarding Paul George. If Paul George gets going, then you can pretty much count the Blazers out because Westbrook is rarely off of his game. Aminu needs to lock George up more than he's ever locked anyone up before. He will need to eliminate the three ball and force George to drive to the hoop. If Aminu puts in work on offense, that's just an added bonus.
Seth Curry is arguably the most important bench piece. Curry shot lights out from three this year at 45 percent. The starting lineup can't carry the Blazers on offense today and if McCollum is off again, Curry's role will be even more crucial. Despite how good he can shoot from three, Curry needs to work inside too because he won't always have the three ball open against this Thunder team.
The Bottom Line: The Blazers cannot live and die by the three today. I'll tell you right now that if that is their game plan, they will get swept. We need to see Lillard drive and dish it inside to Enes Kanter as well as Aminu playing a role in the offense. The defense needs to lock up Paul George especially from beyond the arc, but the interior defense is crucial to stopping Russell Westbrook's dribble-drives. If I'm Terry Stotts, I'm telling the team to allow Russell Westbrook to shoot from deep. Clog the lanes and don't bite on the shot-fakes. The Thunder are a high-intensity team that can be brought back down to earth quickly if the Blazers get off to a strong start. If the Blazers find themselves down early, it will be hard to come back from the deficit.
Oklahoma City Thunder:
Overall: As I said before, the Thunder play with high energy levels and intensity. Russell Westbrook is a very emotional player who can't be stopped once he gets going. Westbrook is so disrespected that he's actually become underrated. Everyone calls him a stat-stuffer, but the man just balls out. This is now three straight seasons that Westbrook has averaged a triple-double. I don't understand how anyone discredits him for that, not to mention that he also averages two steals per game. Paul George easily had the best season of his career so far, dropping 28 points per game to go along with eight rebounds and four assists. George shot 39 percent from three and 44 percent from the field this season. He took an average of ten three-point shots per game. This duo was on fire during the regular season, but will it carry over to the postseason?
Key Players: It's no secret that Russell Westbrook is the best player on the Thunder. He provides the majority of the interior scoring as well as pretty much every other stat in the book. As I said earlier, Westbrook is an emotional player who gets very amped up when he and the team are on fire. Westbrook needs to catch fire early so the Thunder can get an early lead on the Blazers. It will be especially important for the team to play with extreme intensity in the first two games of the season since they will be behind enemy lines. Westbrook has to be a team player today and not force bad shots, especially threes. He shot a career low from the free throw line this season (65.6 percent) so that will be a vital part of his game to get going.
Paul George is the other obvious choice. When Paul George is on fire, the team is on fire. George has a very intelligent shot selection which undoubtedly needs to carry over into this series. He can't live or die by the three ball (neither can Westbrook). This is the case for both teams because both of them tend to get trigger happy whenever they see a glimpse of open space to shoot. Paul George needs to work the ball inside and get the Blazers into foul trouble.
Dennis Schroder is the sixth man and has been quite a good producer this season when it comes to points. He averages 15.5 points in 29 minutes per game and took his fair share of shots behind the arc this season as well. The only thing that I can say about Schroder, and it may sound obvious, but he has to be on. If he's not on with his shots early, he needs to stop shooting. When Schroder is cold, he is ice cold. We saw this with Kyle Lowry for the Raptors on Saturday and it's a very similar case with Schroder, but hopefully, he will have better results.
Steven Adams needs to bully Enes Kanter. They are former teammates and I'm not sure how one feels about the other, but I do know that Kanter is an easier matchup for Adams than Nurkic would be. The Thunder need to work the ball inside to Adams as much as they can this series and throughout the whole postseason if they prevail against the Blazers. Kanter is a very good rebounder, but so is Adams. This will be a fun fight to watch, seeing who prevails on the glass.
The Bottom Line: Work the ball inside. Russell Westbrook needs to penetrate and take the ball to the rack as much as he can. He needs to expose the defense of the Blazers in different ways to keep them off-balance throughout the series. If he finds that he is on from three, he needs to keep shooting until he's no longer on. It's the same situation as Paul George. They can't live and die by the three, but if they are shooting lights out, they should obviously keep exposing this weakness. Steven Adams and Russell Westbrook's rebounding and interior scoring will be key in this series. Even Jerami Grant will be quite an important factor in this series. He has always been underrated and I'm interested in seeing how he performs under pressure.
Matchup Prediction:
I've got the Oklahoma City Thunder winning this series in six games. The Blazers will compete, but as we've seen in the past, they can't keep up with the pace of the Thunder. Russell Westbrook should outplay Damian Lillard this series solely because Westbrook's defense and rebounding superior to that of Lillard. The Thunder are more well-rounded at this point, and if one player is off, it will make less of a difference than if one Blazers' player is off. This could easily go either way since the Thunder aren't always the most clutch team in the postseason, but this should be the year where things change in Oklahoma City.
Questions and comments?
thescorecrowsports@gmail.com
Follow Us on Twitter @thescorecrow
Follow Us on Reddit at u/TheScorecrow
Follow Us on Facebook at The Scorecrow
Follow Us on Instagram at The Scorecrow
Follow Givanni Damico on Twitter @giodamico15
Main Credit Image: [getty src="613077232″ width="594″ height="396″ tld="com"]