Troy Pierce | March 10th, 2019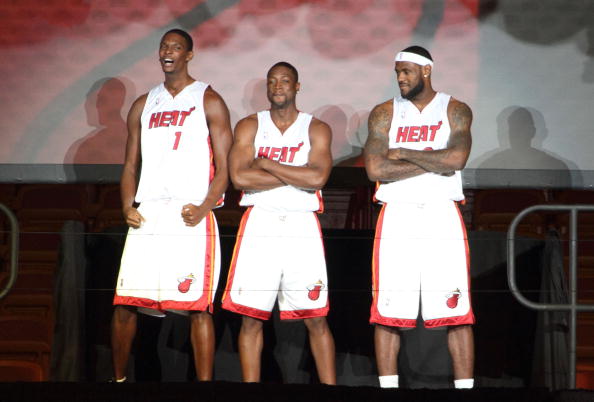 Chris Bosh was drafted with the 4th overall pick in the 2003 NBA Draft by the Toronto Raptors.
In seven seasons with the Raptors, Bosh would make five NBA All-Star games from 2005 until his departure from the team after the 2009-10 season via sign-and-trade with the Miami Heat.
During each of his seasons representing Toronto as an All-Star, Bosh would average over 20 points per contest with his peak coming at 24.0 points per game during his final season with the Raptors. This would also be his highest single-season average of any season in his career.
Unfortunately, Bosh's time in Canada only allowed him two playoff appearances. Those two seasons would be the winningest seasons of his Raptors career. Toronto would go 47-35 (second Eastern Conference, 2006-07) and 41-41 (sixth Eastern Conference, 2007-08) in those seasons. In those two playoff series, Bosh would average 20.5 points, nine rebounds and three assists in a total of 11 games.
On this day (Oct. 29, 2003), Chris Bosh made his NBA debut with the @Raptors!

Bosh finished with 11 Pts, 4 Reb & 2 Blk in a win over the Nets. pic.twitter.com/pTXbWpyA1h

— NBA Canada (@NBACanada) October 29, 2018
Chris Bosh truly is a Raptors legend. His time in Toronto would culminate with him finishing top 10 in almost every statistical category. Most notably, Bosh ranks fourth in total games played (509), second in total minutes (18,815), second in total field goals (3,614), first in total rebounds (4,776; Bosh also ranks first in total offensive (1,369) and defensive (3,407) rebounds when accounted for separately), eighth in steals (397), first in total blocks (600), and second in total points (10,275).
Although Raptors fans may still have a bad taste in their mouth about Bosh's exit from the team, a jersey retirement by the team that drafted Bosh is likely in the future. His impact on the only Canadian franchise in the NBA is monumental, putting him as a top 3 player in Raptors history.
Following his time in Toronto, Bosh would take his talents to South Beach and join the Miami Heat as one-third of "The Heatles" alongside LeBron James and Dwayne Wade.
Well deserved! 👏🏽 The first of the Heatles to go to the rafters. 1️⃣🔥#ThankYouChr1s @chrisbosh #MiamiHeat #Heatles #2xNBAChampion https://t.co/gGfbdAzDPO

— Chris 🇺🇸 (@TheChrisHidalgo) February 4, 2019
In his six seasons with the Miami Heat Bosh would be an NBA All-Star each of those six seasons. The Heat would also make the playoffs each of his first four seasons with the team, winning back-to-back NBA Championship in the 2011-12 and 2012-13 seasons.
In his six seasons as a member of the Heat, Bosh would average 18.0 points, 7.3 rebounds, and 1.8 assists per contest. Playing alongside other scorers in James and Wade would see Bosh's per game scoring average make a decline, failing to average more than 18.7 points per game during the "Big 3" era of Miami Heat basketball. Bosh's highest single-season scoring average with Miami would come in the 2014-15 season where he would average 21.1 in just 44 appearances.
Chris Bosh's 2014-15 campaign would be cut short after a blood clot was discovered in his lung. Bosh would return for the 2015-16 season with 53 appearances for the Heat but would miss the remaining 29 games of the season due to complications related to the blood clotting in is lungs.
In his final game, February 9, 2016, Chris Bosh would have 18 points, 5 rebounds, and 2 assists in nearly 35 minutes of play.
Chris Bosh would finish his time with the Heat ranking top 10 in total minutes (13,121), defensive (2,258) and total rebounds (2,816), total blocks (332), and total points (6,914).
Chris Bosh was a stretch-big before anyone knew what that was and his impact on Toronto Raptors and Miami Heat basketball has helped to shape the direction of those franchises.
The Miami Heat will retire Chris Bosh's number 1 on March 26, 2019.
Farewell, Chris Bosh.
Questions and comments?
thescorecrowsports@gmail.com
Follow Us on Twitter @thescorecrow
Follow Us on Reddit at u/TheScorecrow
Follow Us on Facebook at The Scorecrow
Follow Us on Instagram at The Scorecrow
Follow Troy on Twitter @HoopHead_prod
Main Credit Image: [getty src="102774173″ width="594″ height="402″ tld="com"]