Pranav Ramasubramanian | December 21st, 2018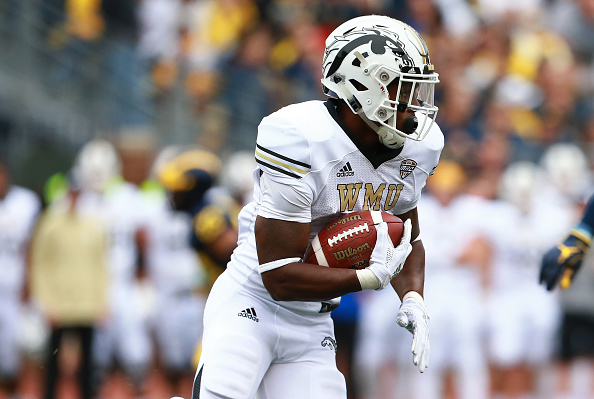 Josh Allen was very unknown to the national media as Wyoming didn't play their games against high-profile teams, but Allen announced himself to the national media after throwing for three touchdowns and 154 yards capitalizing on Central Michigan's 8 turnovers to easily blow them out 37-14 in last year's Potato Bowl.
https://www.youtube.com/watch?v=wZuMmM-vOHs&t=1116s
This year brings a rare matchup between the Western Michigan Broncos, who are 7-5 and the Brigham Young University Cougars, who are 6-6. This should be a very physical and old style type of football game.
Western Michigan Broncos
Record: 7-5
Big wins: Northern Illinois, Miami OH
Mid-American record and ranking: 5-3 in Mid-American and 2nd in Mid-American West
Strengths
A new quarterback is now in for the Broncos after Jon Wassink suffered an ankle injury in October so the primary focus will shift to running the ball with their two-headed monster in the backfield with running backs LeVante Bellamy and Jamauri Bogan, who have racked up the yards and touchdowns all season long so expect them to split the carries. The new quarterback is true freshmen Kaleb Eleby, who has really established himself very well taking his opportunity and using it well already accounting for six touchdowns, 4 passing, and 2 rushing while only throwing 2 interceptions. He has also thrown for 917 yards already. Eleby also has reliable receivers to throw the ball so he will be able to sling the ball in confidence with no hesitation whatsoever.
The defense also helps with its knack for creating turnovers with nine interceptions, 16 forced fumbles with 10 being recovered by the defense. It's nice to have guys that fly all over the field and linebackers Alex Grace and Drake Spears do just that staying active and limiting big runs, which they will need a lot of in this game.
Weaknesses
It's easy to overcome lack of experience at many positions, but quarterback is not one of them as he has to run the offense and play cool and collected situational football in pressure situations, which will be difficult to do for true freshmen Kaleb Eleby, who is just in his fifth start. Although Eleby has done well in his four starts he doesn't have the ability to be a dual-threat quarterback like Wassink, who had rushed for six touchdowns and 162 yards before injury while Eleby hasn't rushed for even positive yardage yet as he has -32 yards with two touchdowns limiting his ability of where to go with the ball. The defense may get some game-changing turnovers, but they still allow the opponents 33.3 points per game and 40 plus in the past three of four games, which is one of the worst in the FBS ranking 103rd. The defense must replicate the effort that they used to beat Northern Illinois that helped them make this bowl game to keep their young quarterback in the game. It's always concerning when the opposing team is averaging more points offensively playing against you then you average against other teams. The special teams has been very average all year and at some points very below average as it didn't generate many yards to help the Broncos offense this year and only scored one touchdown off of a punt return all year so a spark here is unlikely leaving Eleby a long field to drive his offense, which won't be good for him.
Brigham Young Cougars aka BYU
Record: 6-6
Big wins: Wisconsin, Arizona, Hawaii
Independents
Strengths
Tanner Mangum was having a decent year, but after a rout vs Utah State coaches saw something special in Zach Wilson in his garbage time so he was given the starting job and he kept it for the rest of the year with a four-touchdown performance against Hawaii that sealed Mangum's fate and established himself as a dual-threat quarterback. Despite only running for almost 200 yards and two touchdowns he did pass for 8 touchdowns in just half a season. This will help open up the playbook for him from RPOs to designed QB runs so he can really stretch out the defense and easily confuse them to make big plays.
Defensive coordinator Ilaisa Tuiaki has turned a defense that was bad into a good defense. Their pass efficiency defense, scoring defense, and third-down defense have drastically been improved helping BYU create a formidable unit. They also only allow 21.7 points per game, which is 28th in the FBS and the defense is anchored by linebackers Sione Takitaki, who has 100 tackles, 66 solo and 34 assisted on the season helping limit big plays. Everyone else on defense does a solid job of playing their position and executing the gameplan well and sometimes that can go a long way. BYU travels very well and being on the road should be very comfortable as some of their big wins against good teams came on the road.
Weaknesses
BYU may have to rely more on Zach Wilson's running ability more as their primary running game as the running game hasn't been good all year with the leading rusher only managing 427 yards and also with Lopini Katoa's and Squally Canada's availability for the game still up in the air. Also not having a serviceable running back will largely make the offense more one-dimensional and that's not a good idea to do against the Broncos. The receiving core is good, but has too many decent receivers vying for catches, which isn't good as their just isn't a primary receiver to take over so Wilson will have to throw very accurate balls for his receivers so they can catch them. The defensive side takes a hit with the loss of defensive leader Corbin Kaufusi because of his ability to get to the quarterback and take him down leading the defense in sacks with 7.5 so Eleby will probably get more time to throw. The special teams is terrible and might actually cost BYU the game with their lack of production that has been an embarrassment all season long. BYU has to play all game with the same intensity and not coast with a big lead or show too much of a lack of energy or effort because Western Michigan will pounce on that.
Players to Watch for
Western Michigan Broncos
LeVante Bellamy, RB- He was a beast in the backfield terrorizing offenses with 1,172 yards rushing and six touchdowns on the year. His speed will be key to Western Michigan's run attack. He has consistently shown up and scouts looking for a running back late might take a look at this guy if he has a big game.
Jamauri Bogan, RB-  He was the other part of the great running attack that couldn't be stopped and his ability to score more touchdowns will definitely be key in this game. He has 15 touchdowns on the year with 702 yards with a more power running style. His timely moves and quick feet have to show up for the Broncos to excel on offense.
D'Wayne Eskridge, WR-  The primary No.1 receiver that catches most of the balls with 36 receptions for 715 yards and is the only reason Western Michigan's passing game isn't horrid and he will need more receptions in the bowl game to create offensive balance. His speed off the line of scrimmage is good and helps create tons of open space for easy catches. He uses his speed to burn his coverage, which the NFL will love.
John Keenoy, C- He snaps the ball to the quarterback and protects him very well allowing minimal pressure on the quarterback so he can get the ball off. He also uses his size to bully other defensive linemen and helps the Broncos great running attack. A solid and consistent center is needed to help with balance and he gives that to them well.
Alex Grace, LB-  He makes running the ball hard on him with 80 tackles, 52 solo and 28 assisted with 10.5 of them being tackles for loss and stops plays well before they start or limits yardage gained. His speed is good as he was a former running back. BYU likes to run a lot so it will be crucial for Grace to stop it immediately so he blow up big plays.
Drake Spears, LB- He holds up his part of the field well with 82 tackles, 52 solo and 30 assisted diagnosing plays when they happen. He helps Grace shrink the field and force the opponents into tough passing situations. If they can get to Eleby early and often then they can seal the fate early for the Broncos.
Brigham Young Cougars aka BYU
Sione Takitaki, LB- His size is deceiving as he can cover the entire part of the field with his field vision and quick feet giving him the ability to react well to any blocking thrown at him. He is great at pressuring the quarterback and sniffs out outside runs so he can make Western Michigan one-dimensional. He will be looked at hard by NFL Scouts and could have a Leighton Vander Esch type impact in the NFL.
Ului Lapuaho, OT- A four-year veteran, who has barely played any games due to injury. He needs to come back strong and block well to boost his stock. He has to help BYU get that running game going or else it's gonna be lights out very fast.
Although Western Michigan has the better team, BYU has the better defense and they should shut down the freshmen Kaleb Eleby and get Zack Wilson going early so BYU should pull away in the 3rd quarter for a bowl win.
Prediction: BYU 34 Western Michigan 21
Questions and comments?
thescorecrowsports@gmail.com
Follow Us on Twitter @thescorecrow
Follow Us on Reddit at u/TheScorecrow
Follow Pranav on Twitter @PranavRama1
Main Credit Image: [getty src="1036234580″ width="594″ height="399″ tld="com"]