Antonio Losada      | July 5th, 2019
I am not going to lie to you here. You shouldn't lie to yourself either, even if you love parrots, or Latin players, or big-time sluggers. Let's make it clear: this season is not Edwin Encarnación's best season.
No matter the metric you look at, you're probably not going to find a career-best mark on Encarnación's stat sheet that is going on in 2019. His wRC+ of 127 is worse than the values he put up during a six-season streak from 2012 to 2017. His current (as of July 5th) slash line of .226/.341/.507 isn't bad at all but still falls short of what he has done in the past for long runs. And league-wide, he's got the 64th-best WAR among qualified hitters with a 1.6. Good-not-great.
If you have been following the MLB this season, and probably if you haven't too, you know that Encarnación was traded mid-June from Seattle to New York, bolstering an already-smashing Yankees lineup. Leading up to that moment, since June 1, Encarnación has been building as much as anyone on the little he has been given. If there is something defining Edwin's last month that has been bad luck, and how great he's been dealing with it.
I have filtered this season's statistics by PA since the start of June up until today to get a list of players with at least 60 PA in that time frame. 281 players made the cut, and here are the eight with a BABIP at-or-under .200:

The picture makes it clear. Encarnación has the worst BABIP (with a wide margin) among those eight hitters, yet his slash line is the best of them and his wRC+ is basically impossible given what he's been handed by baseball's God.
When looking at the complete group of 281 players I already mentioned, Encarnación doesn't make any headlines with that wRC+ value. It is the 54th best of them all, and way under those of league-leaders in that span such as Charlie Blackmon (206), Mike Trout (196), Yordan Alvarez (195), and Christian Yelich (193). Yes, all of them have 193+ wRC+ marks, but all of them also have registered a BABIP of .347+ barring Alvarez at .324.
With such batted-ball luck, some high numbers are expected. With Encarnación's, not at all. His slash line since June 1 currently sits at .198/.313/.604. His average is atrocious, but he's basically murdered baseballs all over the plate. Don't get me wrong, though, as we need to keep in mind we're talking about one of the unluckiest players of late so the numbers are going to be somewhat "low" no matter what.
Since flipping the calendar pages from May to June, Encarnación has hit 11 homers in 91 PA. He had 13 in the 236 PA he logged during the first three months of the season. In other words, he has gone from hitting 0.05 HR/PA to hitting 0.12 HR/PA, which is to say, he's now hitting a homer after every eight times he comes to the plate, or about one time per two games. Not bad.
The truth is, Encarnación has been going for everything moving toward him thrown from the mound.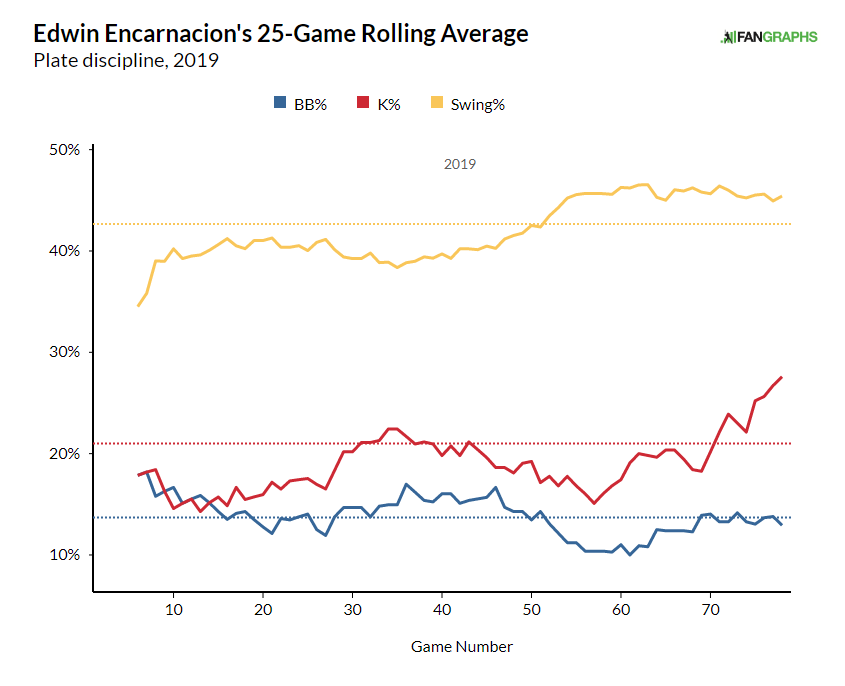 You are right. The upward trend that crosses the reference line of the rolling Swing% is located at the end of May. June starts around game 55, and from that point on Encarnación has maintained an above-his-average swing rate for the season. As expected, his strikeout ratio has increased notably while his walk ratio dropped a bit yet it's getting better lately.
What has made Edwin Encarnación so valuable with that ridiculous BABIP is the fact that he has generated as much offense as possible in way limited chances. Looking at simple counting statistics and knowing his .127 BABI since June 1, we can't expect a lot of hits. He hasn't got them indeed, with only 19.
The thing is, though, he's only hit four singles in exchange for three doubles and 12 homers. Applying 101-level math, that means he's hit for a total of 58 bases. In 112 PA in that time, that means every time Encarnación has gotten a hit (every two plate appearances) the value of that hit has been more than that of a triple in terms of bases (3.05 bases per hit).
Encarnación could have not been super lucky as of late, but when he's hit, he's hit big time. He has avoided sacrifice flies and has no sacrifice hits to his name either. He has only hit into one double play.
He's due to regress to the mean, and that only can mean good things considering how unlucky he has been yet how good his production has looked.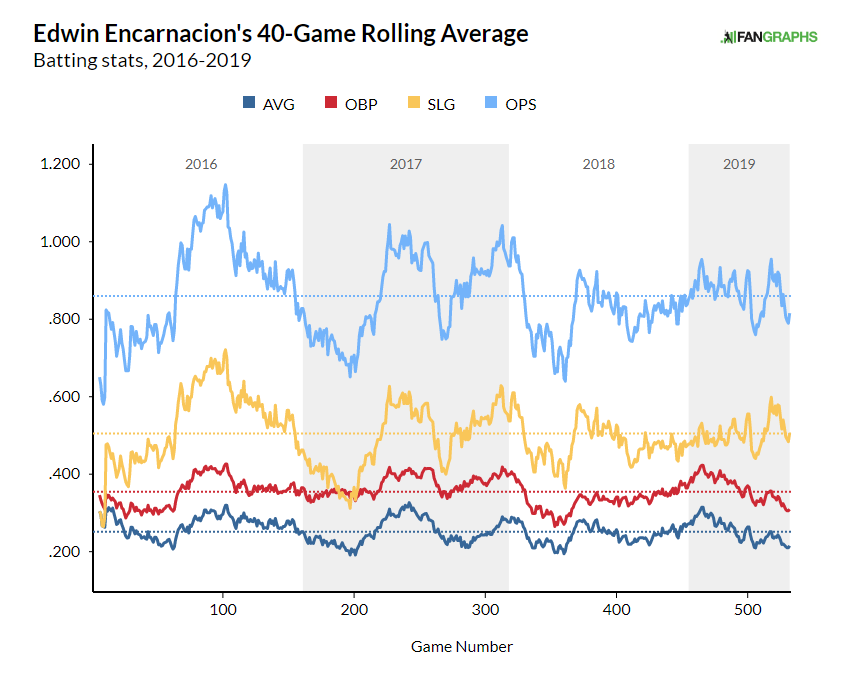 Were I to bet, I would put my money on Encarnación getting back to a bit better AVG and OBP values during the second half of the season. That will only boost his OPS, which is currently low for what he's done in the past, and if he can sustain his current power-hitting tendencies and outcomes and add better discipline and average numbers to those he's about to have quite a season (perhaps his best of late) in New York.
Check Out The Other Deep Dives: Lucas Giolito | Rafael Devers | Corey Seager | Eduardo Rodriguez | Amed Rosario | Alex Verdugo | Joey Gallo | Mike Soroka | Christian Yelich| Justin Smoak| Martin Perez|Marwin Gonzalez|Derek Dietrich|Bryce Harper|Kirby Yates|Nomar Mazara|Zack Wheeler | Tommy La Stella|Starlin Castro|Aaron Sanchez
Questions and comments?
thescorecrowsports@gmail.com
Follow Us on Twitter @thescorecrow
Follow Us on Reddit at u/TheScorecrow
Follow Us on Facebook at The Scorecrow
Follow Us on Instagram at The Scorecrow
Facebook Group where you can read and post articles at The Scorecrow
Reddit Group where everyone can post without fear of being banned at The Scorecrow
Follow Antonio Losada on Twitter @chapulana 
Main Image Credit:  [getty src="1159466123″ width="594″ height="469″ tld="com"]
x