Matt Woolsey | September 2nd, 2018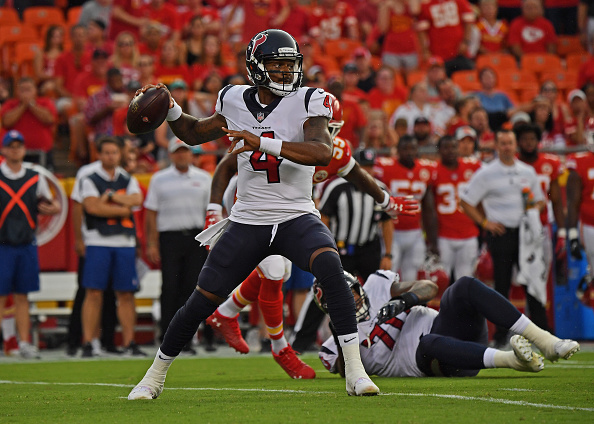 Remember in "Star Wars: Attack of the Clones," when Obi-Wan walks into the bar and the drug dealer asks him if he wants some death sticks? Obi-wan tells him to go home and rethink his life. Drafting quarterback before round ten is like death sticks, you need to go home and rethink your life.
History Lesson
Last season 42 different quarterbacks posted at least one QB1 week throughout the season. Quarterbacks like C.J. Beathard, Nick Foles, Brett Hundley, and even Mitch Trubisky had a week in the top 12. You can draft late, play the waiver wire and find quarterbacks with the best matchup.
Last year my wife in a dynasty league where quarterbacks are thinner had Aaron Rodgers go down in Week 6. Her backup was Sam Bradford, he was hurt after Week 1. She picked up Josh McCown and Case Keenum from free agency and rode both of them to the championship game.
Last season the difference between the QB1 and the QB12 was 81 points, a 5.4 point average per game. The QB12 (Philip Rivers) was drafted in the tenth round last season. He is currently going in the tenth again this season.
The difference between the RB1 and RB12 was 188 points a 12.5 point average per game. The RB12 (Duke Johnson) was drafted in the eighth round last season. He is currently going in the eighth again this season. It's better to get loaded up on RBs and WRs, you can punt the QB position until double-digit rounds.
One quarterback on my early round radar to avoid is Deshaun Watson. First, he's coming off an ACL injury and it hasn't quite been a full year, they say it takes a full year to recover an ACL that won't be until after Week 8. Right now Watson is going at the end of the fourth, beginning of the fifth round. He is the second quarterback being taken off the board this season. People are remembering what he did last season. Let me tell you what he did last season.
Until he got hurt, Watson threw for 19 total touchdowns on 204 passing attempts. The touchdown to attempts ratio is one touchdown for every 10.74 attempts. Over the past three years, Aaron Rodgers has averaged one touchdown every 16.19 passing attempts.
In 2016 when Matt Ryan had his great season, he averaged one touchdown every 14.05 passing attempts. Cam Newton's MVP season, one touchdown every 14.14 passing attempts. Watson cannot keep that same efficiency for the entire season. Over the past three seasons, quarterbacks with at least 200 passing attempts have averaged one touchdown every 25.58 passing attempts. I think Watson will be closer to this average.
Avoid the Death Sticks
Load up on your running backs and wide receivers, wait until the later rounds to grab your quarterback. You will like your team better than grabbing an early quarterback and being weaker in your other positions.
Questions and comments?
thescorecrowsports@gmail.com
Follow Us on Twitter @thescorecrow
Follow Us on Reddit at u/TheScorecrow
Follow Matt Woolsey on Twitter @AresgodFF
Main Credit Image: Embed from Getty Images