Pranav Ramasubramanian | April 23rd, 2019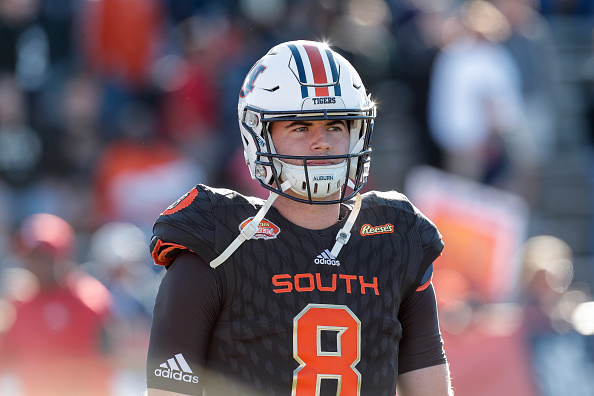 The 2019 NFL Draft is going to be happening in a few days and all the organizations are preparing their draft plans to fill their needs. Some organizations draft really well and repeatedly have good seasons while others fail to address needs that make them have to wait another year. The war rooms are going to get crazy and the player's emotions are going to be at a high, but before that let's take a look at one of the players.
Player: Jarrett Stidham
Position: Quarterback
Height: 6'3″
Weight: 215 pounds
Colleges: Baylor and Auburn
College Statistics
Team         Class                    Cmp         Att            Yds               TD           Int
Baylor       Freshman            75            109           1265            12             2
Auburn     Sophomore         246          370           3158            18              6
Auburn      Junior                 224          369           2794             18              5
Best game of his collegiate career
Stidham wanted to make sure he was able to leave Auburn with a memorable performance and he did just that in the 2018 Music City Bowl against Purdue. Auburn looked like they were going to have to punt the ball on their first possession, but on third and one, Stidham faked a quarterback sneak then stepped back to float a pass to JaTarvious Whitlow down the left sideline. Whitlow caught the pass and cut it back using his speed to sprint down the field for 50 yards that resulted in the first touchdown of the game.
Later in the first quarter already up 21-7 Auburn wanted to to pull away so Stidham stepped through a deep pass that had at least 50 yards of distance on it, but was perfectly thrown to Darius Slayton down the seam, who caught it in stride while running it in for the touchdown to put Auburn up 28-7. Stidham had Auburn playing at a fast pace and with just two minutes into the second quarter he threw a screen pass to Slayton, who caught the ball behind the line of scrimmage and used his speed to weave through the defense for a 52-yard touchdown to keep Auburn rolling.
The Stidham to Slayton connection was working wonders so Stidham tried it one more time and got the ball out of his hands right before the edge rusher got to him and it was a bullet, but Slayton had turned around to locate the ball at the right moment so he easily snagged it to put Auburn up 56-7 at the half.
Stidham only got one series in the second half, but he made the most of it capping it off by flipping the ball to Ryan Davis and then motioning the handoff clearing the way for a Davis score that just added insult to injury with Auburn going on to win the Music City Bowl 63-14.
Stidham finished 15 for 21 with 373 yards and five touchdowns, which is Stidham's most touchdowns he's thrown in a game making his season look better from a numbers perspective.
The tape shows…
Stidham wants to be known as a dual-threat quarterback, but his numbers rushing numbers dipped last year and he had racked up negative yardage in many games so it's better if he just stays in the pocket. Stidham has great arm strength that helps him get the ball out to his receivers, but he has the tendency to airmail passes too far or over his receivers' heads so he must try to improve that going forward.
Sometimes to have a chance at a good throw and evade pressure, quarterbacks are forced to move their feet around the pocket to align themselves with the receiver for easy throws. Stidham does this with a ton of ease easily adjusting within the pocket, throwing darts so he needs to make sure he takes this skill to the league. However, the pieces around Stidham must be good for him to play well.
He needs a viable offensive line so he's not constantly under pressure. Constantly being under pressure doesn't help him because his accuracy tends to drop in those situations. It's also concerning that Stidham has a tough time throwing passes into tight windows because some of the throws were ones that an NFL-caliber quarterback should be able to make.
Stidham will need to work with the quarterback coach to get comfortable with the playbook and if he can maintain a good rapport with the offensive coordinator it will help. Stidham needs to make sure he can adjust to any type of offense fast if he wants to sustain a career in the league.
Draft Meter: Low
Stidham wanted to stay in school for another year after his great sophomore season because he believed that Auburn had a team that could compete for a National Championship. However, he wasn't able to match the amount of production or wins in his junior year despite still getting Auburn to a bowl game, due to the competition in the SEC.
After seeing a decline in passing yards from 3,158 to 2,794 and completion percentage from 66.5 percent to 60.1 percent, Stidham realized it was better to leave sooner than later to optimize on his dream of playing in the NFL. The weak quarterback class has helped Stidham's stock, as next year's draft class is expected to be loaded with good quarterbacks.
The Chargers have been looking for a young quarterback prospect that can open up the playbook and help them be successful after Philip Rivers retires. Stidham would sit behind Rivers for at least a year before taking reins of the offense, which would make his transition into the NFL easier before he even starts a game.
Stidham had a great Senior Bowl week that helped him look good, but the Chargers fill their defensive needs first so Stidham will have to be patient to hear his name be called. Stidham will need to stay patient if he wants to make an impact because it won't happen right away for him in the league. 
Prediction: Stidham gets drafted in the third round by the L.A. Chargers as the 91st overall pick.
Check out our other NFL Draft Player Profiles: Noah Fant
Questions and comments?
thescorecrowsports@gmail.com
Follow Us on Twitter @thescorecrow
Follow Us on Reddit at u/TheScorecrow
Follow Us on Facebook at The Scorecrow
Follow Us on Instagram at The Scorecrow
Follow Pranav on Twitter @PranavRama1
Main Image Credit: [getty src="1135846036″ width="594″ height="396″ tld="com"]