Matt Woolsey | October 5th, 2018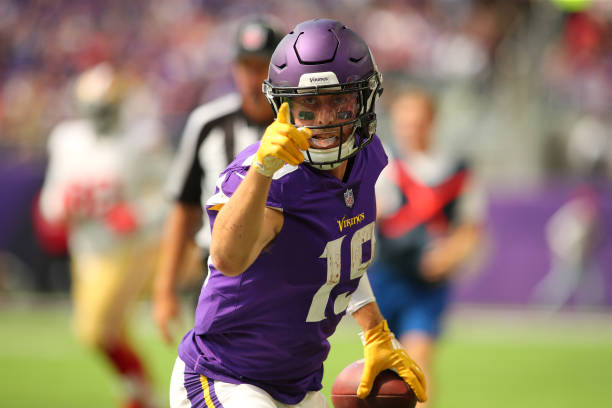 We are a quarter of the way done with the NFL season. Wow, seriously, that sucks, it'll be Super Bowl Sunday before we know it. But until then, there are still a lot of NFL games left to watch and a lot of fantasy football left to play.
Before the season started the Vikings upgraded their quarterback when they signed Captain Kirk Cousins to a three-year, fully guaranteed deal. The fantasy community then started the debate, Stefon Diggs or Adam Thielen.
Agreed Cooper was hurt last season and wasn't reliable at all 😱🔫 I just can't believe in Diggs. He's one of those guys that I want no part of, give me Thielen.

— Matt Woolsey🏈 (@AresgodFF) August 24, 2018
I stated before the season started I preferred Thielen over Diggs and four weeks into the season, nothing has changed. Not only is Thielen out-snapping Diggs, 277 (97.54%) to 243 (85.56%). He is also outscoring Diggs in fantasy points.
Adam Thielen 2018 Stats
During the first quarter of the season, Thielen has scored 13.2, 25.1, 17.5, and 23.5 fantasy points in the half-point PPR (Points Per Reception) scoring format. He has 79.3 total points and averaging 19.82 points per game. He hasn't had lower than 12 targets in the first four games and even has a game as high as 19 targets.
He has at least 100 yards in all four games and two touchdowns. Dude even has some fight in him. Did you see how ticked off he was when they wanted to check him for a concussion against the Rams? He then came back into the game and scored a touchdown.
Stefon Diggs 2018 Stats
In the same half-point scoring format Diggs has scored a total of 63.5 fantasy points, 15.88 average per game. He has a high of 29.4 points and a low of 3.7 points. That will make you want to throw your phone.
His highest targeted game this season was 15 and his lowest was six. Believe it or not, his 3.7 fantasy point game wasn't even his lowest targeted game. But yeah Diggs will be Cousins' guy.
https://media.giphy.com/media/oOTTyHRHj0HYY/giphy.gif
We know who Cousins likes and it's the player you should like also: Adam Thielen. Everyone said Diggs has the higher ceiling, and yes, he outscored Thielen once so far this season by four points, but those four points do not make up for how consistent Thielen has been this season.
A little fun dynasty story. Two years ago in one of my leagues, someone had both Thielen and Diggs. This individual, a Diggs Truther, traded Thielen away for a third-round pick. Not only did he severely undervalue Thielen, but he traded the wrong wide receiver away. Make sure you're hooked on a Thielen.
Questions and comments?
thescorecrowsports@gmail.com
Follow Us on Twitter @thescorecrow
Follow Us on Reddit at u/TheScorecrow
Follow Matt Woolsey on Twitter @AresgodFF
Main Credit Image: [getty src="1029995502″ width="594″ height="396″ tld="com"]