Beth Sullivan | May 10th, 2019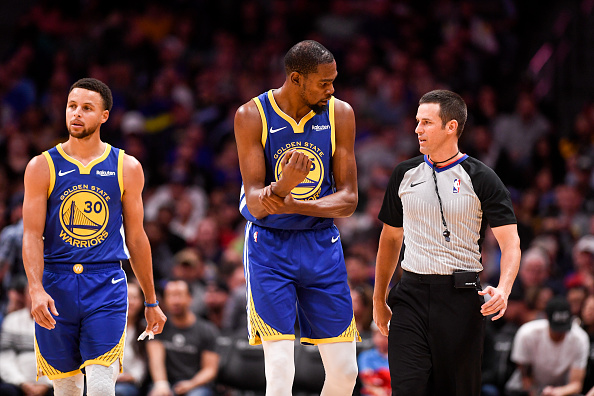 Kevin Durant suffered a calf strain during the third quarter of the Warriors fifth playoff game against the Houston Rockets on Wednesday night. After undergoing an MRI on Thursday, the official diagnosis is a Mild Calf Strain. What exactly does this mean?
The terms sprain and strain are used frequently, but most fans don't know the medical definition of these terms  I reviewed this terminology back in November in my Is it a Sprain or a Strain? article. Unfortunately, nothing is ever black and white in medicine or in sports. The team reported a mild calf strain, but what does that mean in the typical grading system for sprains and strains. I would say that a mild strain would be in the grade 1 to 2 range. A grade 1 strain has a 10-14 day recovery window and a grade 2  has a 6-8 week recovery period. Since Durant has already been ruled out for the rest of the current series, I would say the injury is a little more serious than a simple grade 1 strain.
The calf muscle is a tricep muscle because it has 3 components. The medial and lateral heads of the gastrocnemius and the single head of the Soleus muscles. A calf strain happens when the muscle fibers are overstretched which results in bleeding in the muscle and tearing of small muscle fibers that then leads to pain and swelling. The severity is related to the number of muscle fibers that are injured. The most common part of the calf complex to be injured is the medial gastrocnemius.
Rehab of this injury centers around reducing swelling and pain and strengthing the muscles and improving flexibility to try and prevent reinjury or further injury. Initially, RICE – Rest, Ice, Compression and Elevation is used to help reduce swelling and pain and decrease the possibility of further bleeding.  In addition, anti-inflammatories may be prescribed to help with pain and swelling and Deep Ultrasound is used to help eliminate the blood accumulation and reduce swelling.
I suspect Durant will be sidelined a minimum of 3-4 weeks with this injury. If the Warriors make it through this round, I would expect him to be out the first three to four games of the next round. I know fans want him back on the court, but rushing back from this injury could cause further injury or additional injuries to occur.  If the Warriors are eliminated from the playoffs, he would then have the whole offseason to heal and would be ready for the new season.
Questions and comments?
thescorecrowsports@gmail.com
Follow Us on Twitter @thescorecrow
Follow Us on Reddit at u/TheScorecrow
Follow Us on Facebook at The Scorecrow
Follow Us on Instagram at The Scorecrow
Follow Beth Sullivan on Twitter @GAPeachPolymer
Main Image Credit: [getty src="1052722746″ width="594″ height="396″ tld="com"]