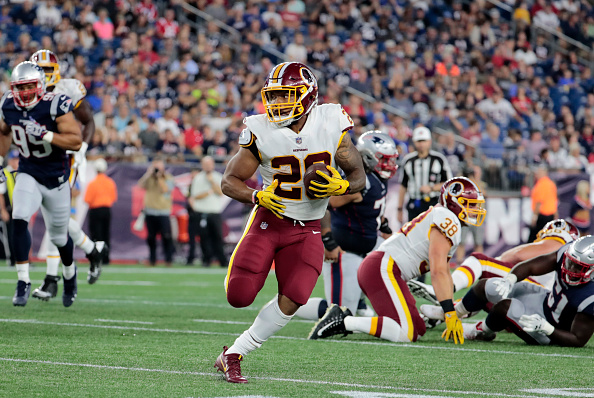 Another meaningless preseason game…another meaningful injury. This week Derrius Guice tore his ACL at the end of the first quarter in their first preseason game versus the New England Patriots. I had Derrius Guice in case you missed it as this year's second-best rookie running back. It's a shame that he won't see the field until next year so we won't know his full potential until 2019. Guice racked up 19 yards on six attempts for an average of 3.2 YPC.
So with Guice out for the year, I asked the question, whos next?
Derrius Guice has been diagnosed with a torn ACL, with the injury to Guice, who's stock is most likely to sky rocket 📈 and why?

— 𝐓𝐇𝐄 𝐌𝐀𝐉 | 𝐍𝐘 𝐆𝐈𝐀𝐍𝐓𝐒 𝐈𝐍𝐒𝐈𝐃𝐄𝐑 (@TheMaj_NFL) August 10, 2018
Impact on Redskins
The first question is how do the Redskins replace Derrius Guice in the lineup. They have a few options currently on their roster. The first name that will most likely come to mind is Chris Thompson who had his season cut short last year with a broken fibula. Chris Thompson is more of a 3rd down back that operates as a pass catching specialist. Chris Thompson, however, has admitted that there has been some trepidation on his part coming back from injury. He is nervous to get hit, plant his foot, and even cut, and that does not bode well for his progress. Any mental hurdle in my opinion far exceeds any physical one, either way, I am not sure we will see the same Chris Thompson as last year.
Samaje Perine was the next name most often mentioned. Samaje Perine was a rookie last year and more of a complete back than pass-catching specialist Thompson and the heavy runner Rob Kelley. Perine in games in which he received five attempts or more last year ran for 591 yards on 171 attempts for a mediocre 3.5 YPC. He still leaves a lot to be desired but I think he provides this team the best chance to win behind an improved offensive line.
Rob Kelley would have been a candidate to get cut and not even make the 53 man roster in September. Kelley had a much better 2016 when he ran for 704 yards on 168 attempts for 4.2 YPC. He didn't fare much better in 2017 with both the logjam at running back and the 21st ranked offensive line. He rushed for 194 yards on 62 attempts for a much more disappointing 3.1 YPC. Rob Kelley will surely get a chance to prove if he can still be an effective back in the remaining three preseason games.
There are other options and quite a few people on Twitter had some interesting suggestions:
https://twitter.com/Dynasty_GM33/status/1028266059940421633
Demarco Murray?

— Aeropush 5 🌊 (@silvertongued14) August 11, 2018
https://twitter.com/MooseOnaHill/status/1028045570965946368
There was another person that suggested the Redskins kicking the tires on Alfred Morris again. There are a few other free agents as well if the Redskins wanted to go that route such as Orleans Darkwa and they could probably get someone like Adrian Peterson or Jamaal Charles on a veteran minimum if they wanted to try and see if there was anything left in those tanks. The Redskins also still have RFA Kapri Bibbs who has a nice career average of 4.2 YPC but only a career total of 208 yards rushing which leaves a lot to be desired.
Impact on Fantasy
Some options at the running back position are already on the Redskins roster. Samaje Perine has a current ADP of 12.10 according to fantasyfootballcalculator.com which is up from his former 14th round ADP. Chris Thompson has an ADP of 8.07 but his self-admitted hesitation to make cuts et cetera makes me nervous to draft him. It's difficult for a player to overcome a physical injury but the mental hurdles are the ones that worry me the most, these can sometimes take a year or longer to truly come back from. Rob Kelley didn't even rank and he would be nothing more than a mere handcuff but there are other options available before I would consider doing that.
There is never a bright side to a player getting injured after all they are people too, right? However, if you are in a dynasty league, chances are you can now wait and possibly snatch Derrius Guice in the later rounds knowing he is going to miss an entire year. Guice had an ADP of 3.05 and it will be hard to replace that kind of production. Some other players with a similar ADP that could be worth it if you haven't drafted yet are Jay Ajayi (ADP 4.03) or even drafting and waiting on Mark Ingram (ADP 4.12). There are still some rookie running backs available in the 5th round that I like such as Royce Freeman (ADP 5.06), Rashaad Penny (ADP 5.11), Sony Michel (ADP 6.08) and Kerryon Johnson (ADP 6.09) and he looked good in his debut running for 34 yards on seven attempts for an average of 4.9 YPC.
No matter how you want to cut it, injuries are never a good thing for anyone.
Questions and comments?
thescorecrowsports@gmail.com
Follow Us on Twitter @thescorecrow
Follow Us on Reddit at u/TheScorecrow
Follow The Maj on Twitter @TheMaj_Fantasy
Main Credit Image: [getty src="1014234372″ width="594″ height="398″ tld="com"]