Givanni Damico| May 1st, 2019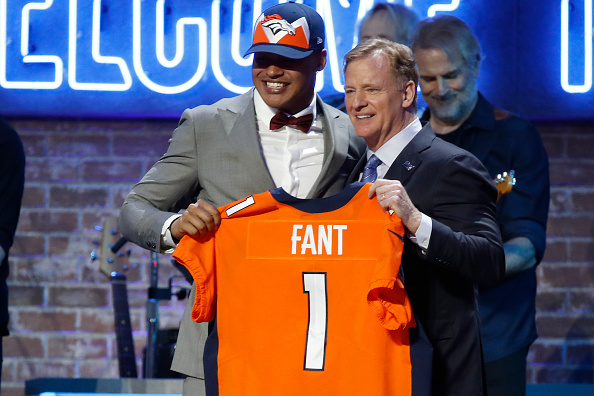 John Elway has struggled when drafting as a general manager, especially when it comes to drafting quarterbacks. However, did Elway strike gold in 2019? Yes, he did.
Round 1, Pick 20 (via PIT): Noah Fant, TE (Iowa)
Grade: A-
This is a great pick to give Denver's new quarterback a nice target. Fant is the most athletic tight end to be drafted this year. He has very soft hands and great lateral quickness. The Broncos' starting tight end last season was Jeff Heuerman who is a great number two with good blocking ability, but he isn't your everyday pass-catching starter. The Broncos' could have addressed more pressing needs at this pick which is why it isn't an A+ grade, but overall a great pick. It would have been a lower grade if they did not get their guy in round two.
Round 2, Pick 41: Dalton Risner, OL (Kansas State)
Grade: A+
Risner is a leader and an exceptional human being. He is also pretty good at football. Risner can play anywhere on the offensive line and the Broncos need help all over. They can plug him in wherever they feel they need him most, but I'd like to see him at tackle. He can pass block and run block. Now they have a new target and someone to block for their new franchise quarterback (hopefully).
Round 2, Pick 42 (via CIN): Drew Lock, QB (Missouri)
Grade: A++
The Broncos make a huge trade to move back into the second round and take (hopefully) their new franchise quarterback. When it comes to Elway drafting quarterbacks, we can only be hopeful. This was a fantastic value pick for Elway and the Broncos. I thought they would go with Lock in round one (or Dwayne Haskins), but they were able to get him in round two after getting a target and protection for him. Lock has some mechanical issues but he's got a very strong arm and can move in the pocket. Hopefully, this is a hit for Elway and the Broncos.
Round 3, Pick 71: Dre'Mont Jones, DT (Ohio State)
Grade: A-
Shelby Harris is currently the starting defensive tackle on the Broncos' depth chart. I fully expect Jones to take over this role by 2020. Jones is a bit undersized to be a defensive tackle but he is an athletic player who can get to the quarterback. He showed his usefulness as a run stopper at Ohio State as well. His forty-yard dash was slower than most thought it would be which is probably one reason why Jones fell to the third round. Another great value pick for Elway here.
Round 5, Pick 156 (via MIN): Justin Hollins, LB (Oregon)
Grade: B
Hollins is a very athletic linebacker who was a three-year starter at Oregon. He has great hand usage when rushing the passer and his agility allows him to get past the offensive line relatively easily. He has the ability to drop back in coverage, but Hollins will primarily be a pass-rusher. Hollins lacks consistency and play strength which causes him to disappear sometimes. Hollins will be a rotational player for the Broncos this year and he'll have his shot at a starting role, but it's an uphill battle for him.
Round 6, Pick 187 (via CAR): Juwann Winfree, WR (Colorado)
Grade: C
Personally, I don't see Winfree making the team. There is too much depth in front of him and he just doesn't have the ability to steal reps from anyone above him. This seemed to be more of a convenience pick for the Broncos since Winfree played at Colorado University and the scouts were familiar with him. If they really wanted Winfree, they could have gotten him as a priority undrafted free-agent.
Overall Grade: A-
Elway made good use of his early round draft picks. He didn't miss on any picks except his sixth-round pick, which isn't necessarily the biggest deal. Who knows? Maybe Winfree will prove me wrong. Either way, this was easily Elway's strongest draft.
Check out our other Team Draft Recaps and Grades: New York Giants | Indianapolis Colts | Los Angeles Chargers | Cleveland Browns | Buffalo Bills | Carolina Panthers | Pittsburgh Steelers | Minnesota Vikings | Jacksonville Jaguars | Cincinnati Bengals | Oakland Raiders | Washington Redskins | Chicago Bears | Tampa Bay Buccaneers |
Questions and comments?
thescorecrowsports@gmail.com
Follow Us on Twitter @thescorecrow
Follow Us on Reddit at u/TheScorecrow
Follow Us on Facebook at The Scorecrow
Follow Us on Instagram at The Scorecrow
Follow Givanni Damico on Twitter @giodamico15
Main Image Credit:  [getty src="1145244737″ width="594″ height="396″ tld="com"]