Marcos Mendoza | May 23rd, 2019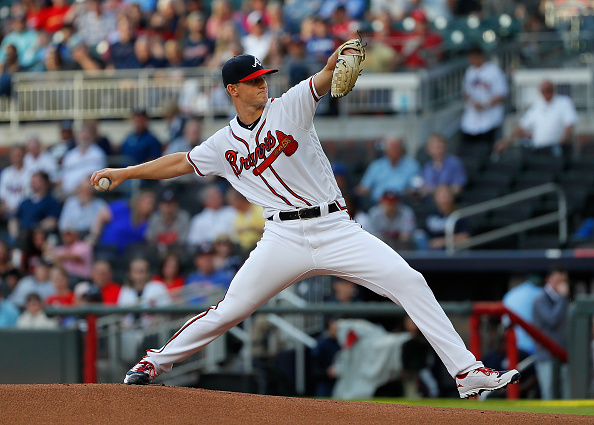 After making his MLB debut in 2018 the former top prospect for the Braves is having a stellar 2019 season to start the year. In 2018 Mike Soroka made his first MLB start on May 1st against the New York Mets. He tossed 6IP giving up 6H 5SO and 1ER getting his first career win. Soroka only threw 25.2 IP in 2018 with a 3.51 ERA, 10.5 H9, 0.4 HR9, 2.5. BB9, 7.4 SO9, and 1.44 WHIP.
In 2019 Soroka has taken his stuff to the next level and has been almost untouchable. He's thrown 44.2 IP this season with a 1.01 ERA, 0.83 WHIP, 5.0 H9, 0.2 HR9, 2.8 BB9, and an 8.3 SO9. In seven starts this season Soroka has not given up more than one ER in any of the starts. He has four pitches: a Fastball, Sinker, Slider, and changeup. This season Soroka has used his sinker mainly, throwing it 46.4% of the time, his FB 16.9%, SL 25.8%, and Change 10.62%.
The Sinker has a .153 BAA, .222 SLG, 0.69 ISO, 4.7 whiff%, 46.7 swing%, 10.2 whiffs per swing. His main success with the sinker is getting players to hit it on the ground. It has a 71.8% rate on GB in balls in play, only 14% on LD and 10.9% on Flyballs. His sinker has been his out pitch and has led it to his 56.5 GB% which would be fourth in all of MLB. The Change is essentially his strikeout pitch. He has a 25.3 whiff%, 52.2 swing%, and 48.5 whiffs per swing. All are the best among his four pitches. His slider is also a plus pitch having a .143 BAA, .171 SLG, and a 0.29 ISO. He gets a 15.9 whiff%,44.7 swing% and 35.6 whiffs per swing.
Soroka excels at throwing first-pitch strikes having a 62.2% F-Strike%. He lives on inducing groundballs and weak contact. Giving up only 29.4% of Hard Hits, 47.1% of Med hits and 23.5% of soft hits. With the high GB%, he has an 87.2 LOB%, a .203 BABIP and 3.8% HR/FB. It's unlikely Soroka will maintain his 1.01 ERA for the rest of the season as his peripherals indicate he is getting lucky (1.01 ERA 2.88 FIP, 3.68 xFIP 3.86 SIERA)
He'll likely be in the top of the running for ROY all year in a tight NL race. Soroka could keep his ERA in the low twos given his high GB% and F-Strike%. It's going to be tough too beat out Chris Paddack on the Padres but he's on a pitch count and I can see Soroka maintaining an ERA around 2.30 which will firmly put him into the top of the ROY race. He's going to be a great pitcher for a long time for the Braves and should be a perennial All-Star.
Check Out The Other Deep Dives: Lucas Giolito | Rafael Devers | Corey Seager | Eduardo Rodriguez | Amed Rosario | Alex Verdugo | Joey Gallo
Questions and comments?
thescorecrowsports@gmail.com
Follow Us on Twitter @thescorecrow
Follow Us on Reddit at u/TheScorecrow
Follow Us on Facebook at The Scorecrow
Follow Us on Instagram at The Scorecrow
Follow Marcos Mendoza on Twitter @MendozaM_12
Main Image Credit:
[getty src="1149366928″ width="594″ height="425″ tld="com"]