Frank Ammirante| May 7th, 2019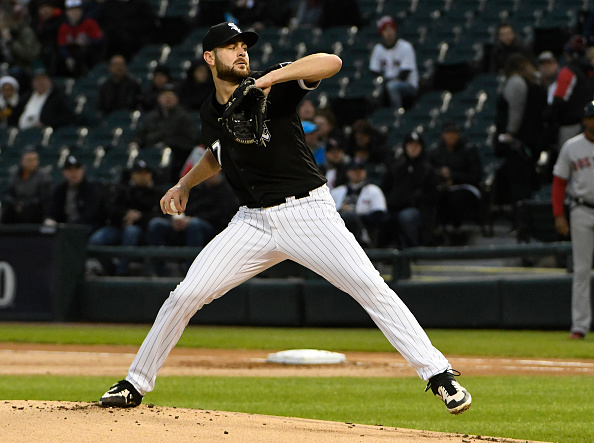 Once considered the unanimous top pitching prospect in baseball, Lucas Giolito entered 2019 off the fantasy radar. The lack of interest in Giolito was justified, as his career has been marred by injuries and disappointment. He finished 2018 with a lackluster 16.1 K%, 11.6 BB%, 6.13 ERA, 1.48 WHIP, 5.46 xFIP, 5.37 SIERA, and 8.3 SwStr%. However, the Chicago White Sox are a rebuilding team and they allowed Giolito to pitch through his struggles. This decision appears to be paying dividends early on in 2019.
Giolito has made significant gains in the early stages of the 2019 season, rediscovering the most important skill a pitcher can have: the ability to miss bats. He has increased his K% (16.1% to 28.8%) and SwStr% (8.3% to 13.1%). The rise in K rate is due to a few factors: increased four-seam fastball velocity (92.4 MPH to 93.4 MPH), increased four-seam usage (42.7% to 54.9%), increased changeup usage (15.5% to 18.5%), and decreased sinker usage (17.2% to 0.9%). The uptick in velocity has allowed Giolito to induce more whiffs on his four-seamer (14.1% to 22.3%). His decision to abandon his sinker has been a good one since it was one of his worst pitches last year. Furthermore, Giolito's slider has been dominant so far, with a Whiff% of 58.1%. It is clear that Giolito needs to continue to focus on using his changeup and slider more. The uptick in velocity and change in pitch usage has Giolito looking like an appealing option going forward.
Giolito currently sports a 5.32 ERA and 1.44 WHIP, which looks unappealing on the surface. But he has been unlucky so far, which is evident when looking at his 3.67 xFIP, 4.04 SIERA, 61.7 LOB%, and .328 BABIP. He has also been the victim of a tough schedule, as he has faced the Yankees, Mariners, and Red Sox in three of his five starts. Giolito was dealing in an April 17th start vs. the Royals, tossing 2.2 shutout, no-hit, innings with one walk and five strikeouts before leaving with a strained hamstring. In his first start back against a tough Boston lineup, he went five innings, allowing seven hits, and three earned runs with two walks and seven strikeouts. Not a bad outing for his first start in returning from injury.
With Giolito's substantial increases in strikeout rate, now is the time to BUY. His next start is in Cleveland against an underwhelming Indians' lineup. It is likely that he turns in a strong outing there, making him one of the hot pickups off the waiver wire. Be proactive and add him before the buzz starts to grow. This is a guy who has less hype right now because he missed some time due to injury – he was starting to really put things together before he got hurt. This is the perfect post-hype target to help bolster your pitching staff.*
Questions and comments?
thescorecrowsports@gmail.comFollow Us on Twitter @thescorecrow
Follow Us on Reddit at u/TheScorecrow
Follow Us on Facebook at The Scorecrow
Follow Us on Instagram at The ScorecrowFollow Frank Ammirante on Twitter @lastortugasfbMain Image Credit:[getty src="1146578889″ width="594″ height="443″ tld="com"]