Kody Clawson | May 27th, 2019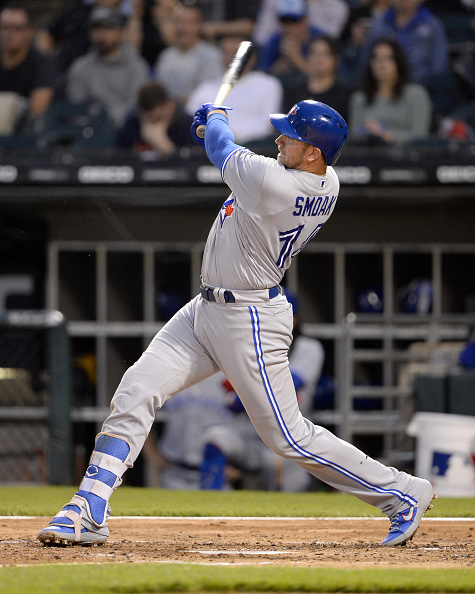 Justin Smoak broke out a bit in 2017, hitting .270 with 38 home runs and 90 RBI. His wRC+ was a solid 133, and he looked like a guy that could be a dependable, if not exciting, option at first base for fantasy in 2018. However, he slowed a bit in 2018 instead, hitting only .242 with 25 home runs and 77 RBI. His wRC+ fell to 121, still okay but not what you wanted from a back end first baseman or corner infielder. So what happened to Smoak? Is he doomed to be just another mediocre first base option, or is there more in that bat?
The early prognosis this season might have been that he is underachieving again. In 184 plate appearances as of May 21, he was hitting .214 with six home runs and 21 RBI. His wRC+ was at 109. But this last week, he's hit five home runs in as many games. There's a reason to believe his breakout is here, and more is on the way. Let's take a look at his last three seasons and break down some relevant stats to see what we can expect from him.
Season/BB%/K%/ISO/BABIP
2017/11.50%/20.10%/0.259/0.285
2018/14.00%/26.30%/0.216/0.297
2019/17.50%/18.90%/0.236/0.224
He's always been a walker, and he's continuously turned it up the last few seasons. The interesting thing is his strikeout rate. He's gone from about average, to above, to well below these last few seasons. He seems to be working on getting more contact while also getting good contact. That's a good thing. The BABIP is interesting. His career BABIP is at .268, but he's been living in the .280 to .295 range for the last three years. Should his BABIP go back up to that, or is there reason to believe he'll stay below his career levels? There may be a bit of both.
Season/FB%/IFFB%/Pull%/Hard%
2017/44.50%/7.30%/40.80%/39.40%
2018/42.60%/7.30%/49.10%/33.80%
2019/45.70%/5.20%/48.00%/51.20%
Smoak has been a fly ball guy the last few years, and that's continued this season. That, combined with a low number of infield fly balls (think pop-ups), means that he's got a better chance to hit home runs, especially if he hits the ball hard. And boy, has he hit the ball hard this year, at a 51.2% hard-hit rate according to FanGraphs. That's seventh so far this year among qualified hitters. One has to think that these balls will start flying out of the field at some point, and it's happened in bunches this week. My only concern with this profile, with the massive fly ball rate and pull rate, is that the BABIP will remain low. While I think it will, this isn't out of line with his profile the last few years, so even if it stays low for him, it might be more of a .270 than a .290 BABIP for him, which should still drive his average up, if he can maintain his contact gains.
Season/O-Swing%/Contact%/SwStr%
2017/25.80%/79.20%/8.90%
2018/24.60%/76.50%/9.40%
2019/20.90%/80.20%/7.50%
Yeah, that shouldn't be a problem. The lower O-Swing% means he should be getting more walks, and the higher contact rate is supported by the swinging strike rate (SwStr%) reduction. If he's swinging at less stuff outside the zone and whiffing less at pitches overall, it should continue to drive up his contact rate and drive down his strikeout rate. This, combined with the power profile, gives him an excellent chance to hit for more home runs, as he already began that this week. This isn't a flash in the pan from a washed out first baseman. This is a breakout in the beginning. Grab him while you can.
Check Out The Other Deep Dives: Lucas Giolito | Rafael Devers | Corey Seager | Eduardo Rodriguez | Amed Rosario | Alex Verdugo | Joey Gallo | Mike Soroka | Christian Yelich| Justin Smoak
Questions and comments?
thescorecrowsports@gmail.com
Follow Us on Twitter @thescorecrow
Follow Us on Reddit at u/TheScorecrow
Follow Us on Facebook at The Scorecrow
Follow Us on Instagram at The Scorecrow
Follow Kody Clawson on Twitter @kodyclawson
Main Image Credit:  [getty src="1150304504″ width="475″ height="594″ tld="com"]